As far as 2020 is concerned, few bands have released a record as highly anticipated and as strongly executed as Houses of Heaven's debut LP Silent Places. Released via Felte amidst a global pandemic, few records have felt as prescient and as vital as Silent Places, an album otherwise full of powerful darkwave rhythms, churning shoegaze-inspired guitars, and deep, driving electronics. Produced by Matia Simovich of Inhalt, the album collects nine songs that strike the perfect balance between bleak cacophony, muscular tension, and perfect electronic pop, and with that in mind, it's one of our favorite releases of the year-to-date.
We had the chance to catch up with the band over the last few weeks to discuss the album's synthesis, surviving in the post-pandemic world, and what the future holds in store for the trio, whose roots are entrenched deep within the evolving LA post-punk scene. Watch the band's latest video for "Dissolve the Floor," directed by Cloaking and read our interview with Houses of Heaven below:
Tell us about your songwriting process – how do songs generally come together?
Nick: It's pretty collaborative. Although often Keven comes up with the initial impetus for a song, the final result usually does not resemble at all the original intent. There was a lot of tweaking, on a micro and macro level, while we were writing the demos. We spent a great deal of time at Keven's house on his computer just playing around with things. Recording synth lines and then discarding them or editing them into weird loops. Keven also spent a lot of time alone working on the songs, which he'd then show to Adam and I to get our feedback. Adam also recorded guitar and keyboard stuff at his house and brought it in. The drums were usually programmed at Keven's, and we'd bring the ideas into the rehearsal space to see how I would play them live. If I came up with something on the drum kit, we might then program it into the demo. Keven wrote most of the lyrics, but I also wrote a few and helped edit what Keven had written. We all contributed to the process in multiple ways so that in retrospect, it's sometimes difficult to remember who did what.
Adam: The songs went through lots of revisions. It could be hard because you'd come up with something you'd like and become attached to one week, then the next week we would realize that it wasn't working and it'd be edited out. But ultimately it made a much better record.
We'd change things up so much that I think some songs are barely recognizable from their first drafts. "A Place Between" started as this delicate, atmospheric, shoegaze track. "Caresses" was originally a track we recorded for our EP but dropped: the drums and percussion were originally incredibly minimal and it was this dark, slow burn, with a doom-metal sounding ending. "Sleep" didn't come together for months and months until Keven came up with that arpeggiated synth line in the chorus, and then it suddenly all clicked and took on a new life. On top of all that, I think we have at least 15 songs that we put a ton of time into but then eventually ditched. It was a real lesson in giving up your ego, and in learning to look at things from an outside, more impartial perspective.
Keven: It took us a while to figure out exactly how we wanted the album to sound. It's easy to know what you don't want but takes some time to figure out what you do. We have a lot of varied influences so the idea was to find a way to incorporate different elements without it sounding like a pastiche. While it's impossible to be completely original, we wanted the album to have its own unique vibe that referenced music we love from the past but made modern. Easier said than done. I went a little overboard at first by focusing so much on sound design and making sure nothing sounded like anything else, but it wasn't fun to listen to and was impossible for us to play as a live band. It was all world building with little attention to actual songwriting. I don't think the album would have sounded the way it does if we didn't go through that process first though. I tend to overthink things so a big turning point was trying to find some enjoyment in the process and writing more from the body than from the head. Sometimes I forget that music can be fun and not just an obsession.
Will any of the alternate versions or leftover tracks be compiled or released in another form?
Adam: There's one song which we've been playing live for a while and tracked everything but the vocals for when making the record, but it just didn't quite fit right. We've been talking about just finishing that and releasing it to keep momentum going since we can't tour or anything at the moment. We've considered doing a more dub-focused remix version of the record at some point, too: there's a lot of interesting sounds and atmospheres going on with the production that we feel like could be highlighted to make a sort of remix collection to compliment the album.
Houses of Heaven are a visceral live band, how did you all capture that energy in the studio?
Nick: Having live and programmed drums is both a blessing and a curse. We want people at the shows to wonder what the fuck is going on. Where did that sound come from? Who is playing that line? There's a lot to manage, but all the effort and thought we put into the live show really helped when it came time to record. Even though it is largely an electronic album, we spent a lot of time making sure things didn't sound too robotic. I played some of the electronic percussion live in the recording studio, and the acoustic drums give the songs a human touch. There's a lot of layers. Matia really helped us shape the sound of the record by carving out space for everything that's going on. All the engineers were integral to the final product. We couldn't have done it without them.
Adam: To build off of what Nick's already mentioned, something we've talked about is trying to get the electronic sounds to have an organic quality and the organic sounds to have an electronic quality. There's something in that blurred line which we've found really inspiring. I think since we worked on the demos as we wrote, it made recording easier, since we already had the direction we were going for fleshed out. A lot of it was just really nailing the vibe we were already hinting at in the demos, and we were lucky to work with some great engineers and a producer who could really capture that and make room for all the details to coexist. If anything I think it's a struggle to figure out how we're going to pull the songs off live!
Keven: Our songs tend to have a very high track count as we spend a lot of time layering percussion and synth sounds. It's easy to get carried away and fill up every second with sound but that's tiring on the ears and just ends up sounding flat. The tracks started to take shape once we began taking away layers to create more space and dynamics. The live instrumentation helps a lot as it gets things off the grid and feels less rigid. Even with the electronic elements we limited the amount of quantization and tried to play things by hand whenever possible. Everything was done with hardware synths, drum machines, or samplers so they have their own feel and swing. We recorded the live elements in outside studios: the drums with John McEntire in Nevada City and the vocals and guitar with Monte Vallier in San Francisco. We didn't have much time in the studio, so we had to work quickly and rarely had time to do more than 2 or 3 takes. This kept things from feeling stale and added some spontaneity. When it came time for the mixing, Matia had the fun job of creating space for everything. He was very conscious of capturing the feel of a live band so spent a lot of time making small eq, volume or effect changes throughout each song to create movement and dynamic shifts.
Can you expand on some of the lyrics or themes behind the record?
Keven: The album was written surrounded by the Northern California wildfires, the ever growing tent-cities, and the continued rise of empty luxury housing in the Bay Area. It felt like everything was speeding towards some horrible ending. There was so much anxiety and uncertainty in daily life. There's a quote from William Gibson about how he's more interested in the human reaction to technology than he is about technology. I wanted to explore how people live with these anxieties and find meaning and purpose within them. The songs focus on smaller stories like windows into specific moments. Of course there was no way to have guessed how bad things would eventually become.
I saw an exhibit at the De Young museum in San Francisco called "Cult of the Machine" about the growing tension and paranoia during the Industrial Revolution of the 1920s and 1930s. Assembly lines replaced individual human labor and skyscrapers changed skylines. The exhibit echoed so much of what I was feeling at the time, it became a big inspiration for the album. Some of the pieces referred to these modern buildings as "cathedrals of commerce" and "totems of steel." I thought that was beautiful imagery and used it in the song "Time Apart". There are also a lot of literary references in the songs as well. The song title "Dissolve the Floor" was inspired by the T.S. Eliot poem "Rhapsody on a Windy Night." "All Possible Obstacles Are Present" alludes to the insular world of Ballard's High Rise. "Time Apart" also has a reference to The Wanting Seed by Anthony Burgess. There are also some different layers like the line "the barren leaves fall" from "Dissolve the Floor" refers to Those Barren Leaves, a novel by Aldous Huxley, whose title is itself referencing a Wordsworth poem in which barren leaves are the empty books of the elite who know nothing about real life. Of course you don't need to read into things that deeply to understand the songs, it's just something that keeps me interested. I try to strike a balance between lyrics being visceral and immediate and also having some depth.
How do you see the current pandemic affecting the band? Any predictions for how the music scene will adapt or survive?
Nick: Honestly, I think live music is dead for at least a year. I was really looking forward to seeing Einstürzende Neubauten this October but they cancelled their tour. Even when venues start to reopen, those that have survived the economic repercussions of the pandemic will have to face the fact that people are going to be hesitant to be in enclosed spaces among large crowds. Maybe there will be more outdoor shows where people can practice social distancing? There's a lot of sweat and spit involved in any (decent) live show, though. I don't know, honestly. My girlfriend, who is also a musician, has started doing some streaming on the internet. That is not as easily done with a band, however, especially one as loud as Houses of Heaven.
With so many venues closing permanently because of the pandemic, live music unfortunately faces some hard times moving forward. Maybe we will see more youth-led warehouse shows popping up since many "official" venues have gone under, but again, I'm unsure whether people will attend. People have shown up in large numbers for the protests against police brutality, and in doing so they are putting themselves at risk for a cause they believe in. I'm not sure the same passion will, or should be, applied to live music. Risking your life to stand against white supremacy and the murder of black people is a lot different than risking your life to see a band.
Adam: It's rough. I don't want to pretend that I think live music will bounce back anytime soon. I really hope it will, but the rational part of me doesn't actually believe it. On top of that, if I'm really being honest, I haven't enjoyed the majority of live streamed performances I've seen. I've always used music and art as an escape, a way to get out of reality for a moment, but seeing these artists locked in their living room, just trying to make do (while very admirable) unfortunately just drives home how fucked the current situation is for me.
I have seen a couple of really inspiring quarantine performances. One that has really stuck with me was a stream called Total Access which had a show with Panther Modern, S Product, and Reggie Watts, with Cloaking (who did our "Dissolve the Floor" music video) doing visuals. They've got some sort of AR setup, which puts a sort of warped, cyberpunk looking 3D depiction of the artists into a CGI environment – all done live while the artists perform. It was kind of mind blowing to watch, and somehow even though I was laying on my couch with my laptop in my lap and my headphones on, I felt like I was in some sci-fi movie depicting a live show in the future. It might have even been the only thing that got me feeling excited since the quarantines started. Hopefully we can all come up with some more exciting and creative ideas like that. I heard about a drive-thru hosting a live show, with everyone tuning their radios to a station broadcasting the band on stage!
Keven: It's sad to see so many independent music venues closing. The only places that can hold out are those owned by large companies. Will we see them start to buy independent venues as a way of "saving" them? Either way they will be the only game left in town. It's another case of the rich consolidating power. As Nick mentioned, maybe we'll see more underground and warehouse shows, which would be great. We already see a lot of that outside of major cities. Another problem is the possibility of even more travel restrictions. It's already difficult enough for bands to come to the US and Canada. If that happens in more places it could be difficult to make touring economically feasible for smaller artists. This may lead to larger local music scenes which could be interesting.
Regardless, music will find a way to survive.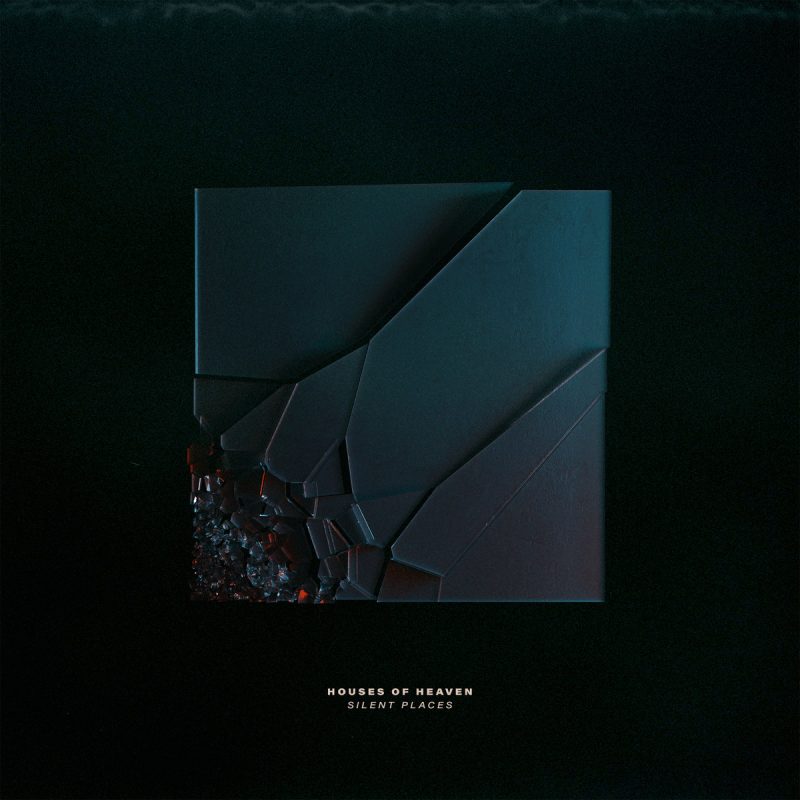 Silent Places is available in both digital and limited edition cloudy/clear wax vinyl. Pick up a copy of the album via Bandcamp.
Photo and album cover by Effixx