In today's ever-changing musical landscape, the nature of the remix record is an almost foreign concept. Once a deep expression of 1980s and 90s club culture, remix records were often considered a work of art upon themselves, crossing genre boundaries and blending both complimentary and left-field artists within the same sonic tapestry.
While the remix record, on the whole, is in decline, INHALT have kept the art form alive, first issuing 2014's Simulacra, a companion piece to their second 12" Occupations. Since then, INHALT brainchild and producer Matia Simovich has built a name out of producing many of synth and post-punk's best records from this past half-decade, including SRSQ's Unreality, Silent EM's The Absence, Body of Light's Time to Kill, and Riki's 2020 self-titled LP.  His latest production credit is House of Heaven's Silent Places, due out on Felte on May 1st.
With all of this in mind, we're honored to premiere an exclusive digital-only remix of INHALT's "Alles," remixed by Kontravoid. This particular remix will appear on the digital edition of Simulation, a new remix record featuring interpretations of previous INHALT tracks by ten renowned producers across the globe, including John Fryer, David Harrow, and Rhys Fulber, to name a handful. Listen to Kontravoid's throbbing electro-body workout of "Alles" below:
We also had the chance to catch up with Simovich, who currently runs Infinite Power studios in Los Angeles, about the nature of the remix record, the gestation of Simulation, and the world at large:
Do you feel there's a narrative or flow to remix records, in the way that they were released in the past? What are some of your favorite remix records, past or present?
I think my understanding of the remix as a form comes from 12" singles from the 80s. Extended cuts, dubs, and alternate versions. Usually there's a producer involved with such a thing or a different producer from the LP the singles appear on who gets called in specifically for the remix. These different versions provide an alternate experience while still somehow connected to the theme of the original album.
Since we don't have 12" singles as much anymore (a crying shame and one of the bigger crimes of the modern music industry),
I think remixes naturally progressed to becoming somewhat of a form in their own right or their own release. Further, they have the ability to transport one genre into another one, adjacent or not. This is what happened with our first remix record, Simulacra.
When Commerce finally came out after a very long production time, I sort of, on a personal level, wondered what it would be like if some of my all time favorite producers re-did the record. Hence Simulation. Thematically it resolves Simulacra in that together they form a complete reference to a critical theory book very important to INHALT (Similuacra and Simulation by Baudrillard).
As far as past records, I'm a huge fan of the extended cuts Trevor Horn made for Frankie Goes to Hollywood, some of the extended Pet Shop Boys versions ("Love Comes Quickly"). For the more remix as transformative / modern reworking I used to jam the hell out of the Ellen Alien remix LP.
Also Khidja's Never Seen the Remixes. Love it more than the original EP.
Listening to the record, I can hear traces of each producer's work as an influence to INHALT.  Also, as a renowned producer yourself, how do you feel about the relationship between the producer and the artist?
I think there's no "one" artist / producer relationship. Everyone is different and even as a producer you're not necessarily doing the same thing over and over again. You're assessing the needs and intentions of the person and production you're working with/on. So there's an element of awareness that's a constant, sure, but everything else is different.
Some people come in wanting a more hands-off approach, some people come in wanting a more hands-on approach. You just have to figure out what's needed. Then there are producers like Trevor Horn where it's basically the vocal from the artist and maybe some semblance of the original chord structure but largely … it's Trevor Horn.
I think most producers have probably worn all of those hats. I know for myself, at a certain point I definitely am more in support of the song and what's coming out of the speakers than pandering to an artists ego. If I feel like a request is a disservice to what's actually happening in the room, out of the speakers, in that exact moment, I'm not afraid to make my case. Some personalities can deal with that some can't. At a certain point it's really on me to gauge the situation. Which again I think is the essence of the producer / artist relationship. I mean, if you're producing a record, there's a reason why you're there. You're not supposed to be a pure enabler. Your job as a producer is to elevate the music and take the thing to the next place, not to make friends.
Can you talk more about the relationship of the remix records and how they expand and build on INHALT's themes?
To answer that is to partially understand what the themes of INHALT are. At its core, INHALT is never about genre. It's always about a concept and a high level of creative and technical integrity. Having said that, a sensical 'sound' is important to the cohesion of a release so the only way to transcend the 'sound' is to open the concept to interpretation via a different context. And thus the remix.
What's interesting about the latest record is that even though it's a diverse selection of artists and producers remixing our songs, a narrative and cohesive flow was born out of that variety when put together in an LP form. It's something that I had hoped for and am happy we were able to achieve.
It's great when that comes together, especially when it's a compilation or remix record. It's wonderful to discover layers of meaning when taking things out of context as such. With that in mind, were there any mixes that surprised you, in an almost out-of-left-field way?
The Ulrich Schnauss remix. I knew he was the wild card in the line up but he's someone who I have massive respect for and I'm very happy to call a friend. What surprised me the most was how he was able to take his very refined sense of distinct melody and harmony and apply it to our jagged proto-electronic body sound and make it sound so correct. I loved it so much I begged him to extend the run time of the remix, which he very elegantly did.
Any future collaborations in the works? How does 2020 look on the production front?
The Houses of Heaven LP is coming out soon, so really there's only a handful of projects that haven't been released yet that I had my hand in in 2019. For right now there are various projects all sort of co-existing in the studio. Once those are wrapped up I'm actually looking forward to spending more time on a couple of projects that I'm either starting or constructing from the ground up. They're all collaborative in nature but will be different stylistically and I think all will serve as great opportunities to push myself and experience different forms of music. I'm very excited about them but I don't want to share too much.
I think also there might be some follow ups happening this year but again, too soon to say. Whatever the case, and despite everything happening in the world my optimism is very high. No matter what is going on, whenever I walk into my room at Infinite Power, I feel proper, good, and like where I'm supposed to be.
Infinite Power Studios is also getting a little bit of a rework in my room which will make it possible to push sound further. I recently acquired a full Synclavier system so that's part of the enhancement.
How about Aphonia, the latest project you've unveiled?
Aphonia will also be releasing a 12" vinyl via Slow Motion / Wrong Era and "Burning Fields," which I premiered in digital form earlier this year will be on a vinyl comp via Emotional Especial. Aphonia is a pure solo project for me largely minded with nature, seasons and is instrumental only but long form (ie club oriented).
On the production front, who would you work with if you could? Alive, dead, or anything in between?
Id love to produce a record for the Pet Shop Boys, I'd love to remix Depeche Mode, and I'd love to talk shop and be in the studio with Tony Mansfield. If Trevor Horn feels like having a coffee, that too…
How do you think the pandemic will affect musicians on the whole? How do you foresee the collaborative process changing?
It's really interesting watching the drama in the world unfold. Unfortunately it's pointing towards all of the structural faults in today's neo-liberal capitalist hellscape. I'm neither Generation X nor a Millennial but I know I've been lied to regarding all the bullshit promises of the 90s. And here we are with this virus proving that to be true. If you climbed the ladder that "they" said to climb, you are now at the bottom rung. Interestingly, musicians, music, art, and cinema are seeing a massive resurgence in their absolute need.
The problem is the wrong cocksuckers posited "us" into the same losing scenario the big-wig labels did back in the day. Only with way less money in our pockets. So now essentially we are dependent on the public making the connection between what they consume, and renegotiating the value of the product of consumption. In essence, people need to re evaluate what they value music in light of, hopefully, recognizing its importance and need in culture.
If that plays out in the way I hope it does, then maybe we can make some forward motion in regards to legislation giving us some more standing going up against legalized piracy (ie streaming services),
and maybe more people will start BUYING music.
As for the production side and the musician side, I feel like there is going to be a massive wave of records coming. The utility needed was time and here it is, in abundance. The recorded form will see a massive resurgence, which in many regards, I feel was largely overlooked as a necessarily evil, financially speaking, compared to live shows.
With that in mind, I am slowly starting to see more remote mix and production requests come in my email. And I'm just really glad that I work in a studio situation where I can safely take anything on and can continue to work through this.
Overall, I feel like there is strangely a lot of peace on the planet. The earth is healing, the skies are cleaner than I've ever seen them in LA, people outside of high stress areas like super markets, seem a lot calmer…maybe it's a certain amount of surrender or something along those lines because no one knows precisely where the money's gonna come from or if the dis-ease is gonna hit them.
As for performing live, are these Twitch/Facebook livestreams going to be the latest thing? Do you have any faith in concerts being an experience in the way used to be?
There's something so intrinsically discount about livestreaming. It would be ghastly if that's the new normal. I don't think it's gonna go that way. My feeling is the situation will stabilize regarding world health. Once that happens, gatherings will form again. Livestreaming is a band-aid to temporarily heal the wound. The novelty gets people connected, even if in a lightweight simulated way.
But then… SIMULATION.
—
Simulation is out on May 29th via Mechatronica Records. The 2xLP will feature tracks 1-8 below, while the digital edition will include three additional remixes, as well as 2018's Commerce EP in full. Check below for the full digital track listing, album art, and pre-order links: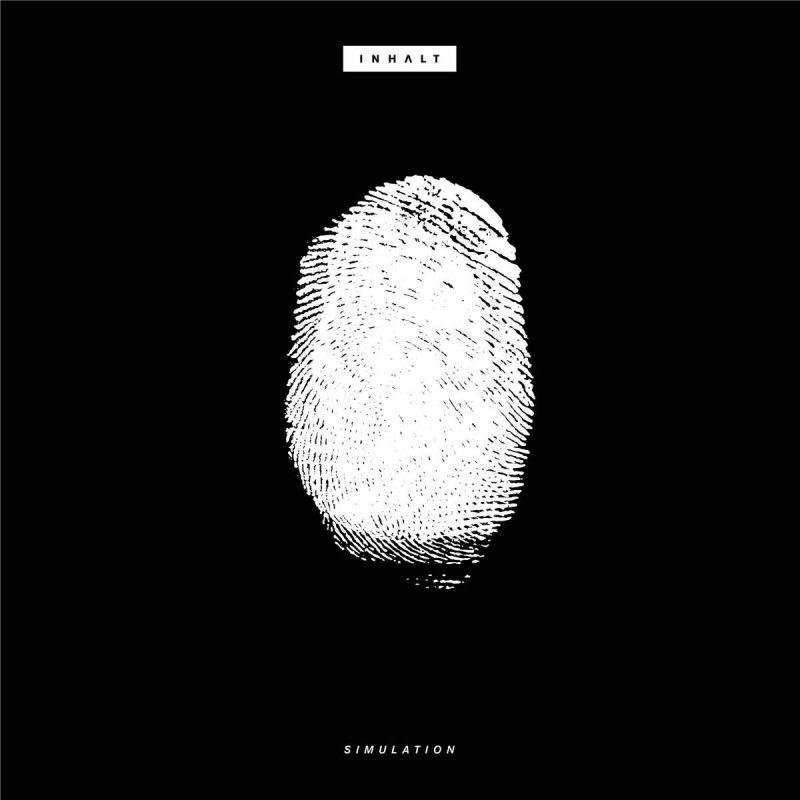 INHALT- Simulation
1. Alles (Timothy J. Fairplay Remix)
2. Language (Rhys Fulber Remix)
3. Schwarz (Black Merlin Remix)
4. Commerce (Lokier Remix)
5. Alles (Kris Baha Remix)
6. Language (John Fryer Remix)
7. Schwarz (Ulrich Schnauss Remix)
8. Commerce (David Harrow Remix)
9. Alles (Kontravoid Remix)
10. Commerce (Liebknecht Remix A)
11. Commerce (Liebknecht Remix B)
Pre-order LP and expanded digital edition via Mechatronica
Pre-order digital remix-only edition via INHALT