Seattle-based darkwave duo HALLOWS have unveiled their video for "Subtle", the title track from their recently released EP, and along with it, have spoken with us about their melodically melancholic compositions across 5 spellbinding tracks.
The EP's eponymous song is a haze of ephemeral synth beauty with anthemic beats and pulses, that swirl like warm air in the coldest night.
On "Subtle", Dom R. of HALLOWS explains:
"The message behind "Subtle" is that of feeling small in a colossal world. Often, we would tend to forget the insignificance of our existence in this enormous universe. However, in a sense it comforting to remember how unimportant we really are. Subtle is intimate to us and we wanted to depict that. It's just the two of us captured doing things that are routine, yet liberating and cathartic: playing the song "live" – reliving the emotions, struggles, and despair we felt when writing it. A walk around the city where we get lost in our own world, but also get reminded of the immenseness of everything around us: cranes, bridges, highways, constructions. You get an inmost look into us, and as we pointedly and disquietly look straight into the camera – it would seem, we also get a look into you."
Watch the video for "Subtle", and our interview with HALLOWS below:
Hi Dom and Vanee – Your first two singles are stunning, and we really enjoy your EP. Thanks for speaking with us about that today. Where are you writing from today? 
D: Thank you! We are excited to have the title track of "Subtle" and "The Call//Ravenous" out in the world with the rest of the EP following early April. We are writing from the rainy skies of Seattle. Serendipitously, it is quite the rainy day here today.
You have relocated from St. Paul to Seattle, and even earlier from Mauritius? Has that had a big impact on you musically with these involving different environments and lifestyles?
D: Our move from Mauritius was about 13 years ago so it has been a while. Back then, like most teens our age, we were into a mix of metal, grunge, pop, and rock. We still are into various genres of music, which inspires our own sound. In terms of making music together, relocating from St. Paul to Seattle definitely had an impact on us musically. Minneapolis/St. Paul has an incredible art and music scene where we still have a lot of friends. Before the move we were a bit worried about finding our niche in Seattle, a brand new city to us, but luckily it has not been hard. Turns out Seattle has been a very welcoming community and scene to us. We've made friends lightning fast, and have been very inspired by the gloom of this city. We always talk about how mentally tough it is to deal with the lack of sun and the rain but at the same time how that contributes so much to our creativity. Since our move, we have been writing music pretty effortlessly, believe it or not, and we blame the new environment.
Please tell us about your new EP? Is there an overall thematic you are exploring here or are these chronologically your first five songs as a duo? 
D: These were the first five songs we've composed as a duo but there was definitely a theme when we composed them. We wrote and arranged all of the tracks on "Subtle" while going through some fairly stressful times which has contributed to the overall dark and sad vibe of the EP. We have a collaborative process to how we write music (which can sometimes lead to us getting on each others' nerves) and we usually discuss the general idea of the song, what we want it to evoke, and how we want to portray it. Each song on the EP has the same overall theme of nostalgia, loss, and feeling overwhelmed, which we both shared when we wrote it. Vanee keeps trying to convince me that the theme is "dancing to the misery," whatever that means haha!
The video for your track 'The Call // Ravenous' is intriguing. I hope you had fun making it. Tell us a bit about this. 
D: We had lots of fun making it! Vanee was the mastermind behind that video from start to finish! She always had an interest in visual arts and film. When we decided to make a music video, we both decided that she should have free rein of it. We did sit down and discuss the concept and the general idea of each scene but everything else was her. No crew, no nothing. Just Vanee, a camera, and our friends Cory and David, who starred in it. I tagged along but was mostly carrying her tripod and stuff.
 The general idea of the video is that of two strangers following this call in the night. They wander about as they get pulled towards a strange, eery, location; which is in essence what the song is about. Vanee wanted the video to evoke this odd sense of purpose while being lost. She describes the video as "a life extinct of realization."
How did you come up with your band name HALLOWS? 
D: This one is entirely random. In the Summer of 2018 Vanee decided to learn to play bass, synths, and to sing. Dom was playing in a different band at the time and jammed with her a few times. Back then it sounded more like some John Carpenter soundtracks more than anything. Around that time we went to San Diego on vacation and we were hanging out at this bar that had golden skulls all over its walls. We were joking about how those were the skulls of dead saints. Then out of nowhere Vanee said "let's start a band and name it HALLOWS."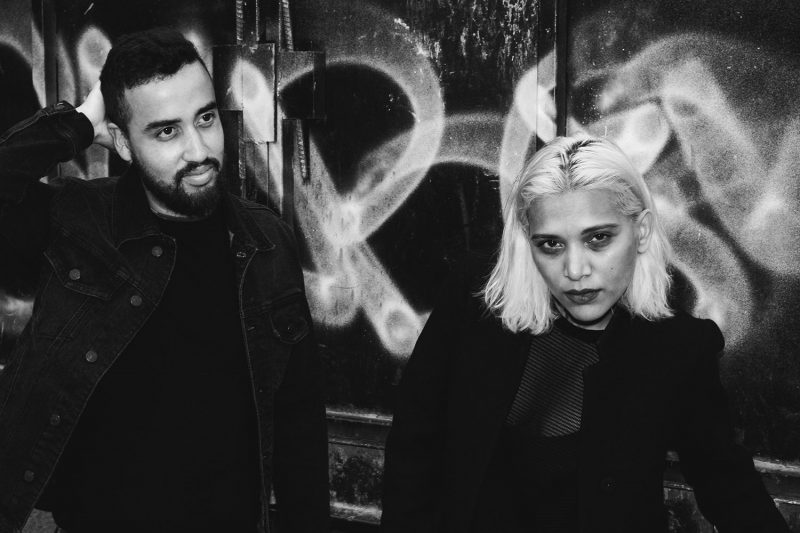 How would you categorize your music? 
D: We usually say we play darkwave/post-punk to keep things simple but we have many other elements in there: shoegaze, post-rock, doom rock, pop, cold wave, blablabla.
To an 8 year old I would say "scary sad music". To an 80 year old I would say "music for people with little to live or die for."
 I understand you are releasing this via Phage Tapes. How you came to work with this boutique label? 
D: Sam who is behind Phage Tapes is a sweetheart! We actually went to college with his younger brother and met him maybe 2-3 years ago, when him and a few other prominent industrial musicians in Minneapolis/St. Paul put up the Novo Industrial Festival (which ruled). We had been seeing him at shows around Minneapolis/St. Paul very often, since we like similar music and he had a pretty prominent presence in the local scene, especially his noise project, Baculum. If you cross paths with Sam, it is hard not to notice him, as he is a towering man covered from head to toe in tattoos and usually wears baseball hats that have stuff like "F*ck art make noise" written on them. We exchanged brief conversations at a Street Sects show he put together soon after, then he started asking us to play shows. We developed a good friendship, he even came to my doctorate defense back in Minnesota (what a sweetheart — did we mention that already?). And when "Subtle" was ready, we sent him the masters and he replied "I like the record, I'd be down to put it out." A man of a few but meaningful words.
I see you've been getting great feedback for your music so far. It must be challenging to get the word out these days, but I see you have some help from Shameless Promotion. How is that going?
D: Getting the word out is hands down the most unsexy but important part of being a DIY independent musician these days. We got super lucky to work with Shauna from Shameless Promotion as she has been amazing at helping us streamline our efforts. Shortly after moving to Seattle I sparked a friendship with Joseph Schafer (who is a freelance music journalist and helps run Northwest Terror Fest). Joseph recommended Shauna to us to promote the record and we are very thankful that he put us in touch with her. She is a delight and a true pro.
I assume your city is under lockdown or heavily under the self-isolation recommendation? What has this meant for you and how might this ultimately relate to your music? 
D: Yes, Seattle was the epicenter of the infection for a while in the USA. Since Vanee and I are fairly reclusive and introverted by nature, we are fine with being isolated. We are both research scientists and have been working from home this past month. But, we know a lot of people who are struggling right now and we feel for them. Also, seeing the wave of businesses shutting down (some permanently) and friends losing their jobs has been heartbreaking.
 Musically it meant that all of our shows got cancelled which, though it is a bummer, we get it. That has allowed us to focus on releasing "Subtle" and working on new material. We have also used this time to create visual pieces that go along with the record. The last one involved immersing ourselves in a bathtub full of acrylic black paint. We almost did not survive it.
What were you both doing before you formed HALLOWS? Have you always been involved with music?
H: We both have been going to local shows pretty regularly ever since we moved to the USA, so music has always been an important part of our relationship and our own personal interests. Dom has played in bands since he was maybe 12 or so. Vanee had always wanted to pick up an instrument but it was not until a couple of years ago that she did it seriously.
 Before HALLOWS I was playing in the doom metal band Without and Vanee was our #1 fan. She came to all of our shows ever (missing only a short midwestern tour that we did).
 What gear and programs are you using in the creation of your music? 
D: Vanee plays a Squier precision bass through a Hartke combo amp, running a big muff among other things. She also plays a MicroKorg, which she loves. She's working on some new material using a Korg Minilogue.
 I play a Squier J Mascis Jazzmaster through an old Yamaha combo amp that I will never get rid of. My secret weapons are the Earthquakes Devices Palisades and Sea Machine. I also play a Korg Monologue, a Novation Bass Station II, and program drums through Native Instrument Maschine. I also use the pads on Maschine for some synth parts.
Tell us about your recording process? 
D: We recorded with Ryan Olcott in his St. Paul loft. We met Ryan at the Kitty Cat Club in Minneapolis where he is the main booker and sound engineer. The few times he ran sound for us, we knew he understood what we wanted to sound like so we hit him up to record us. Tracking was a super easy process, over two sessions of about 5 hours each believe it or not. Ryan knew exactly what he wanted us to do and how we wanted to sound. We would work with him again if didn't live across the country from us now.
So how about what inspires you to create music, either musical or otherwise. 
D: This is quite varied. We love uncomfortable films. Vanee always talks about "Dogville" as one of her main influences. She also loves Have a Nice Life and Mogwai to an unreasonable level. For me I would say that I am also quite inspired by cinema, especially films with anti-heroes like "Sympathy for Lady Vengeance." Musically, I never shut up about how Neurosis is the best band in the world.
What's next for HALLOWS? 
D: We want to send "Subtle" out into the world and hear what people think of it. We have received requests for a vinyl release so we're currently figuring out if a 12" is an option, but nothing is certain yet.
Since playing live is cancelled for now, we want to wait and see what opportunities might come up in that realm, especially since we had started to plan a short tour. If things get better soon, we might get back on that horse. Otherwise we want to finish composing a full length record and record it some time this year.
The Subtle EP is now available across digital music platforms, including Spotify and Apple Music. Cassettes and T-shirts may be ordered from Phage, and via the duo's Bandcamp.
Keep up with HALLOWS