"Fear will not tear us apart."
Force, the new collaboration between NYC's Zachery Allan Starkey and Bernard Sumner of New Order, is an uplifting, optimistic anthem combining Starkey's passionate songwriting/production with Sumner's trademark synthesizer, guitar, sequencer, and programming work, reminding us to be strong and brave during the upheaval of society. The track is the third single off Starkey's forthcoming album, FEAR CITY, coming out 30 April 2020.The collaboration also marks the first brand new music from Bernard Sumner since the release of New Order's 2015 LP Music Complete. The music video, directed by Starkey with William Murray, is a gritty, panoramic portrait of New York City, documenting the metropolis as it quickly slips from uncomfortable guise of normalcy into chaos. Force is about the current global political mayhem, as well as the ever-increasing socio-economic inequality. Starkey throws the spotlight on homelessness, the opiate epidemic, and the Coronavirus pandemic.
At the end of March 2020, Starkey invited me to meet up with him in lower Manhattan, eager to share the surreal experience of an abandoned city. He enthusiastically greeted me at the corner of Broadway and Canal, casually dressed for the apocalypse but nevertheless cheerful. "Are you ready for something weird?" he asked, whisking us around the eerily vacant Canal Street. It took a second to register that the place was so empty that our voices actually echoed off the buildings on what is normally one of the busiest intersections of New York City. We scurried through the labyrinthine corridors of Chinatown, nary a soul in sight except for couriers on bikes and several nervous masked pedestrians tugging granny carts of groceries. We ambled down to East Broadway, usually bustling with scores of people shouting in a myriad of languages, the fragrant cacophony of fresh fish and durian and lychee and mango smells clinging to everyone's nostrils. All suddenly vanished. Chinatown had transformed into a silent dystopia, my companion the ferryman for the East River Styx.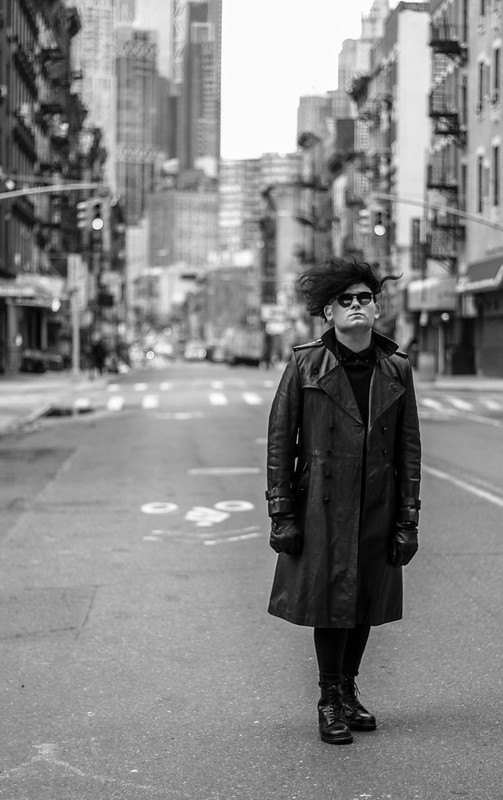 Starkey's preceding series of dystopian electronic techno albums warned us about this. Hearing his work was visceral for me: it was jarring to hear a musician frankly talking about the same horrors I also had witnessed on the streets of NYC as a street photographer. Documenting thousands of images of NYC's hellish hierarchy had been ample preparation for that chilly late March afternoon, but finding ourselves at the literal intersection where nightmare and reality join was truly sobering. Starkey calmly strode through his beloved Chinatown, having found a strange peace with the whole thing, Siddhartha clad in a leather trench coat. Although our approaches are different, we have long explored similar themes in our work, and it was oddly comforting to see its manifestation. The great divide of the Before Times and What Is To Come. The true Force emerging from the ashes. What a surreal privilege to momentarily break weeks of complete isolation to take in the nightmare with a friend. Starkey embraces collaboration as part of his artistic evolution, and with Bernard Sumner, they have hit a musical home run.
Starkey's collaboration with Bernard Sumner came about when Starkey opened for two shows on New Order's Music Complete tour, promoting his own album, Hard Power. After talking shop for years, a brotherhood blossomed between the two musicians. Dark techno with aggressive synth bass and dystopian lyrics have long been Starkey's musical calling card, but Sumner "got a bit carried away" with constructive feedback and transformed the track into something brighter. He advised Starkey to "put some hope" into the lyrics, which deal with confronting economic and political turmoil, as well as death, with a brave face. The lyrics acknowledge that these hard times are unlikely to change, but that we cannot give up."
Starkey muses: "Bernard's been through a lot in life, but he is one of the most optimistic people that I know."
It is a significant artistic shift for both musicians, but a welcome one; a passing of the torch from the seasoned vet to the next harbinger of change.
"I remember being a young artist…struggling both to learn my art, and to try and make a living out of the thing I had an all-consuming passion for," says Bernard Sumner. "Like me, Zachery originates from a post-industrial landscape of urban decay and forgotten people, which once thrived and brought great wealth to our nations. In my case in Manchester, England, the favour has not been forgotten, and it is now a thriving city again. The industrial heartland of America still sleeps, waiting for the men who reaped the profits to remember the people they left behind."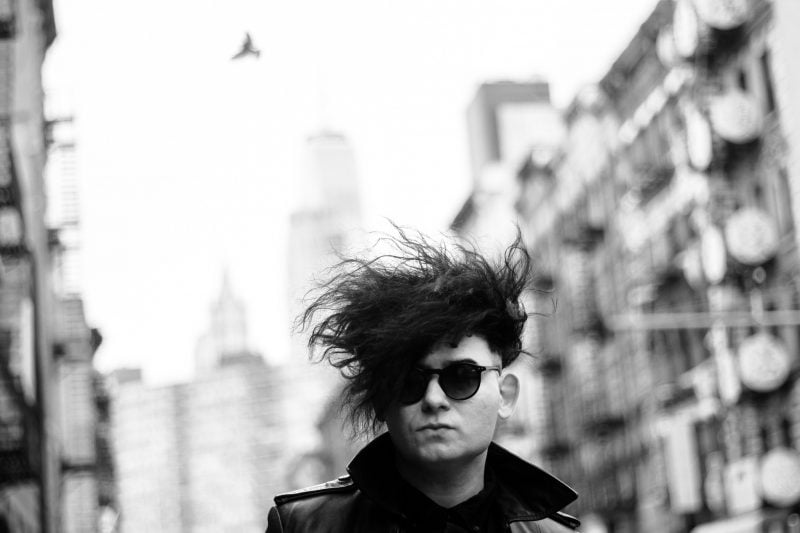 The fact of the matter is, this collaboration is anthemic for the collective conscious. Although we are each separated physically, we all have the means, opportunity and desire to connect and create. This situation is not all doom and gloom – in fact, it is forcing us to evolve and adapt. As Frank Herbert once famously wrote, "Fear is the mind killer." Fear cripples society, stops it in its tracks, and amplifies the darkness. What we need is light and love, and lots of it. Connections, joining messages, joining force. Photographers informed by sound, musicians informed by vision. This is how it begins, friends. The biblical Noah received a dove, the symbol of peace and love, after chaos and destruction. Fortunately, this city is full of damn pigeons, now currently roaming Broadway in rogue gangs. Flocking together is the answer.
"All said, Force is a reminder not to give up," Starkey concludes. "We need hope more than ever. Fear will not tear us apart."
Force is an anthem for the dawn of a new order. Bless all our souls. Enjoy the video.
Purchase the track directly from an independent artist:
https://zasmusic.bandcamp.com/
The track can also be streamed here:
(Cover photos by Warren Jackson and William Murray)