Over the last few months, New Jersey quintet Whiner has built up a tremendous amount of momentum, dropping a series of singles and a new video in quick succession. One of the hardest working bands in the area, Whiner have been forced to abandon the sweaty basement venues they usually thrive in, turning inward and focusing instead on the release of their long-anticipated full length. With that in mind, today marks the release of Peace Out Cruel World, an album that's been years in the making and delivers on the band's live energy and prowess. Listen to the entire record below:
The album begins with a solitary guitar line, a steadily plucked rhythm that immediately launches into a glorious, open refrain. "Sleeping Pills" sets the stage perfectly for the record's mix of big hooks and youthful angst, an enticing undercurrent of pop-minded energy that runs through the entire record . Whiner is certainly not afraid to go big, channeling the alluring swagger of Suede or the disjointed cynicism of Pulp on nearly every track, tapping into britpop's darker influences and glam ostentation at every turn.
"Sweeter" is an immediate standout, showcasing Cameron J. Castan's croon and younger brother Christian's oscillating guitar work, which adds a healthy dose of seduction and menace to the track. The tension the two create is rounded out by deep, lead bass lines written by Zack Inkley, Henry Heissenbuttel's synth textures, and Johnny Dynamite's clear, crisp percussion. We've already touched on "Fear," the album's throbbing first single that's equal parts madchester as it is garage punk, a tight-knit burst of power that deserves immediate attention and repeat listens. "Dog" follows with a devastating chorus that drips with abandon. Whiner continue tugging at heartstrings with "Varicose Veins" and "Baseball Bat," two previous singles that compliment each other fully. The former builds with pummeling rhythms, spoken-word passages, spacious, string-driven choruses and driving guitar lines. "Baseball Bat" is the album's most deliciously pop-influenced track, but even the song's saccharine chorus is perfectly offset by a series of menacing yelps and caustic guitar squalls.
It's prudent to note that in an era where songwriting is crucial, Whiner deliver on every single track. The band, by design, shies away from eighties darkwave tropes and needless goth cliches, but are no less tapped into the same wistful energy and passion that draws us all into fold, celebrating the universal ache and offering a heady dose of substance at every turn. As such, Peace Out Cruel World is a vigorous and refreshing record that certainly deserves your attention this afternoon.  Check the full artwork, track listing, and purchasing links below: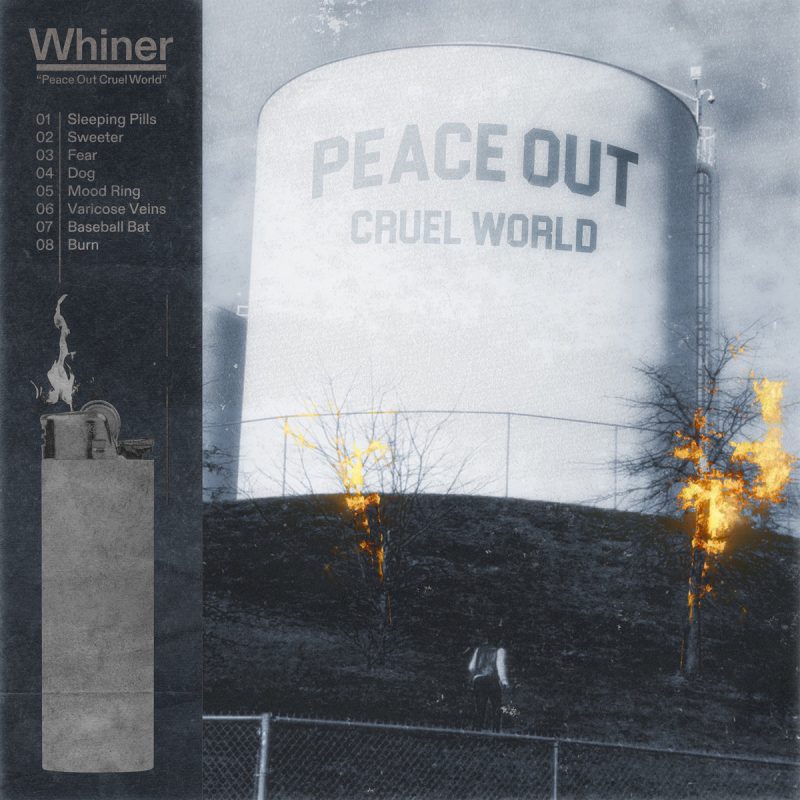 Whiner- Peace Out Cruel World
1. Sleeping Pills
2. Sweeter
3. Fear
4. Dog
5. Mood Ring
6. Varicose Veins
7. Baseball Bat
8. Burn
Purchase via Bandcamp