In September 2021, alternative rock/electronic act SINE released the new remix single and video 'Desolate District (Meat Beat Manifesto Dub Remix)'. SINE, led by singer and drummer Rona Rougeheart, weaves dance beats with industrial noise, stacking layers of booming bass, synths, and guitars into a mix of jagged textures and dark, lush fusions. The original version, featuring the vocals of Chris Connelly, was first released as a single in June 2020.
Following the grand tradition of bands affected by the pandemic, this project came to fruition during lockdown. The new album presents selected highlights from SINE's previous output from 2016-2020 (plus new remixes), as an introduction to new audiences, ahead of the forthcoming trilogy of new EPs, MANTIS I, II, and III: planned to roll out between late 2021 and early 2022.
"I was compiling a bunch of SINE songs from all of my past albums and singles to create this kind of "Catching Up with SINE" album that would cover my music from 2016-2020. I realize that I'm still pretty new to most, so I thought it would be a great way to re-introduce SINE after having so much time away since the shutdowns."
Now, they have released a fascinating new video for the haunting track. Jack Dangers collaborated with Rougeheart to direct the video, which features colorful ink swirls. "It kind of became a character of its own in this intergalactic, tragic "love" story," muses Rougeheart. This is the first single to be released off of Desire, Denial and Paramania. Rougeheart reflects upon the creation of the album and this remix:
"…During the summer of 2020, I was working with Scott Crow on some remixes for the label…We enjoyed working with each other, so I asked him if he wanted to hear my new music from MANTIS, just for fun…He loved it, wanted to sign me and suggested we release MANTIS as an EP trilogy…It was Scott's idea to have Jack Dangers involved and have him do a SINE x Meat Beat Manifesto remix. It's something I never thought I'd ever have, so it was truly exciting for me! His contribution to the track really brings SINE's music to the next level."
Watch the video below:
Rougeheart was born in New York, the youngest daughter of a Taiwanese mother and Irish father. She grew up as a military child, living all over the U.S. and in Okinawa, Japan. Her father was a musician who taught her how to play keys and guitar; she later decided to take up drums. In April, 2019, she landed a direct support slot for Peter Murphy in Orlando, FL for the 40th Anniversary of Bauhaus Ruby Tour with David J. The night seemed ill-fated when Peter was unable to perform, but was revitalized when she joined David J, Curse Mackey, Mark Gemini-Thwaite and Marc Slutsky for an impromptu performance of Bauhaus tunes. From that night, a new project emerged between David J, Curse Mackey and herself, yet to be released. She continues to write new music and work on future collaborations.
SINE has signed with the Austin, TX-based electronic industrial record label, eMERGENCY heARTS (eH), resulting in a perfect pairing for both the artist and the label.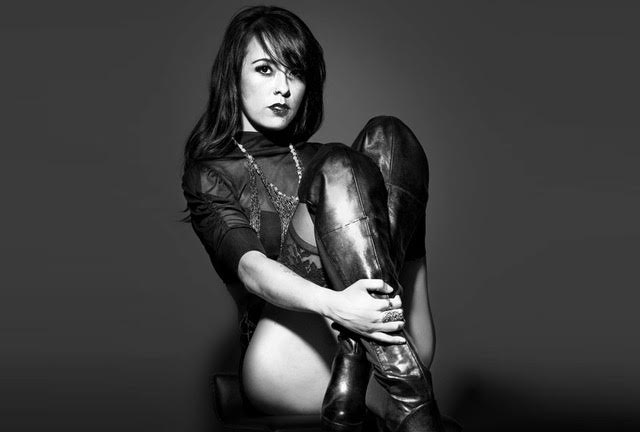 The debut SINE release for eMERGENCY heARTS, entitled Desire, Denial and Paramania, will be an 11 track collection featuring select songs from SINE's albums, INSOMNIÆ and Injected, recorded between the years 2016-2020. It includes collaborations with Curse Mackey (Pigface, Evil Mothers, My Life With The Thrill Kill Kult), producer Sean Beavan (Nine Inch Nails, 3Teeth, Slayer), and legendary industrial vocalist Chris Connelly (Ministry, Revolting Cocks, Pigface) with remixes by Jack Dangers (Meat Beat Manifesto), DÐ (pronounced 'deth'), and dark pop duo, NITE. Desire, Denial and Paramania will be released in CD form as well as digitally worldwide on October 7, 2021.
Listen to the track on Bandcamp:
The new SINE x Meat Beat Manifesto remix by Jack Dangers is the lead single for forthcoming album Desire, Denial, and Paramania, due out 7 October 2021 on the eMERGENCY heARTS (eH) record label. Desire, Denial, and Paramania (DDP) will be released in both CD and digital formats.
eMERGENCY heARTS is an indie collaborative music label/ media project in Austin, TX founded by author, musician and gallery owner Scott Crow (Lesson Seven, Audio Assault), with a vision for music and other media to build an umbrella entity that supports artists outside the mainstream.
SINE is set to perform at Absolution Fest in Tampa on October 7th. Find Tickets and more info here.
Featured photo by Christopher De La Rosa.
Follow SINE:
Follow Emergency Hearts (eH):