Martin Rev and the late Alan Vega, the masterminds behind the pioneering synth-punk act Suicide, are celebrated in their first official collection, Surrender (Mute/BMG).
Intended to serve as an introduction to their incredible five-decade-long career, Surrender includes tracks from their debut album Suicide (1977), all the way to their final studio album release, American Supreme (2002).
The tracklisting, collated by Martin Rev, Liz Lamere (Alan Vega's collaborator and wife), Henry Rollins and Jared Artaud, includes two brand new, unheard tracks: "Girl (Unreleased Version)", and "Frankie Teardrop (First Version)", alongside classic tracks such as "Dream Baby Dream", "Cheree", "Rocket USA", "Surrender", and "Why Be Blue?"
Henry Rollins penned the sleeve notes for the 16-track album, which features previously unheard material, and will be available on blood-red double vinyl with an embossed, mirror-boarded gatefold sleeve; CD with embossed outer sleeve, and digitally.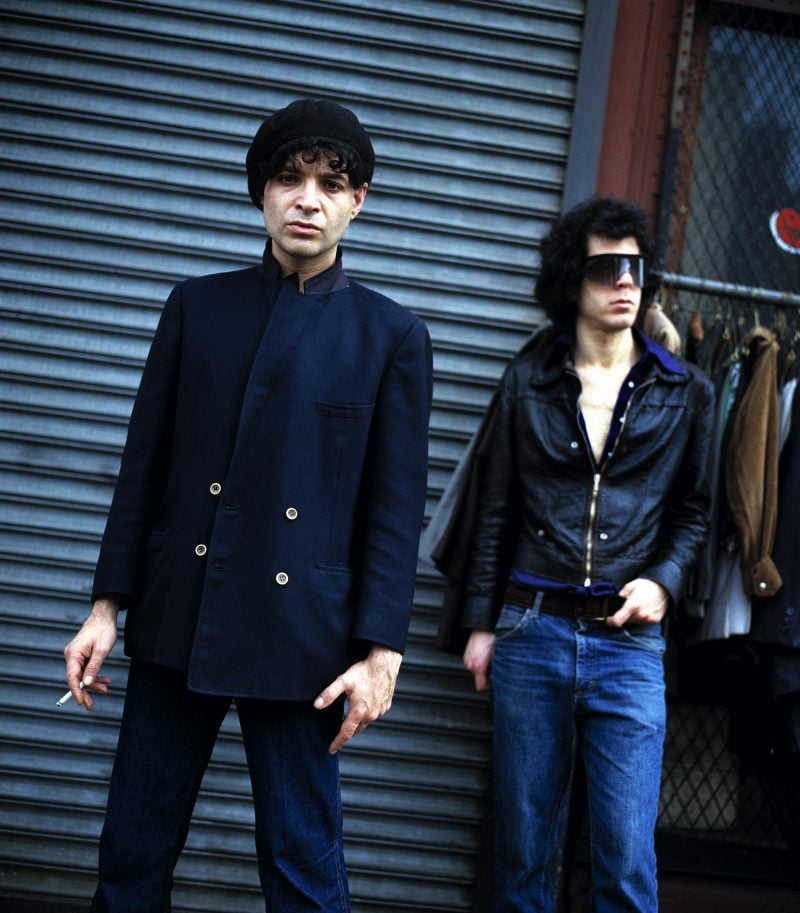 "This gathering of songs is not a "best of" nor is it a "definitive" all-you-need-to-know compilation. It is an introduction that will hopefully compel you to explore the albums," Rollins writes.
In celebration of the compilation, Divine Enfant has released a new visualizer for Suicide's best-known song, "Dream Baby Dream".
Watch below:
Additionally, included in the compilation is a previously unreleased version of "Frankie Teardrop", with alternative lyrics. Along with the unearthed version of the classic track is the accompanying short film directed by Douglas Hart (My Bloody Valentine, Primal Scream, The Jesus & Mary Chain).
(Warning, as with many Douglas Hart films, there are hypnotic flashing lights galore!)
Check out "Frankie Teardrop (First Version) below:
Suicide formed in the early 70s, reemerging in 1976 at the heart of the New York punk scene. Their debut album, initially unappreciated, went on to inspire countless artists: New Order, Depeche Mode, Bruce Springsteen, Moby, Soft Cell, The Jesus & Mary Chain, Fad Gadget, Primal Scream, and Nick Cave have all acknowledged their debt to Suicide. The band continued releasing and performing for forty years, until 2015's Punk Mass at the Barbican in London and Alan Vega's passing in July 2016.
All tracks were fully remastered by Denis Blackham at Skye Mastering, who previously remastered the recent acclaimed Art of the Album reissue of their debut album. The album artwork's concept and design- presented on the vinyl as an embossed, mirror-boarded gatefold sleeve – is by Michael Handis, with art direction by Jared Artaud.
Order Surrender here.
Follow Suicide:
SUICIDE – SURRENDER VINYL AND DIGITAL TRACKLISTING:
A1. Dominic Christ (2022 – Remaster)
A2. Diamonds, Fur Coat, Champagne ​(2022 – Remaster)
A3. Harlem (2022 – Remaster)
A4. Rocket USA (2022 – Remaster)
B1. Cheree (2022 – Remaster)
B2. Dream Baby Dream (2022 – Remaster)
B3. Touch Me (2022 – Remaster)
B4. Ghost Rider (2022 – Remaster)
B5. Mr. Ray (2022 – Remaster)​​
C1. Surrender (2022 – Remaster)
C2. Why Be Blue? (2022 – Remaster)
C3. Wrong Decisions (2022 – Remaster)
C4. Dachau, Disney, Disco (2022 – Remaster)​​
D1. Radiation (2022 – Remaster)
D2. Girl (Unreleased Version) (2022 – Remaster)^
D3. Frankie Teardrop (First Version) (2022 – Remaster)*
SUICIDE – SURRENDER CD TRACKLISTING:
1. Dominic Christ (2022 – Remaster)
2. Diamonds, Fur Coat, Champagne (2022 – Remaster)
3. Harlem (2022 – Remaster)
4. Rocket USA (2022 – Remaster)
5. Cheree (2022 – Remaster)
6. Dream Baby Dream (2022 – Remaster)
7. Touch Me (2022 – Remaster)
8. Ghost Rider (2022 – Remaster)
9. Mr. Ray (2022 – Remaster)​​
10. Surrender (2022 – Remaster)
11. Why Be Blue? (2022 – Remaster)
12. Wrong Decisions (2022 – Remaster)
13. Dachau, Disney, Disco (2022 – Remaster)​​
14. Radiation (2022 – Remaster)
15. Frankie Teardrop (First Version) (2022 – Remaster)*
^Previously unreleased, available on the vinyl and digital release
*Previously unreleased
Press photographs by Adrian Boot