French post-punk quartet UNSPKBLE delivers radical and melodic post-punk tunes, sounding uncannily like early Bauhaus, Sisters of Mercy, Killing Joke, and Soft Kill but delivering the raw confrontational power of Black Flag and The Misfits.
Founded by Greg Reju (Seanews, Do You Compute, Ultracoït) and Dion Lax in February 2019, the band allowed for Reju to return to his first musical loves. They were later joined by Gom Pilote (Between The Zones) and Seb Dodus (Pord, Showl).
The band has just released Live at The Black Sheep: four videos recorded during their last show in December 2021 in their hometown of Montpellier (in Southern France). The videos each showcase the band's frenetic energy and impassioned performances in front of a live audience. Their intensity is palpable: for a live performance it gives a good idea of the kind of connection the band has with their audience. The tracklist includes a brand new song, entitled Global Emergency, included in the videos.
Watch the live videos for "False Icon", "Global Emergency", "Questioning Collapse", and "Resurrect" below:
Previously unable to honour a tour of fifteen shows due to the pandemic, the band instead delved into compositions and musical residencies. The result of this detour is a debut EP, Friction, released on vinyl and digital platforms on June 6, 2020 via Rejuvenation Records and Kerviniou Recordz.
Listen to Friction here.
Now that the world is reopening, UNSPKBLE are scheduled to play live in France throughout the spring into the summer, and autumn.
See dates below.
Follow UNSPKBLE:
All Photography © Miss Buffet Froid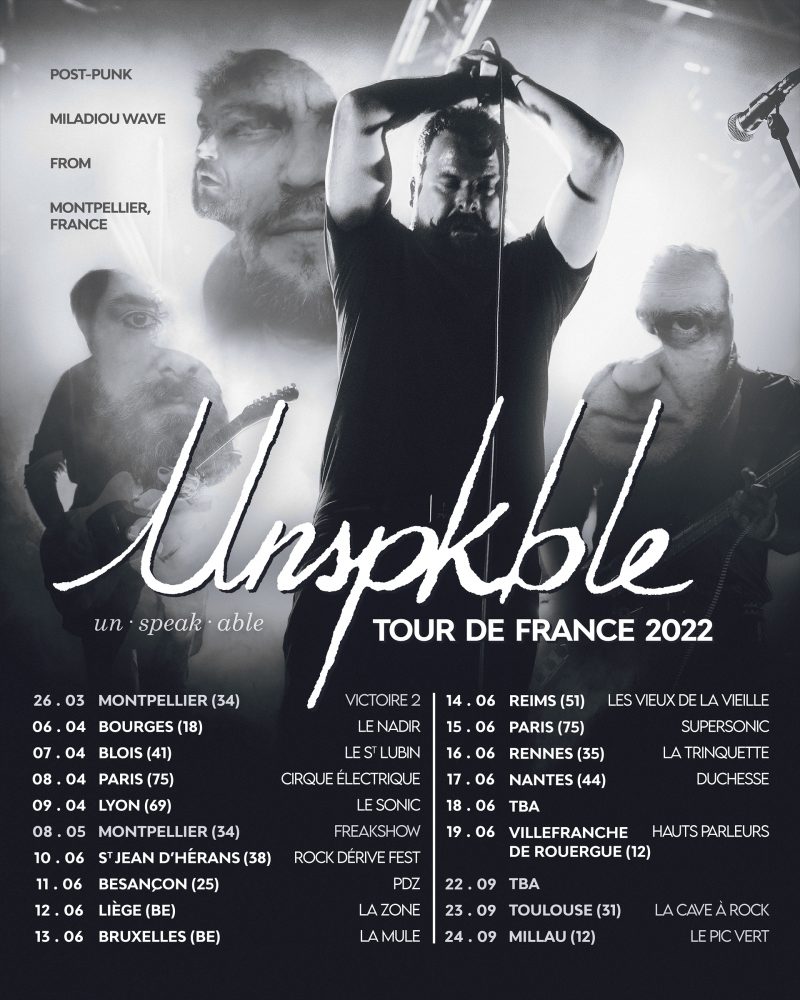 Featured Photo by Miss Buffet Froid