Although rock outfit Empty Streets may be new to many listeners, Aaron Thompson has had a fascinating trajectory as a musician. The proverbial 'son of a preacher man,' and diagnosed with Tourette's as a child, Thompson was raised in a hellfire and brimstone environment in San Diego, California. From the moment he received his first guitar, he began his musical path humming church hymns…with little exposure to secular music. That is, until Thompson caught MxPx at a church youth group show. This event served as his gateway to other punk bands like Social Distortion and Rocket From The Crypt…and playing the devil's music on his own six-string.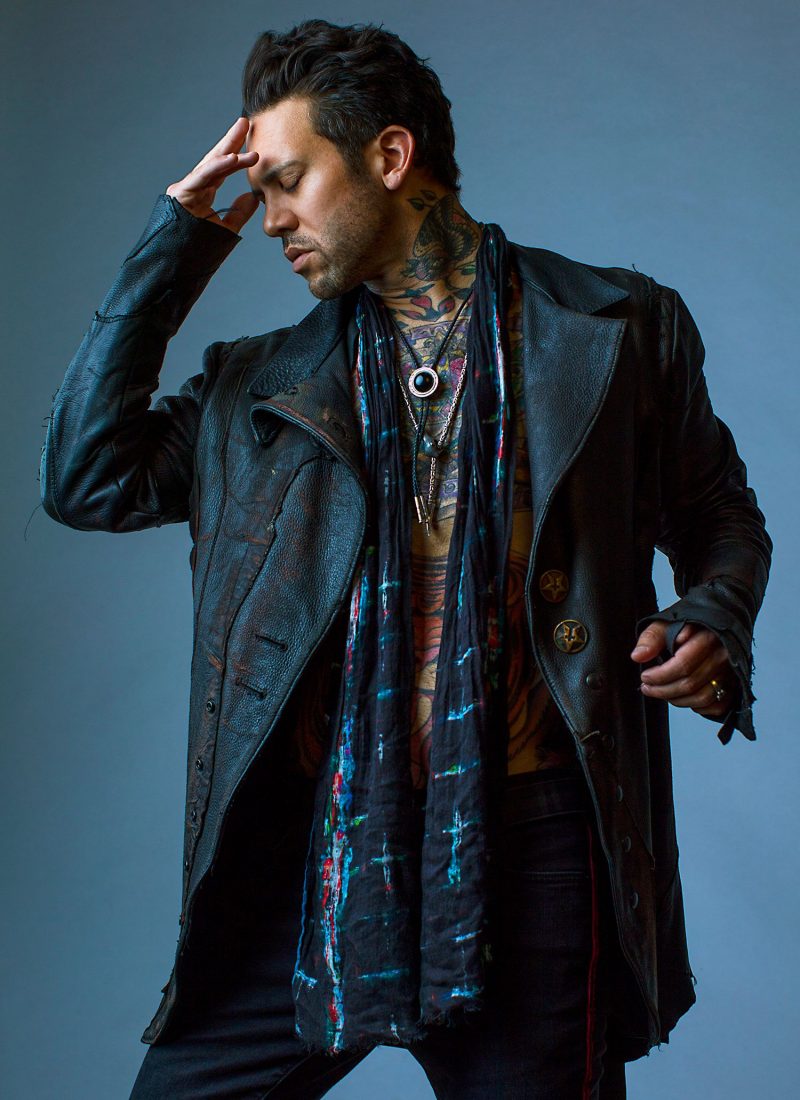 Thompson's big break came composing original scores for Burning Angel adult films; later appearing in front of the camera himself as "Small Hands" and becoming a superstar in the adult world.  He also embarked on a rollicking live career as frontman for Stranger's Six and bassist for Fenix TX, appearing at Warped Tour, and sharing the stage with Panic at the Disco, Dashboard Confessional, The Misfits, and The Cult.
Always open to exploring new horizons in his career, he adopted the moniker of Empty Streets in 2020 and began writing electronic synth-driven pop music with a dark, sexy edge. The brooding musical project released a debut EP, Demons last summer, which pulled from a variety of heavier influences, including Nick Cave, Depeche Mode, and Nine Inch Nails.
Empty Hands' cover of NIN's "Closer", from the upcoming EP Age of Excess (Cleopatra Records) is less menacing and urgent than the beloved original; more of a coax than a demand. The inspiration came, from all places, an admirer's request on Thompson's OnlyFans.
"I've always been a massive fan of this song," Thompson explains, "but felt it was so perfect that I dare not touch it unless I could reimagine it myself in a way that was completely different than the original, while still paying homage to it. I think we accomplished that.
"Closer was recorded from my home studio in Los Angeles with the collaborative help of Ophelia, mixed and mastered by Grendel. The idea to do this song originally came about because a fan on my OnlyFans requested me to cover the song for her, and it was so much fun that I decided to record and release my version!"
Ophelia adds, "working with Aaron always feels familiar and I've been lucky enough to produce with him on new music. This version of 'Closer' is emotional, dark, and is a paramount example of Empty Streets' sound."
The sultry video, directed by Stella Smut and David Lord and edited by Empty Streets, is a straightforward performance, raw and earnest.
Watch below:
Closer was recorded in Thompson's LA home studio with the collaborative help of Ophelia, and mixed and mastered by Grendel. The Age Of Excess EP comes out on February 28. Age of Excess features remixes and bonus tracks from a variety of electronic artists: Aesthetic Perfection, Grendel, Ophelia, Lost Outrider, Ese' & Zain, and Thompson's first Empty Streets remix.
Follow Empty Streets:
Follow Ophelia: