With silent film cinematic aesthetics imbued with a unique 21st-century flair, Ukrainian Coldwave Duo The Glass Beads invoke sorrowful sounds, both strange and sensual, on their debut LP Therapy, melancholic life stories focused on the search and struggle of trying to find your way as an individual way and to accept yourself.
These themes explored on the record are filled with pain and anger as well as hope.
The Glass Beads features the talents of musicians Marina Rublevskaya and Mark Arshynnikov, a pair of musicians whose Slavic features construct an appearance that is altogether commanding, beautiful, and timelessly Gothic, yet gracefully tempered with a modern and tasteful style woven between two eras of the centennial: the 1920s, and now.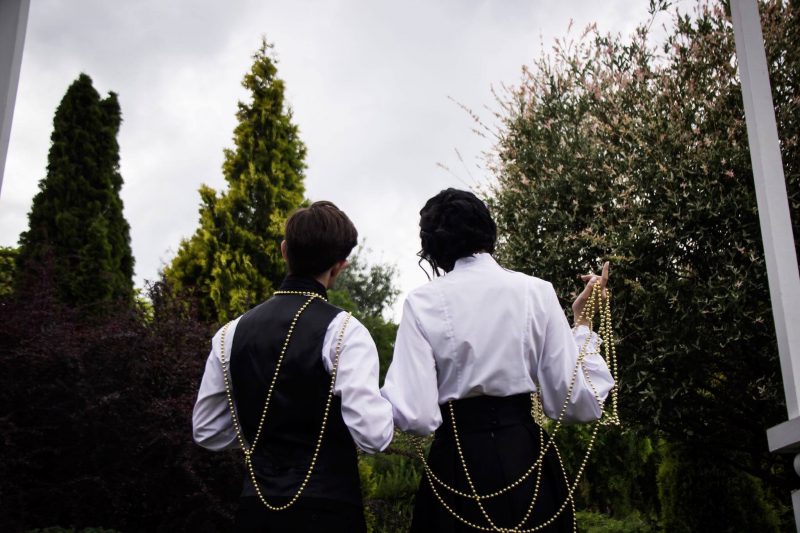 In their phantasmagoric collaboration, Mark and Marina conjure melodies that reverberate like footsteps through the hallways of an abandoned house, haunted by memories of love, sickness, and death. Their melodic music is interwoven with sighing keys, palpitating drum machines, sauntering basslines, and disaffected vocals like an eastern European version of Velvet Underground chanteuse Nico.
It has been 4 years since the two made their debut with "Going", a song that would two years later make itself part of The Glass Beads' 4 track debut EP Phobia issued on cassette via Squall Records.
For that release, The Wave of Things spotlighted the pair in their Sounds of Ukraine episode, Describing them as a cross between Lebanon Hanover and Drunken C, and highlighted their mesmerizing video for the title track "Phobia" where a blindfold vocalist Marina drifts amongst a field of sunflowers in stark black and white.
The first introduction to the music on Therapy was previewed last spring and summer, with "Music Box", a swirling spectre of a song that lives up to its namesake.
Watch the cinematic video for "Music Box" created by P603 below:
Starring: Olha Zaiarna Sasha Siedin Lisa Lukianenko Serj Kost Olga Kolinko Alona Mokiievets Vladyslava Mokiievets Aleksey Kulikov Lorenzo Tommasini Yelyzaveta Pliashechnyk)
Following the debut of "Music Box", Therapy was also previewed by the brooding bassline driven narrative of "City of Anger", a song that slowly wanders into lyrics fraught with the burden of painful endurance sung with a captivating vocal.
This was also followed by the suspenseful piano-laden track "Monster", a song that frequently graced the most popular international Darkwave DJ playlists well into the autumn.
These first tastes of songs written for the forthcoming album Therapy earned the attention of Molchat Doma's Roman Komogortsev, who would go on to help with the band's signing to legendary Greek label Fabrika Records, home to She Past Away, Selofan, and Lebanon Hanover.
The Glass Beads Therapy is available to order on a 12 Inch vinyl via Fabrika Records on Friday, September 4th.