Twin brothers Kyle and Myles Mendes comprise NITE, an electronic rock band from Dallas TX. Combining elements of 80's-90's new wave, post-punk, and dance music, their high energy, and infectious hooks come together in their latest track, "Falling Apart".
"Falling Apart is a lament, a desperate cry for help from self-doubt and depression – a shared trauma," they say. "The protagonist's world is crumbling as the distorted synths, angsty guitars, and driving beat impel his anxiety and rage to the very end."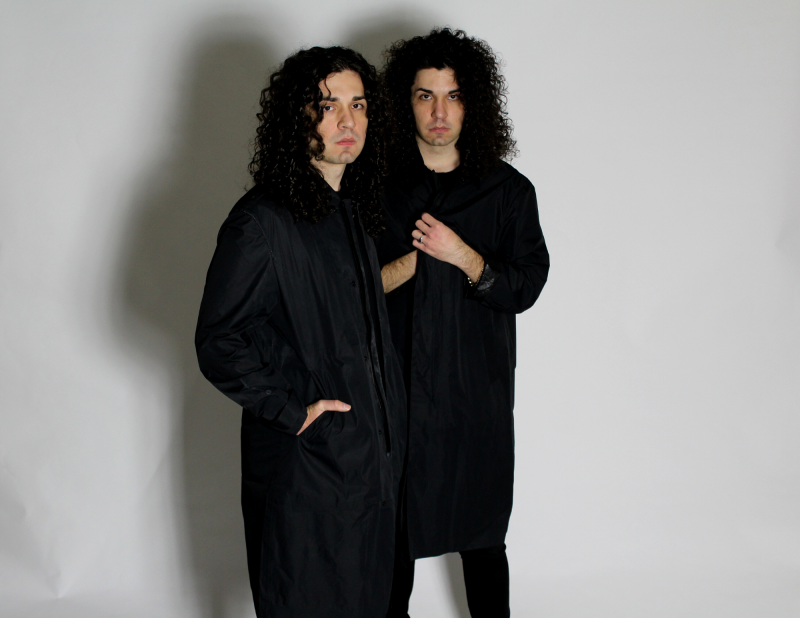 The Mendes brothers wanted to encapsulate their love of comic books, goth rock, and electronic music in the video for the track, particularly The Batman Who Laughs.
"We took leather straps and drove spikes through them and wrapped them across our eyes," they reflect.  "They symbolize how depression can blind you from being able to see anything good in yourself or in the world around you. Our hope is that this song will resonate with people and be a reminder that no one should be alone in a time of need…We're grateful to have captured a sense of our live performance with Phil Helms, our drummer."
Watch the video for "Falling Apart" below:
 Sleepless dropped in 2020 (Cleopatra), followed by the album's remix in 2021. The band foreshadowed their return to their darker musical roots by releasing a dark wave cover of Alice in Chains' "Would?" in October of 2021, followed by their latest single "Good Boy" on March 18th, 2022.
NITE has toured and shared stages with the likes of Small Black, The New Division, A Flock of Seagulls, ACTORS, Clean Bandit, and Midge Ure. In July 2022 NITE are about to hit to the road with Vision Video for the East Coast portion of their U.S. tour. dates below:
NITE Tour dates:
7/4 Pittsburgh, PA – Spirit Lodge
7/5 Buffalo, NY – Mohawk Place
7/6 Boston, MA – The Middle East 
7/7 New York, NY – Baby's All Right
7/8 Washington, DC – Comet Ping Pong
7/9 Baltimore, MD -Metro Baltimore 
7/10 Philadelphia, PA – Milkboy
Follow Nite: