Gothic post-punk collective London Plane, named for the ubiquitous, resilient trees planted in the streets of NYC, has released their sophomore album Bright Black via Declared Goods.
Bright Black is electrifying, possessed, pulsing, and relentless – a reflection of our collective and of personal tragedy. During the production of the album, band members endured personal tragedy, and bore witness to social and political upheaval. Capturing the spirit of the zeitgeist, these songs are willful, barbed, sardonic, and hopeful, at once nodding to the spaghetti western and British post-punk goth anthems.
"Are my songs fearless? Did we take risks? Yeah, for the most part, I think we did," says songwriter David Mosey. "At least, I didn't hold back lyrically…Bright Black is spirited, barbed, and lush, and if it's the last music I ever write, I can say that at least once we've done it right."
Listen to the album below:
Bright Black is a hook-filled avant-rock crash course in world history as it unfolds in real time during the 21st century: London Plane blends snarling disco, cerebral lyrics, and the spastic energy of modern times in song. Mosey's lyrics are intentional, forceful, and direct, crafted as London Plane confronts "the ascension of villains and the fading of heroes." You want a soundtrack for 24-hour news cycle angst? London Plane has the goods.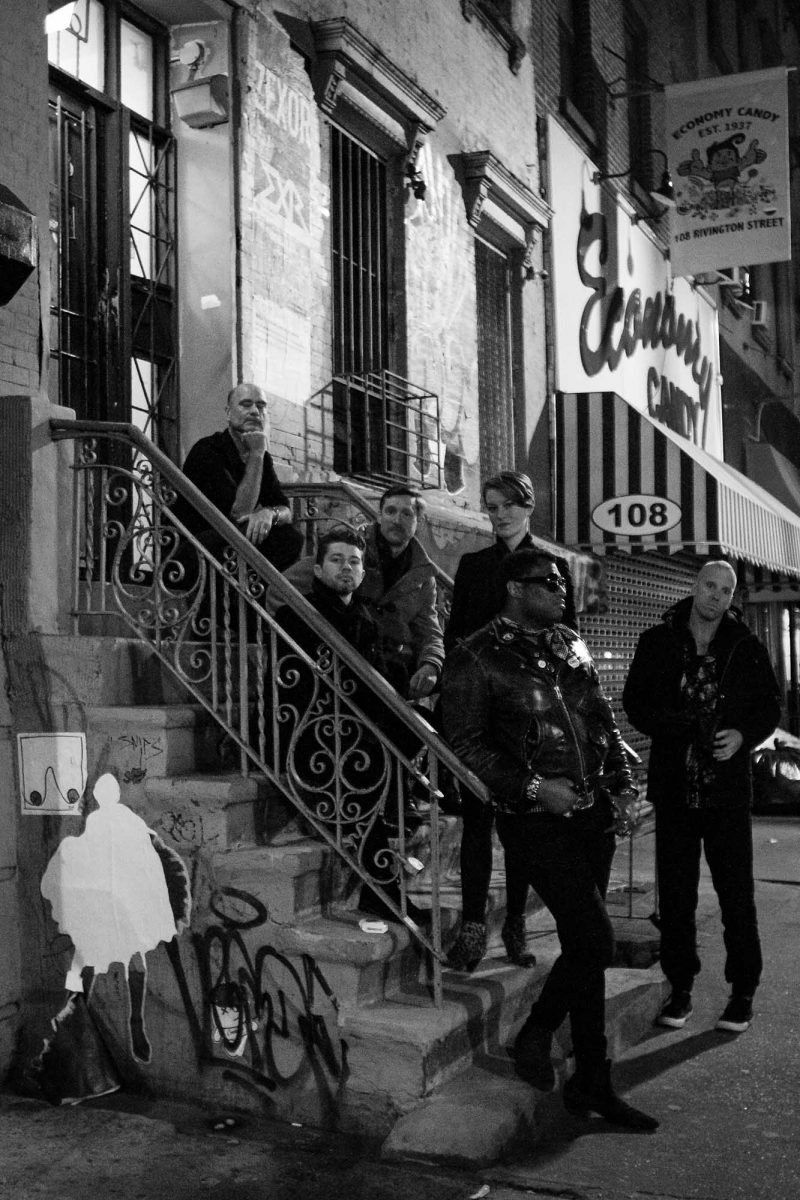 London Plane is a six-piece juggernaut, made up of David Mosey(guitar and vocals), Jessica Cole(vocals), Bryan Garbe (drums),Grant Parker (bass), Julian Tulip(synths) and Kristofer Widholm(guitar). Their roots trace back to 2014 backstage at a tribute show to the recently deceased Lou Reed, when Psychedelic Furs' Joe McGinty introduced David to Jessica, who were both performing.
The band's back story is straight out of a novel:
"If you die in New York City and no one remains to collect your things, the cleaners cart the contents of your apartment down to the street for the garbage collectors. There, the objects that made up your life are left to the whims of New York City dwellers before they are carted off to a dump somewhere on Staten Island. You know the scene when you see it: a chest of drawers ravished by curious passersby. File cabinets rifled through without the least shame. Who knows? There could be something in there. This time it was a suitcase that sang the siren's song…Inside, amongst books and broken records, David found the diary. Her name, inscribed on the front cover, was Francis, spelled the masculine way. Her first entry was dated June 12, 1975, and began, So I made it to New York. The entries continued daily, then monthly, then every year or two…Then, in 1982 after a flurry of successive entries, the words came to an abrupt end. Her last words: I hope he gets it."

It. What was it? Considering the era of paranoia in 1982 from a dreadful viral plague, her final words seem foreboding – and familiar. This, and Peter Murphy's heart attack at NYC's Le Poisson Rouge, would inform their searing single, Francesco.
Watch That Madman Go targets the grand tradition of political dictatorship. The track, heavy on the tribal drums and a smokin' bassline, is menacing and droll; vocalist Jessica Cole channels Siouxsie Sioux at her most sardonic.
Bright Black is available everywhere digitally, including Apple Music, Spotify, and Bandcamp.
Keep up with London Plane: