Leeds post-punk/gothic lovelies The March Violets have a new offering afoot: an exclusive Record Store Day album drop in the form of a limited edition vinyl double LP.
The March Violets formed in 1981, meeting at Leeds University. The original band members were Tom Ashton (guitar), Laurence "Loz" Elliot (bass), Simon "Detroit" Denbigh (vocals), and Rosie Garland (vocals). Percussion was provided by a drum machine, nicknamed "Dr. Rhythm." Fellow student Andrew Eldritch, lead singer of the Sisters of Mercy, released the band's debut four-track Religious as Hell EP, on his Merciful Release label in 1982, followed by Grooving in Green, followed on 27 November 1982.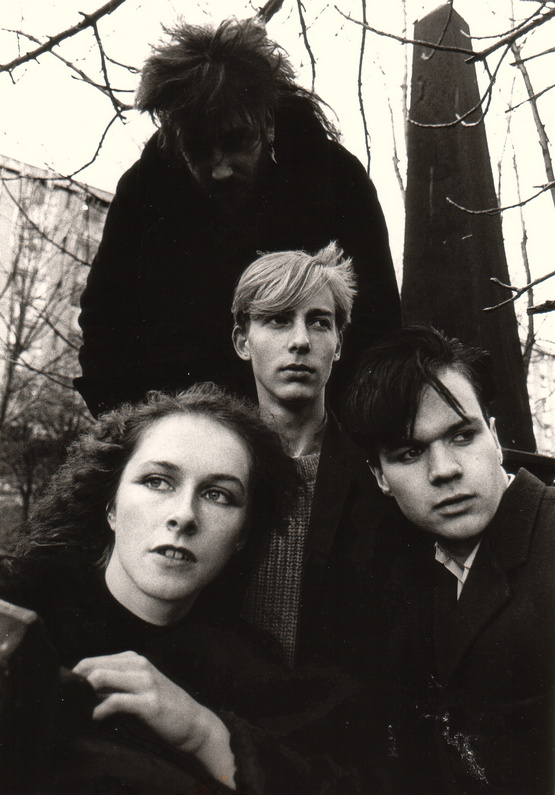 The March Violets kept up the pace at the heights of the UK charts: the Natural History collection was an indie hit, They released six singles, but never recorded a proper album. Their only LPs on both sides of the Atlantic were compilations of singles. Disgusted with the US insistence on compromise, it never happened. They did, however, make a soundtrack appearance in the John Hughes film Some Kind Of Wonderful.
Despite never making a full LP during their initial run, The March Violets managed to record six live sessions with the BBC: three with John Peel, and one each with Richard Skinner, Kid Jensen, and Janice Long. Chronicling their development from 1982 to 1986 with lead singers Simon, Rosie, and Cleo, these sessions include nine unreleased songs and alternate versions of their hits, chronicling their development between 1982-1986.
This collection of those twenty-three tracks will be presented in violet vinyl, available for purchase at participating retailers on Record Store Dat on 17 July. Here are the places you can purchase them online:
Here is the tracklisting:
Side One: 1. Radiant Boys, 2. Steam, 3. 1 2 I Love You, 4. Grooving In Green, 5. Crow Baby, 6. The Undertow.
Side Two: 1. Strange Head, 2. Slow Drip Lizard, 3. Walk Into The Sun, 4. Deep, 5. Kill The Delight.
Side Three: 1. Big Soul Kiss, 2. Lights Go Out, 3. Love Hit, 4. Don't Take It Lightly, 5. Electric Shades, 6. The Face Of The Dragonfly.
Side Four: 1. Snake Dance, 2. Deep, 3. High Times, 4. Close To The Heart, 5. South Country, 6. Avalanche Of Love.  Broadcast by the BBC between 1982 – 1986.