Last night The Cure began their trio of Christmas shows with And Also the Trees at London's Eventim Apollo.  As expected, The Cure delivered an unbelievable 40-song set that included a full performance of 1984′s The Top (not from start to finish) the live debut of a rare Head On the Door-era B-side "A Man Inside my Mouth" (Hey, don't get any ideas about that title—pervert!) and the dusting off of songs that had not been played live in decades.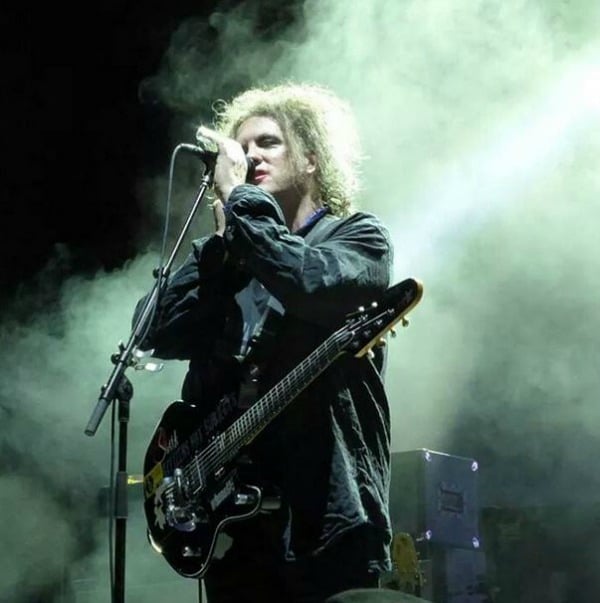 Among the setlist highlights: besides that full performance of The Top, was the first live performance of The Top's "Wailing Wall" and "The Empty World" in 30 years; the return of "Piggy in the Mirror" for the first time since 1997; and the first performances of Kiss Me, Kiss Me, Kiss Me's "Like Cockatoos" and "Hey You!" in a decade.
Below, check out the full setlist from last night's show
The Cure performs again on the 22nd and 23rd, and we will be providing more setlists and video..
Setlist: The Cure, Eventim Apollo, London, UK, 12/21/14
1. "Shake Dog Shake"
2. "Kyoto Song"
3. "A Night Like This"
4. "alt.end"
5. "Wailing Wall" (First time since 1984)
6. "Bananafishbones"
7. "The Caterpillar"
8. "The Walk"
9. "A Man Inside My Mouth" (Live debut)
10. Close to Me"
12. Lullaby"
12. "High"
13. "Birdmad Girl"
14. "Just Like Heaven"
15. "Pictures of You"
16. "Before Three"
17. "Lovesong"
18. "Like Cockatoos" (First time since 2004)
19. "From the Edge of the Deep Green Sea"
20. "Want"
21. "The Hungry Ghost"
22. "One Hundred Years"
23. "Give Me It"
Encore:
24. "The Empty World" (First time since 1984)
25. "Charlotte Sometimes"
26. "Primary"
27. "The Top"
Encore 2:
28. "Dressing Up"
29. "Piggy in the Mirror" (First time since 1997)
30. "Never Enough"
31. "Wrong Number"
Encore 3:
32. "Three Imaginary Boys"
33. "M"
34. "Play for Today"
35. "A Forest"
Encore 4:
36. "The Lovecats"
37. "Let's Go to Bed"
38. "Why Can't I Be You?"
39. "Boys Don't Cry"
40. "Hey You!" (First time since 2004)
---
The Cure, "Wailing Wall"
The Cure, "The Empty World"
The Cure, "Hey You!"
The Cure, "The Top"
The Cure, "Charlotte Sometimes"
The Cure, "Like Cockatoos"
The Cure, "A Night Like This"
The Cure, "Lovesong"
The Cure, "Birdmad Girl"
The Cure, "Piggy in the Mirror"
The Cure, "Play for Today"