She closes her eyes,
She knows she'll be safe when it comes to the hour of light.
Hour of light.
In the late 1970s in the Islington borough of London, three braille translators got together to play some music. Glenn Dallender (guitar, most vocals), Martin O'Keefe-Liddard (bass), and Steve Empson (guitar), under the name Nudge Gambler and the Alcoholics, put together some demos before deciding to convince a local employee at a pub, Tilly Vosburgh, to join the band for vocals. With the addition of drummer, Vince Brown, the band also changed their name to The Antelopes. ("Given that our previous names were Nudge Gambler and the Alcoholics… there wasn't really a choice," says Dallender. "We originally thought of The Anti – Lopes, but we thought it would be more ironic to become The Antelopes. We once did a very drunken version of 'Home on the Range', and a deer isn't far off being an Antelope.")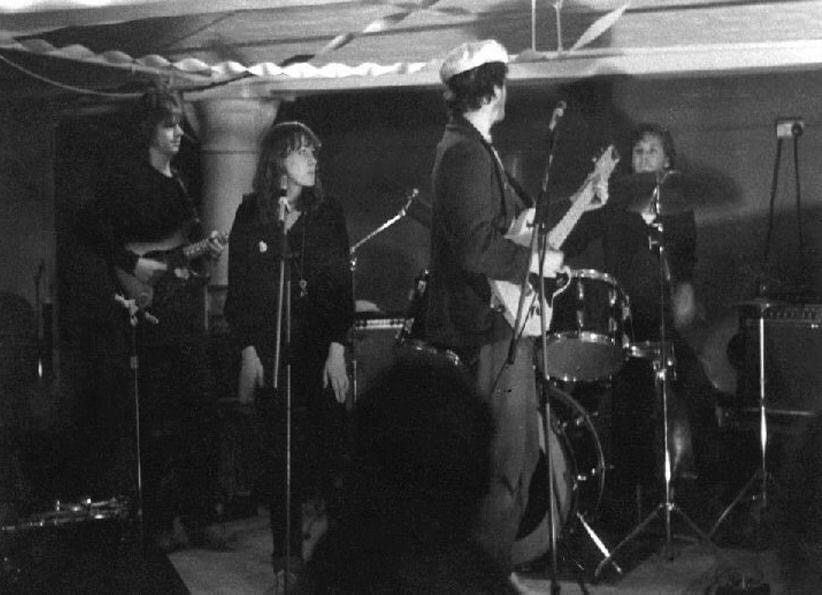 Their only official release was a 7″ of the songs "Prisoners" and "Hour of Light," which came out on Jungle Records in 1981—a record that was supported by no other than John Peel, who had originally encouraged the band to press their music on vinyl (legend has it Peel picked the 7″ as one of his "records of the week" but no one can find any non-anecdotal proof of that). Despite the release, the band fell apart about 8 months after forming because of other interests. However, the 7″ was a funky reinterpretation of classic psychedelic rock 'n' roll with a post-punk edge. At times, bands like The Jam or Gang of Four can be heard alongside a clear Doors or Jimi Hendrix influence. Both songs' inspiration, "Prisoner" and "Hour of Light" came from the pages of the news. Dallender writes of "Hour of Light":
A woman was found badly beaten in her kitchen, but her husband was found dead beside her with a carving knife in his chest, but also several other stab wounds that would have been enough for his death. I imagined her terrified mind as he came into the room. I also wanted to leave my ending ambiguous —who died, her or him? The funky nature of it evolved over a few rehearsals – it started off as another Cure-inspired track, but Steve wanted to get some 'Funkytown' influences in there. Tilly's remarkable scream was recorded in one take, as she had an acting job later and didn't want to ruin her voice.
Listen to the ominous "Hour of Light" below:
Alongside the songs on the 7″, The Antelopes recorded four more tracks that they self released in 2020 before Floating Mill Records' reissue, Breaking News, out today, November 5th. Breaking News includes all six songs from The Antelopes, plus music from Dallender's funk protest band, Class of '76.
Head over to Floating Mill Records' Bandcamp to pick up Breaking News on CD, cassette or digital.