Philadelphia electronic pop artist Keely Sibilia proudly shows her LA roots in her music. Consisting of frontwoman Keely Sibilia, producer Robby Webb, and keyboardist Dan Finn, the trio combines a wide array of influences and sounds ranging from dark pop, neo-jazz, and synth-wave into a unique presentation pushing the boundaries of modern pop music.
Sibilia and Webb started writing together and experimenting with new sounds. They released several singles over a five-year period. With the addition of Finn's synth expertise, the sound of the group has solidified into a sum greater than its parts. The trio is excited to share their debut album, Death of A Romantic, with the world on November 5th.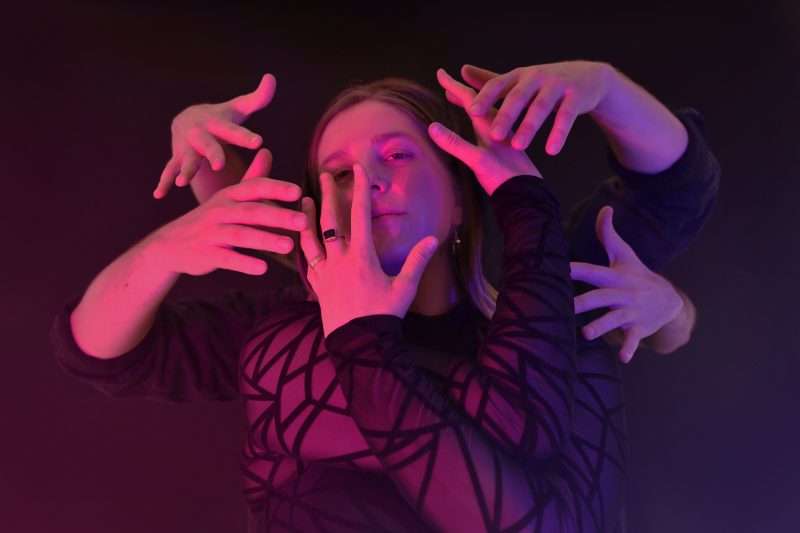 Death of a Romantic, explores what it means to grow in and out of love when you're no longer a fresh-faced teenager, but a weatherbeaten twenty-something with scars and stories. Careening through playful melodies, operatic interludes, and rich jazz harmony, it keeps you guessing what genre you're heading for next, with its snappy pop writing and vocal production.
"Usually when you go to to make an album you have dozens of songs in the vault that you're trying to narrow down to see what's going to make the cut," says the band. "We had zero for this record when we started. We didn't want to take some random song we had written for someone else, or beat we made for a project and adapt it to work for our sound. We wanted to tell a story that was personal to us, but felt like it meant something to everyone. So we sat down and started talking about what we were going through in our lives. Anxieties, pressures, our own relationships past and present. We ended up discovering how much we had grown as people since our early twenties when we first met…Death of a Romantic is about losing that innocence after your first heartbreak when you thought that your first love was going to be the one. Getting back up and learning from your mistakes, and if you're lucky maybe falling into a love you weren't expecting to find in the first place."
The album opens with the futuristic "My Love", which combines ethereal synth with contemporary jazz vocal stylings. "Locked In" is a pure pop narrative of a strange night on the town, instantly relatable. "Tell Me" delves into a whirlpool of offbeat vocal gymnastics and a steamy 80s sax solo. Higher moves into experimental trip-hop sounds, with elements of 90s alternative. "Easy" takes it back to a more introspective realm, almost a ballad. "Underground" is an eerie, psychedelic journey verging on the precipice of industrial and darkwave. The standout track, "Maniac Blues", is an exercise in free jazz meets darkwave – bringing heavy Portishead vibes. "If I Had To" is more classical jazz-influenced, with fascinating choral elements. The titular closer is a passionate confession, leaving us on a dramatic cliffhanger.
A daring sonic experiment with the courage to push boundaries. Listen below:
Pre-save Death of a Romantic, and follow Keely Sibilia here.
Follow Keely Sibilia: