On 11/11, the most auspicious day of manifestation, Swedish synthwave artist aux animaux releases her magical new single, "Haunted". Written and composed by aux animaux, and produced in collaboration with Swedish darkwave band abu nein, whose guitar tracks and haunting, operatic vocals bring the track into the netherworld. Alex Svensson from Then Comes Silence lent his synth sound for the lead melody. The song was mixed by abu nein, with mastering by Mats Eriksson from BoomBridge Studios.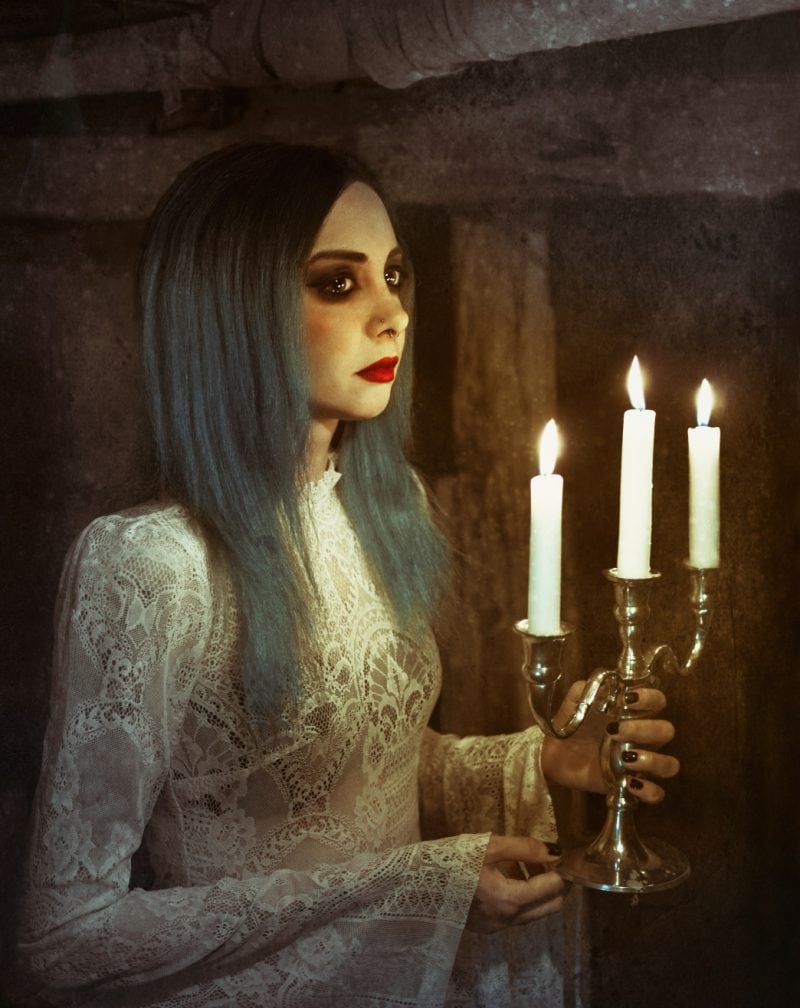 "Haunted is inspired by occultism," the artist explains. It was inspired by seancés, a metaphor for the shadow work process she went through during pandemic isolation when she wrote the song.
The video depicts a seancé amongst a group of friends striving to communicate with spirits across the veil, which ends with the medium getting possessed. The video was directed and edited by aux animaux, with camerawork by Jonas Fransson, photographer of Stockholm goth club Klubb Död and drummer of Stockholm goth rock band Then Comes Silence. The actors are Kim Sollare (Klubb Död), Philip Johansson (ex-Klubb Död), Robin Ringqvist, Lina Lindbergh Jirlén, and aux animaux herself as the pendulum-wielding medium.
It's an eerie gathering, as mysterious as the sound of the track itself, building suspense as to who will reach across from the other side…and what it means. Perfect for Scorpio season.
Watch the video for "Haunted" below:
aux animaux began in Stockholm in 2015, evolving into a hauntwave sound drawing inspiration from 80s darkwave, goth, occultism and horror films. Born and raised in Istanbul, she is a self-taught musician who worked as a professional bass guitarist until moving to Sweden twelve years ago. As aux animaux, she sings as well as alternating between bass and theremin; the latter which she considers to be her source of sorcery.
She has been touring both in Sweden and rest of Europe, opening for artist, such as She Past Away, Hante., and Solveig Mattildur. Her debut EP Black Holes had more politically loaded songs about animal rights, feminism, and critiques on society, whereas the sophomore EP Stockholms Synthrome narrates her decade-long struggle with misophonia.
Upcoming tour
3/9-21 Klubb Död @ Snotty Seaside (with Domus)
14/10-21 Hotel Cecil, Copenhagen (with She Past Away)
11/12-21  Inkonst, Malmö (with Then Comes Silence, Abu Nein, Tobias Bernstrup)
?/2-22, TBA, Stockholm (with SYZYGYX)
14/4-22 Slaktkyrkan, Stockholm (with She Past Away, Minuit Machine)
20/5-22 Nalen Klubb, Stockholm (with Algiers)
9/7-22 Subkultfestivalen
Follow aux animaux: