Swedish post-punk outfit Principe Valiente return with "Porcelain," an epic ballad heralding the release of the band's first new album in four years, following 2017's critically acclaimed album Oceans.
The song is the first of ten from the forthcoming new album Barricades. Here the music is familiar post-punk reverie the band is known for, but now more cohesive, honing all the atmospheric drama, spellbinding romance, and rich cinematics alluding to all the most beautiful dreams and fantasies stirring in the collective unconscious.
The album's moving soundscapes encircle the warm vocals of frontman Fernando Honorato's like art nouveau vignettes, with songs composed through melodies and chords as a starting point, rather than traditional guitar riffs.
Lyrically, Honorato has charted new territory, shining a lantern on hope in times of darkness.
"I haven't had the same need to express desperation and frustration this time. Now I wanted to try to sing more sensitive ", Honorato explains.
Barricades is an album whose songwriting is profoundly affected by the global pandemic. with band members developing and recording their contributions from alone at home. This has yielded an introspective atmosphere to the music, most evident in the vocals and lyrics.
"I've had more time to reflect freely both in terms of lyrics and recording, I've been able to try different ways. In the end, I knew exactly what I was doing with the vocals", adds Honorato.
Previously, while Principe Valiente could have been considered a solo project, this time all four members – Honorato, guitarist Jimmy Ottosson, keyboardist Rebecka Johansson, and drummer Joakim Janthe have all contributed to the album.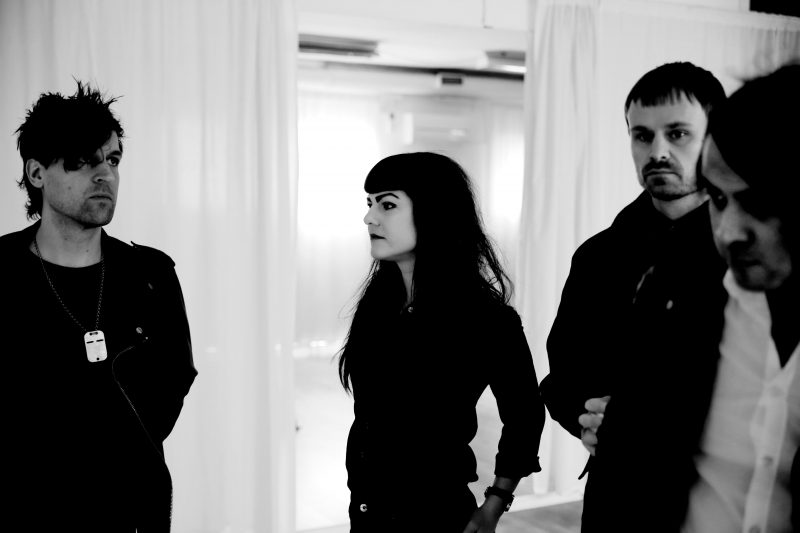 "There are more ideas coming together now. Everyone has added their different perspectives to the songs and it's much more of a collaboration together with Jimmy during the songwriting", says Honorato.
"Our records never turn out the way we imagine them when we start working, but I'm very happy with Barricades. It feels like it's the best album we've done so far", adds Honorato.
If "Porcelain", is any indication, Honorato may be correct in his assessment. The song is spellbinding and oceanic. With a bassline culled from the era of classic 4AD via Cocteau Twins, and guitars that shimmer like shoegaze luminaries on creation records, the vocals glide with an earnestness that can be both overwhelming and enveloping, transporting the listener to both a magical place and time—the intangible realms of the heart.
Watch the video for "Porcelain", directed by Giannina Panfichi, below:
The single release of "Porcelain" features remixes by Agent Side Grinder, Ash Code, and TRAITRS.
"Porcelain" is the first single from Principe Valiente's forthcoming album entitled Barricades, set for release on March 18th, 2022 on Metropolis Records.
Follow Principe Valiente: