"Are we angels shining brightly? Are we the forgotten left behind?"
Fasten your seatbelts, Chrystabell is behind the wheel of this spaceship and transporting us all into a glorious fantasia of sorrow, redemption, and ecstatic dance. "Midnight Star" is a dazzling display of interstellar telepathy and optimism, straddling dystopia and utopia. In the spellbinding video clip, Chrystabell channels the otherworldly dance performances of Kate Bush, describing the glorious sci-fi vision as "wayward alien life forms seeking redemption amongst the crystal planets."
Spoiler alert: it's us. We humans are the wayward ones, praying for redemption as we simultaneously drown ourselves in low frequency. We munch our own tails in the ouroboros of social media, predatory news cycles, and environmental destruction. What separates the mortal dimension from the Source? Why are we hurting ourselves by avoiding the hard work? Why are we perpetually waiting for a saviour, be it in the form of a deity, a scientific breakthrough, or a "spaceman?"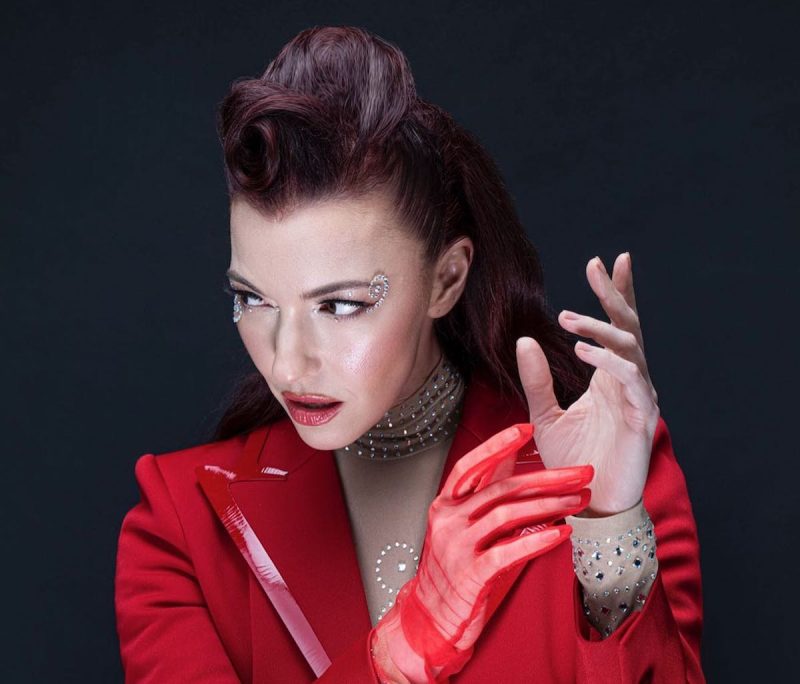 Midnight Star magnifies our sense of expansion, possibility, and a brighter future: a beatific vision of celestial ascension from this collective "dark night of the soul;" a rallying call via ecstatic dance and meditative travel. The video, she says, emanates high drama, mania, and ultimately transcendence. The track becomes a space-age operatic aria at a cabaret of the cosmos, to quench the persistent nightmare of 21st century fearmongering.
"The trip from impending doom to cosmic dance party takes under five minutes," says Chrystabell, "so you can do it over and over again, without a shred of space trash."
The video was directed by the brilliant Polish director Archon, who has worked with Justyna Steczkowska, Anita Lipnicka and Irena Jaroska.
"When I asked Archon to direct, I knew he could take it way out. I was not disappointed. He meticulously manufactured an alternate reality, literally sculpting worlds with his hands to bring the vision to life. This is one of four videos he made for the record, this grand and bizarre voyage is just getting started."
"I believe—or, in fact, I am sure that—we exist in several dimensions at the same time," confirms Archon. "Midnight Star is a journey into our soul through various media. We don't really know which of these worlds really exist. Perhaps it is just a projection, or perhaps it is the mind of some other being."
If we live inside a dream, I want to go there.
Watch the video for "Midnight Star" below:
Chrystabell, a hyper-creative polymath based in Texas, is a familiar face to David Lynch fans: they have collaborated on a series of musical projects for years, and you may recognize her as Agent Tammy Preston in Twin Peaks: The Return. She also has recently collaborated with Marc Collin of Nouvelle Vague to perform ambitious covers of songs by The Cure as Strange As Angels.
You can pre-order the album here:
With "Midnight Star", Chrystabell explores the infinite dimensions of the universe in her own unique way with this mesmerizing track and performance: an instrument of light working, of hope, ending with a big banger. Breathe into euphoria.
Follow Chrystabell: