Swedish haunt-wave artist Aux Animaux has unveiled the video for her song "Omen", a song from her brand new six-song EP The Hydesville Episode.
Taking its inspiration from spiritualism, satanism, and the occult, this heavily instrumental EP ventures off into different soundscapes than her earlier releases and is meant to be the soundtrack to an unmade horror film.
For example, aux animaux was inspired by seancés and possession which in part, used a metaphor for the inner shadow work she processed while in isolation during the pandemic as she wrote the EP.
The video for "Omen" sees aux animaux's conjuring spirits from the nether world. Taking it's title from the horror film of the same name, aux animaux places her horror fandom on full display by paying homage to various old films from the genre that are centered around Satan and satanism. For example, She bears the necklace from Rosemary's baby on her chest while she's invoking her rituals, and she also inserts a second long snapshot of the devil as, in The Exorcist, she sings "ave antichriste", which is supposed to be the correct Latin version of the epic soundtrack from the movie Omen "Ave Satani".
Shot in black and white in the style of old silent movies by aux animaux & Jonas Fransson (Then Comes Silence), the video portrays a satanic ritual that ultimately leads to demonic possession.
Watch the video for "Omen" below:
aux animaux, based in Stockholm, Sweden, began as a music project in 2015. Her songs draw inspiration from the 80s darkwave and goth bands, as well as occultism and horror movies.
Born and raised in Istanbul, aux animaux is a self-taught musician that worked as a professional bass guitarist for several years up until moving to Sweden almost 14 years ago. With aux animaux, on stage, she sings as well as alternating between playing both theremin and bass guitar. The theremin, which she considers to be her source of sorcery, is the only instrument that is played without actually touching.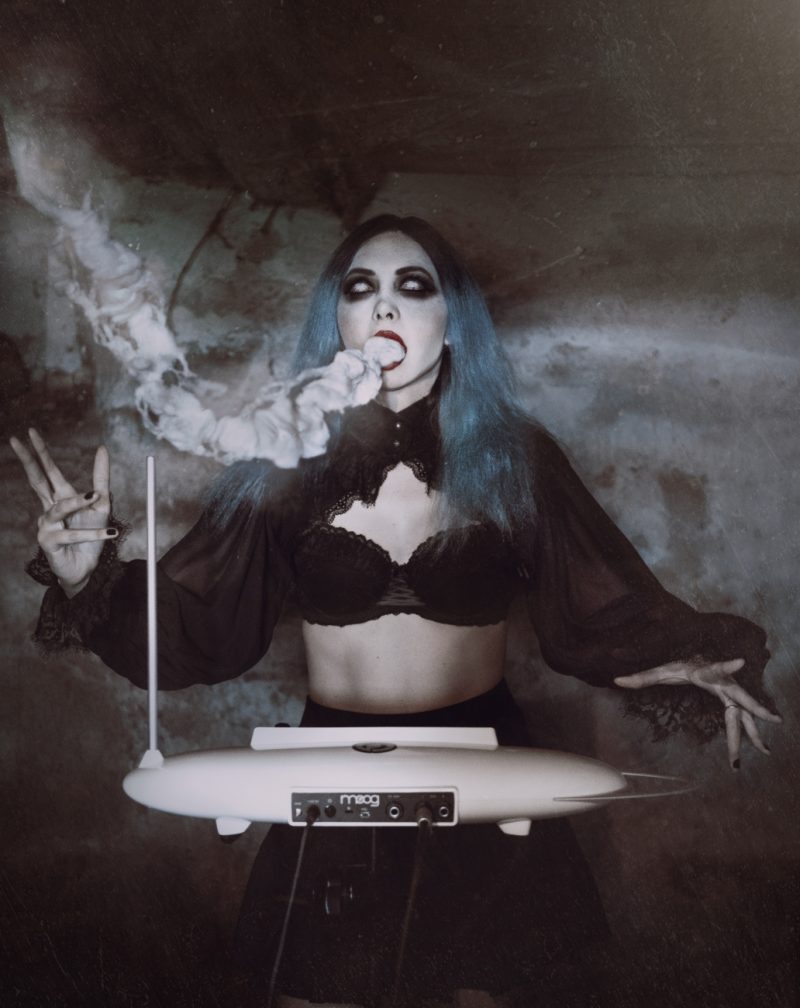 Releasing her first songs in 2017, aux animaux has been touring both in Sweden and the rest of Europe, opening for artists, such as She Past Away, Hante., Then Comes Silence among others. Her debut EP Black Holes featured more politically themed songs on subjects such as animal rights, feminism, and a general critique of society, whereas the sophomore EP Stockholms Synthrome combines this approach with a more personal one, among others narrating her decade long struggle with misophonia. In the fall of 2021, she released her single "Haunted" that she co-produced with the Swedish darkwave band abu nein.
All the songs on The Hydesville Episode were produced and mixed by aux animaux herself. The mastering is done by Doruk Öztürkcan from She Past Away. The ghastly photography for record's concept press photos and the cover art are courtesy of photographer Jannike Viveka.
The Hydesville Episode is out now.
Live Dates:
14/4-22 Slaktkyrkan, Stockholm (with She Past Away, Minuit Machine)
10/6-22, Klubb Död, Patricia, Stockholm (with SYZYGYX)
20/5-22 Nalen Klubb, Stockholm (with Algiers)
9/7-22 Subkultfestivalen
More TBA
Follow aux animaux: