Kælan Mikla's melodic synth maestro and backing vocalist Sólveig Matthildur is back with her new solo manifesto "Politician…of Love", the first single to follow up her last year's critically acclaimed LP, Constantly in Love.
Similar to the work of Icelandic sisterhood Kælan Mikla, the song is a shimmering ballad of love and affection for Kinnat Sóley, the band's own 'merch babe' and truest confidant, who inspired the composition with her renowned loving—yet acerbic wit—utilized in commentary of Sólveig's stellar choice in apparel.
Sólveig explains:
"This song has a funny background story to it. I was playing a show with Kælan Mikla in November 2018, and after the show I was wearing my red suit, talking about love (as always) to my dearest friend Kinnat Sóley (merch babe) and she said "you look like a politician…of love". She is a graphic designer and immediately wanted me to write a song called that, so she could make a cover art for it, so I wrote the song and gave it to her for her birthday last year.
Happy birthday Kinnat!"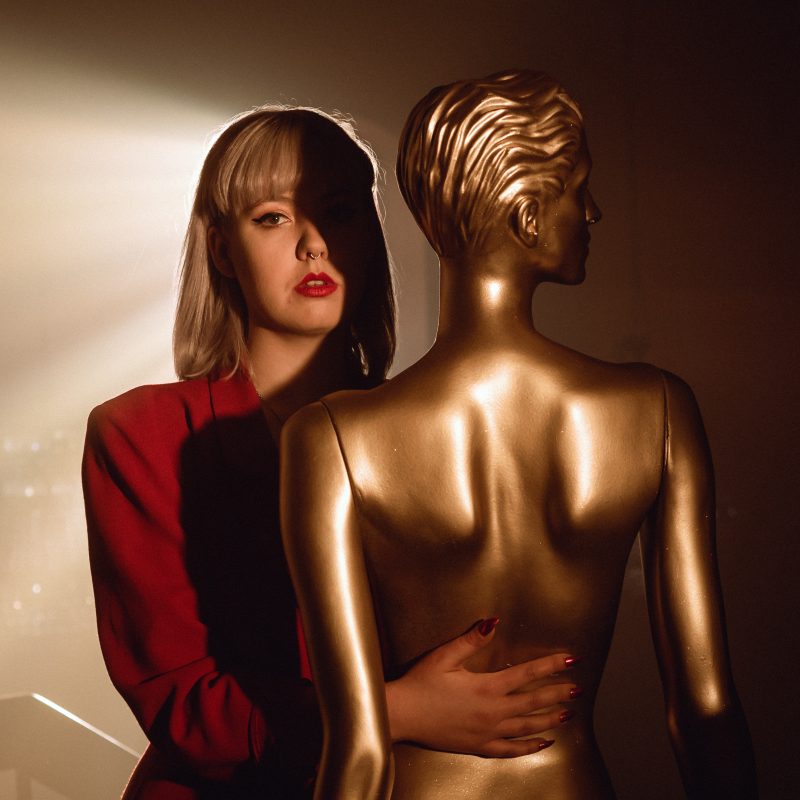 As for the video, whose political platform campaign promises to bring back the gold standard, Sólveig continues:
"On the Kælan Mikla tour with Alcest and Birds in Row in February I got Dean to pick up a mannequin I bought and spray it gold, bring it to the venue in Leipzig and shoot a music video with me and Kinnat. We shot it between load-in and soundcheck, and even got they guys in Birds in Row to postpone their soundcheck for 5 minutes while we shot the performance scene on the stage. If you look closely you can see the Alcest backdrop in the background. I'm not sure how we can always make our crazy spontaneous ideas work out, but we do!"
Watch the video for "Politician…of Love", created by Dean Kemball and Kinnat Sóley, below:
Sólveig has stated that she plans on releasing new singles every month from starting now with the intention of ending the series with a new album. See the single cover—designed by Kinnat Sóley and shot by Dean Kemball, below.
"Politican of…Love" will be issued through Artoffact Records.