After staring mortality in the face, Skeleton Joe, aka Joe Cardamone (The Icarus Line), was ready to call it a day with live performances.  The tragic deaths of his friends and bandmates Alvin DeGuzman (The Icarus Line) and, more recently, Mark Lanegan (Dark Mark vs. Skeleton Joe) left him in a dark place musically. But fate had other plans for his creativity.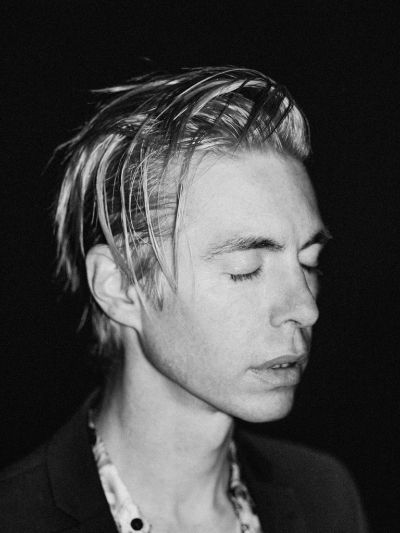 "After losing Mark and Alvin, I kinda started thinking I might not perform live much more," he explains.  "I lost two people that made me feel protected on stage… both brothers."
Cardamone found a way to work through the pain of grief with the release of "#BL3$$3D," his first new song since the passing of Lanegan, marking the end of their Dark Mark vs. Skeleton Joe project. A dark and brutal brooding banger, it retains the manic energy of The Icarus Line and the pulsating dark techno of Dark Mark vs. Skeleton Joe. With a fresh lease on his creative life restored, Skeleton Joe's jumpstart to ease him back into music no longer fills him with dread like it did after Lanegan passed away earlier this year.
"#BL3$$3D  came out pretty quickly," he says. "When a song comes out as wiry and fucked as this one has, it falls right into the Skeleton Joe alias," he replies rather enigmatically. "The shadow self is not the guy that has to get up and feed the dogs and wash dishes.
Ian Astbury of The Cult later invited him to do a live gig.
"I wrote #BL3$$3D a few weeks ago in anticipation of performing live again," he says.  "It reminds me of my old band without sounding like a band at all…Ian, much like Mark, has acted as a guardian angel in my life.  He's looked out for me in ways he really didn't have to."
The accompanying video echoes the song's dark and sinister undertones viscerally with a bloody alien birth and a cast of broken characters straight out of a film by director David Cronenberg (The Brood, Videodrome). "The video was made with the American Primitive team who all jumped in head first to bring the American family to life," he explains about the production team who has also done videos by Queen Kwong and Prayers. "We watch our heroes die multiple deaths.  We second guess our fantasies of the people who helped shape our lives.  The current era is messy. The lines are blurry, and so that is how the music and the visual comes on."
Watch the video for "#BL3$$3D," below:
"#BL3$$#D" is available here.
Skeleton Joe Cardamone performs this weekend at Los Angeles' The Greek Theatre with The Cult, Black Rebel Motorcycle Club, and King Woman. (Tickets available here.)