Post-Punk: You seem to be really getting a following again.  Back at the time Alexander Skarsgard appeared in that Lady Gaga video—in an interview he mentioned The Chameleons were one of his favorite bands.
Mark Burgess: Wow, did he say that?  I know that Moby was really into the first album.  There is an interesting one.  One of my favorite documentary films that I have ever seen—it is one of my personal favorites.  It's called "Farewell Good Brothers".  Made by a guy called Robert Stone, and he basically interviews 1950 flying saucers contactees, right..and he puts this film around it.  But he does it in a really charming way, right, so that it is amusing. But it's more of a character study, the characters become more important than the things they are talking about, simply because of the bizarre nature of what they are describing and the sincerity in which they are speaking about it makes you kinda go "What the fuck happened to these people?"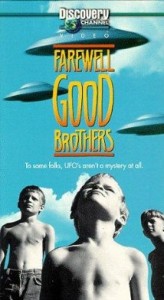 It is such a great film, and I have never been able to—I had an old beat up copy on the VHS because I taped it off The Discovery Channel—I saw on The Discovery Channel, blew me mind, know what I mean?  And I waited for it to come on again, and tapped it, and that's the only copy I ever had of it.  Every attempt I had made to get an official copy, FAILED.
So, the other day I finally found a website with a DVD copy, I mean, it was HIS website, his own website.  And I saw it and went "Oh man, fantastic, I'm gonna buy it!", and underneath it in tiny little letters,,,"out of print". It was deleted… So I talked to him, and explain that I used some of his samples on my my records from this film, and that I was desperate to get one, "can you please reconsider and put it back in circulation?".  And he wrote back and said he's a massive Chameleons fan "You send me the record you used samples on, and I'll send you a free copy of the DVD".  I was like, fucking blown away by that!  I just never saw that coming.  What are the odds?  I was actually so blown away by the dialogue from the film to link together some songs in a compilation record of my own material, and that became a track in itself.  I thought I would get sick of it, because I was mastering it and I thought "Man, I am going to get sick of this, hearing it over and over and over again and I'll end up ditching it" and I didn't, and it became very much part of the record.  And from that point I loved working on it, it was my favorite thing that I had worked on—it became my favorite project.  Because every time I heard these things, it made me smile or laugh.  And it turns out HE'S a fan of the music.
Haha, he gives me a free copy of this DVD and I am trying to find a copy of Magic Boomerang, because I DON'T HAVE ONE.  I am looking around trying to find and sign one as part of the deal, and I can't fucking find one at the moment—the cheapest one I could find was 50 quid *laughs*. So I am going to have to buy one for 50 quid and sign and sent it to him, Magic Boomerang…
Post-Punk: Are you often in Berlin?  I have seen you every year about this time.
Mark Burgess: It's been a stopping off point for us for a couple of years.  It always surprises me really, think I would have been sick of it by now, but we seem to do well. We are doing a Script of the Bridge performance.  We did a tour with it in the Spring, and for one reason or another at that time we couldn't include Germany. We went to Italy, Spain, Switzerland, Holland, but we couldn't include Germany, so this is kind of the end of that tour, even though there has been more than a 3 month gap.
Post-Punk: I've been looking forward to this all year, because there have been some songs not in a typical setlist of the past years.  You play "Less Than Human" for example, but I don't think the last couple of times I got to hear it.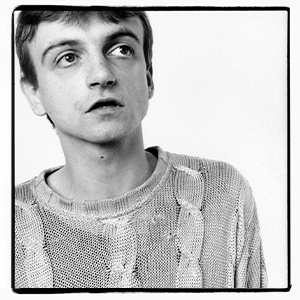 Mark Burgess: No, we haven't played it for a while, we haven't played a lot of 'Script' for a while.  And some we play all the time like "A Person Isn't Safe Anywhere These Days", and stuff like that.  But the interesting thing is, you play them in context.  When you are just playing them part of a set, you are not playing them in context.  So for example, if you close a show with "Second Skin", it kind of becomes inflated, you know—it becomes more of a jam thing—you're ending the show with it.  When you have to play it in context, you have to play it differently.  Because obviously you don't DO that in a middle of a show—you don't end the show in the middle! So you have to approach them differently, and that's been quite interesting.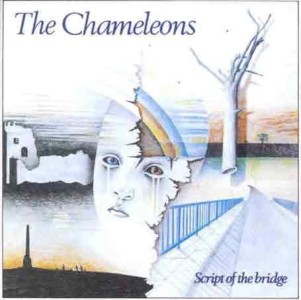 Post-Punk: Interesting that you mention that, because The Script of the Bridge seems to me to be an album in context.  It is a cohesive album where all the songs go together from start to finish like a real narrative.
Mark Burgess: Well, it's your first one—so it's more of a labor of love.  As a young band you know, it's your first ALBUM.  You are kinda like—anal about it! Everything has gotta be in the right place.  There is not a drumbeat or a note that should not be there.  Do you know what I mean?  You've had all this time in your mind to think about your first record. Because you are starting from the beginning, if that's what you're aiming for—to make an album, and now you're suddenly doing it.  Whereas the second one it's like "Right, we need another one" and you've got 4 months—5 months to get it together.  It's kinda different, and you've done it all once.
And there are other factors, like the second one we did was supposed to be more like the first one.  It was supposed to have links and a form following from A to B.  Albums were always a journey from A to B. Track 1, to the end.  It was a journey—and you try to recreate that. We had a falling out with the engineer/producer Colin.  I can't remember what is was over, but we had a falling out and he disappeared and he took all the samples with him, so we couldn't do it. So it became not quite the record we were hoping to make.  But people want to still hear that too, so here we are 30 years later, or whatever it is.