They have been one of the hottest topics amongst Minimal- and Synth Wave-fans in 2014: Hélène de Thoury (Synths) and Amandine Stioui (Vocals, Lyrics) a.k.a. Minuit Machine. With just one self-released EP and a fantastic first full-length LP, "Live & Destroyed", on Desire Records, the French duo not only managed to take a lot of Europe's cool dancefloors by storm, nope, they also played seven different European countries while they were on the road first their inaugural "Live & Destroy" live tour. We had the chance to talk to these highly sympathetic ladies a short while after their marvelous gig at Death#Disco in Berlin.
Bonjour Mesdames, and thanks for granting us this interview. Within a mere twelve months, Minuit Machine has become one of the most talked about Synth Wave acts around. What do you recall from the first meeting the two of you had?
Amandine: Hi, Thomas, you're welcome, it's a pleasure for us to answer. Well, we actually met a few weeks after I answered Hélène's online ad. I had already sent her "Agoraphobia" and we wanted to meet each other to check our, well, compatibility. We had a glass of wine in a bar and I remember we couldn't stop talking. We had many, many things in common, so obviously, we bonded. I believe we both knew it would work out after this first meeting.
Hélène: I remember, I was really frustrated after this meeting because when I left her, I couldn't stop thinking "I didn't tell her this, I didn't ask her that". But actually, it's still like that now, it's really hard to stop talking to Amandine, even by e-mail we talk every day.
Prior to Minuit Machine getting together, both of you have already been musically active. Hélène, correct me if I'm mistaken, you lived in London for quite some time and were of course part of the wonderful band Phosphor, who delighted us with a couple of superb records. What led to your decision to leave the band and start your own project?
Hélène: I lived in London for two years and moved back to Paris at the end of March 2013. I knew since December 2012 that I wanted to leave London and talked with Nathalie and Jake, my former band members in Phosphor, about my decision at that very moment. But we decided to find a solution, so that we could go on playing together, even if we were in two different cities. And it worked out pretty well! Before each gig or mini-tour, I went to London to practice together, but I still had spare time to have another band in Paris on my own. So I decided to start my own project in June 2013 – and Minuit Machine was born!
Did Phosphor actually also split up because you left London and the band?
Hélène: No, actually it was quite a shock! At the end of October 2013, Jake told Nathalie and me that he decided to leave the band for personal reasons which we totally understood. We didn't want to go on without him, so it was the end of Phosphor, and I think that it has been really painful for the three of us.
How did the two of you actually meet for the very first time? Isn't it rather hard nowadays to find a singer for a Minimal-Electronics-meets-Synth-Pop inspired band sound?
Hélène: Yes, it is! And, as I didn't know anyone in Paris with whom I could have worked, I decided to put an ad online. I didn't have anything particular in mind. Male or female, it didn't matter, I just wanted to be moved by a voice. And I have been very lucky that Amandine answered! When she sent me her test vocals on "Agoraphobia", I cried, because it was the perfect match. I couldn't believe it, everything became real.
Amandine: I was looking for a new project, and I saw Hélène's ad. Before I listened to her demo, I had never listened to anything like that. First of all, because I was more involved in Alternative Rock in the past, and also because her sounds are very specific. That's what I liked instantly, and I felt like it was the perfect fit for me.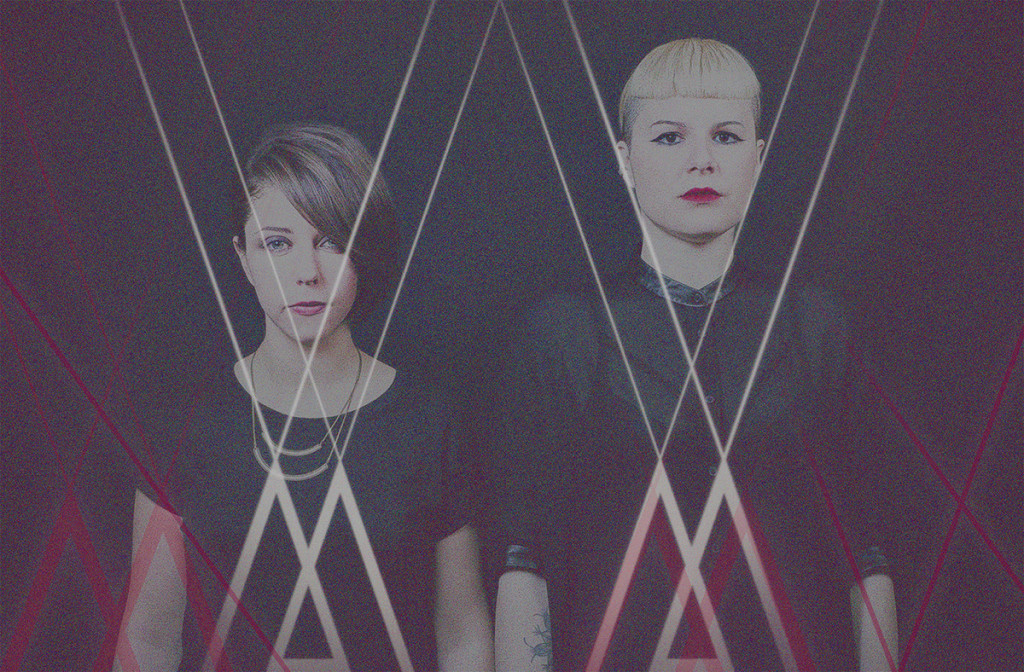 To me personally, Cold Wave influenced Minimal sounds appear to be rather timeless. When listening to your first songs and your inaugural "Blue Moon" EP, which led to the release of your debut album, I was amazed by your feel for great melodies, fantastic hooks and a very distinctive style which is usually something that needs to develop over time. How have both of you gotten in touch with Synth- and Cold Wave-music in the first place?
Amandine: Until I met Hélène, I was not even aware of this whole Cold-/Synth-/Minimal-Wave scene. I always loved bands like The Cure, Depeche Mode, Roxette, but I never knew that there was a new generation of bands, influenced by the 80s originals I was listening to. After I met Hélène, I started to listen to Cold Wave bands, and now some of them are in my regular playlist.
Hélène: Like Amandine, I always loved 80s music; Depeche Mode, The Human League, Tears For Fears, but I truly think that often you need to be initiated by someone to a certain style of music For me, it has been Metal. I was in a Metal-Electro band for eight years. I went to a lot of underground parties and danced to a lot of different music: Metal, Electro, Industrial, Cold Wave, New Wave, Batcave. And when my band split up, I realized that I had moved away from Metal for a long time already. I started listening to Synth Wave- and Synth Pop-bands, totally digging 80s music. I moved to London, and when I started to play in Phosphor, I discovered a whole new scene, so many fantastic bands. I finally felt that I was in the right place.
How is a Minuit Machine song composed? What is your working process like? Do the musical ideas always come first? Or is it bits and pieces of possible lyrics that eventually lead to composing a new track?
Hélène: We always start with the music. First, I compose the drums and a bass line. After that, I try to find some melodies for the verses and then the chorus. I need the impulsion of the verse to find a powerful chorus. When I find the right melodies, I spend a lot of time looking for the perfect synth sounds. Everything is about emotion, when I feel really touched by the music, I know that I've found something special. When I'm done with a first draft of the song, I send it to Amandine.
Amandine: When I receive a new track, I listen to it carefully, over and over again. It's actually the longest part of the process, because I need to feel the emotions of the song, so that I can translate them into lyrics. When I'm done, I start to compose the melody, and finally, I write the lyrics.
Hélène: Then she sends me her voice recordings, and I mix the song until we're both satisfied with it.
The feedback to your full-length debut "Live & Destroy" has been thoroughly positive. What are your personal feelings about the way people have reacted to your output so far? And what are your personal song favorites of the album?
Amandine: We received many positive comments and reviews, both from professionals and people. Who have been following us since the very beginning, so we feel really grateful and confident about the future of Minuit Machine. It's hard to tell you my favorite song as a listener, but when we're on stage, I love singing "Alienation". I think it's a very powerful track, and even more so when it's played live.
Hélène: My favorite songs are "Love Is God" and "Ego", but I really can't explain why!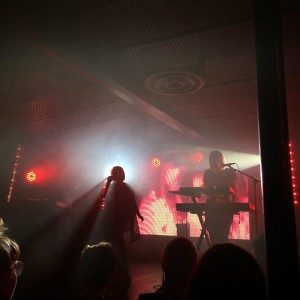 You also just returned home from a rather extensive tour in order to promote the album. For e.g. you played in Spain, Germany, Poland, Italy and of course in France. Isn't it fascinating to a certain degree that, already with your first album, you're already able to play in so many different countries and cities?
Amandine: It is fascinating indeed! I still can't believe that we got the chance to play in so many different countries. If someone had told me years ago, I would be traveling all around Europe, for music gigs, I would have laughed a lot.
Hélène: I think it's a particularity of the genre. A lot of bands start to play in their city, then in their country and only after that in other countries. But it's a small scene and it's rather easy to begin to be a little known in other cities, especially in Europe. We always thought that we were a European band instead of being a French band.
What are your most memorable impressions of the tour? And which shows were your favorite ones?
Amandine: Being in three different cities in Europe every weekend was both fascinating and confusing. There were moments I didn't even know where I was. All in all, it was one of the greatest experiences of my life, and I can't wait for our next tour. Being on tour is very addictive. I think I will remember forever our first show in Barcelona, because the organizer is an amazing person and made us feel so comfortable. And the last show was awesome, too, because, surprisingly, I fell in love with Zurich. Also the organizers were adorable and I feel like we gave all of our remaining energy during this show as we really wanted to please them. When we finished the show, I was so exhausted!
Hélène: Exactly, exhausted! Haha! We were sick at said last show and we gave everything we had on stage, but it was absolutely awesome! The venue was full and a lot of people in the back couldn't see us. After the gig, a guy showed me his phone, speaking to me in German and I thought he wanted to take a picture of us but no, he wanted me to take a picture of him and his friends. That I did, and he realized I didn't speak German, so he asked me if I was in the band that just played. I said yes and they congratulated us, they didn't see us because they were too far away from stage! But we laughed a lot with Amandine, and I think it was the best part of the tour, we laughed a lot! The first show, and of course this last one, were truly magic but we have a lot of strong memories of each gig and of all the people we met. Each date was unique.
My biggest fave of the album is "Comedown". Would you mind telling us a little bit more about which topic the song is dealing with?
Amandne: "Comedown" deals with addiction and self-destruction. Moments of pure happiness followed by despair and pain. It's the way you feel after spending a night out trying to forget reality – no matter what you do to forget it –, when all of the emotions you were keeping inside start to come out of yourself, and it's simply overwhelming.
Hélène, furthermore you are even running a solo-project nowadays called Hante. Your debut EP "Her Fall And Rise" was just released on Stellar Kinematics. What can the listener expect from said EP? And where do you see the biggest differences between Minuit Machine and Hante.?
Hélène: There are no huge differences between Minuit Machine and Hante. at first sight: they are both Synth Wave with a female voice. On paper, it's kind of similar, but I can feel a real difference between those two projects. It's really hard to explain, but I know exactly when I'm composing a song for Hante. or for Minuit Machine. Actually, I'm not using the same synths or sounds. At the beginning, I wanted to make something more electro and minimal with Hante, a more dancefloor oriented music. Then I composed "Damages" and I failed, haha! Let's say that in the end, the biggest difference is the voice. And not just because they are not the same, obviously, but because in both projects the voice melodies and the lyrics are really important and give the songs their identities.
Are you guys already working on new Minuit Machine songs as we speak?
Amandine: Yes, we are. We have many projects in the pipeline for 2015. And we started working on new tracks a few weeks ago.
Your hopes, plans and dreams for the future?!
Amandine: I feel very enthusiastic about 2015. I believe it is going to be a great year for Minuit Machine. A tour outside Europe would be great, and of course a second album as well.
Hélène: We have so many hopes, plans and dreams, all those you can imagine! And it's what pushes us forward.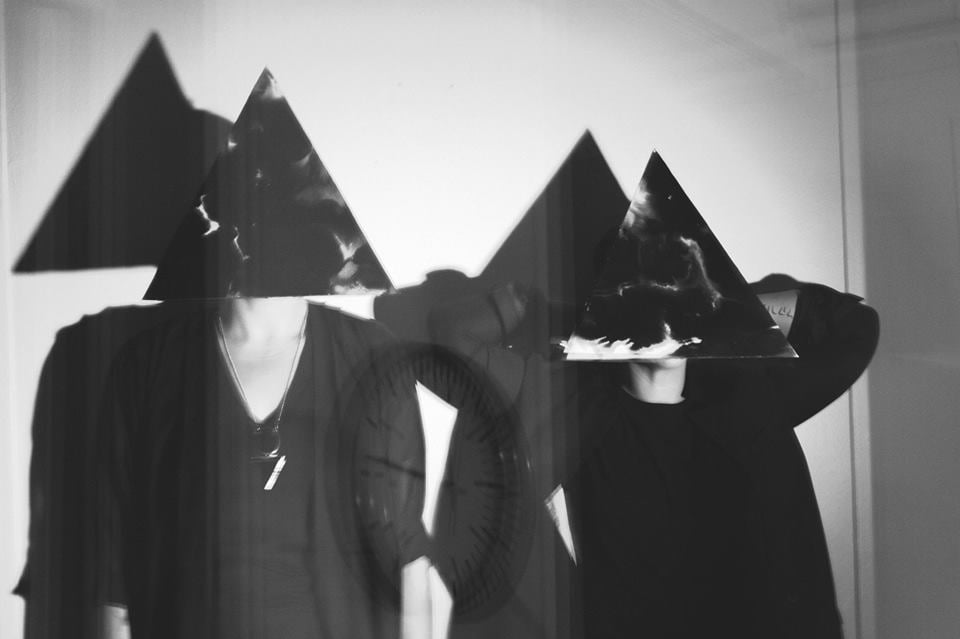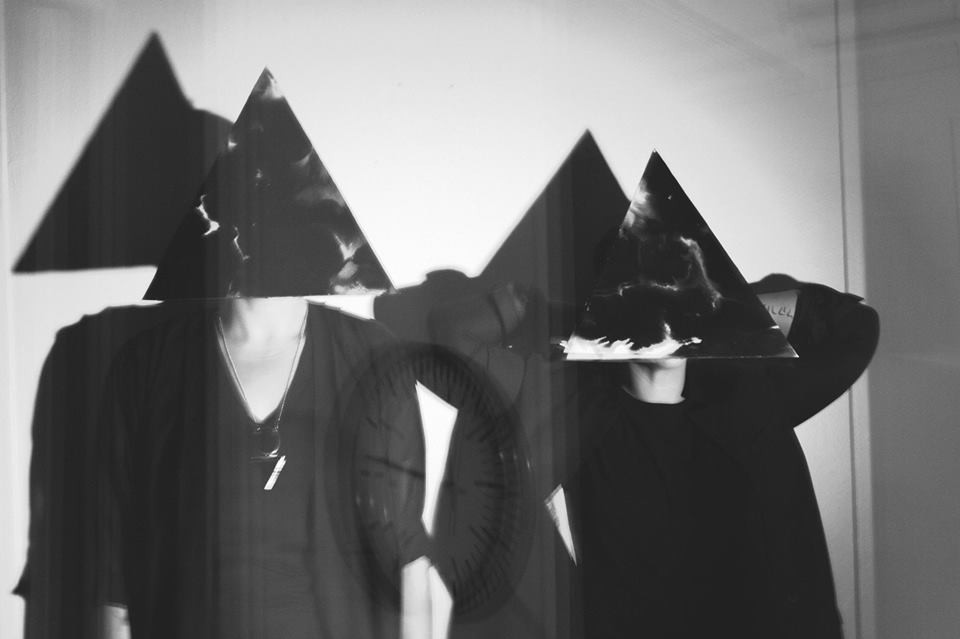 Links: