Nostalgia in my image, nostalgia in my voice
There is a unique joy to seeing the live show of a bedroom producer or lesser-exposed act. Your appreciation of their process becomes a real-time phenomenon, as opposed to something half-glimpsed through the breadcrumb trail of internet releases. 
Edinburgh's history of post-punk birthed a host of raucous and genre-defying bands. In this spirit, Edinburgh's Eyes of Others, the moniker of electronic musician John Bryden, has unleashed a new album: Elevenses. That improvised and fluid approach to sequencing is responsible for the "lightning in a bottle" aspect of this album, where the instrumentation is complemented – and heightened – by production, rather than fussed-over or overwrought. 
"Elevenses," a term and practice popular in the UK, refers to the light meal that falls between breakfast and lunch – not to be confused with "brunch," a highly gentrified phenomena at this point. There's something cheeky about Elevenses; in the same way that "second breakfast" suggests adventure and gluttony, the term alludes to domesticity; enjoying food in the home. Over the course of a pandemic marked by tight restrictions of social interaction, Elevenses soundtracks a kind of domestic bliss, memories tinged with melancholy and unspoken connection. 
Having seen Eyes of Others perform the album live, it was surprising how open-ended instrumentally the set was, and gratifying to see an artist throw caution to the wind and still know it would land. Rhythms and programming were changed on the fly. Bryden explained he wrote pieces of songs on the long train journey down from Scotland to London gigs, incorporating these jams into the setlist. The album expands upon this.
A young Bryden on the cover emanates the golden glow of a boy who eats ready-brek oats, regarding himself like a peacock in passport photo framing. It's a purposefully disarming choice of image, when placed in obtuse and beguiling juxtaposition with the owl on the front cover, it's piercing amber eyes both cutting and wise. Thematic opposites become harmonious parts of a whole, as the rich winter feathers of the bird meet with black oceanic granite…and the young Bryden.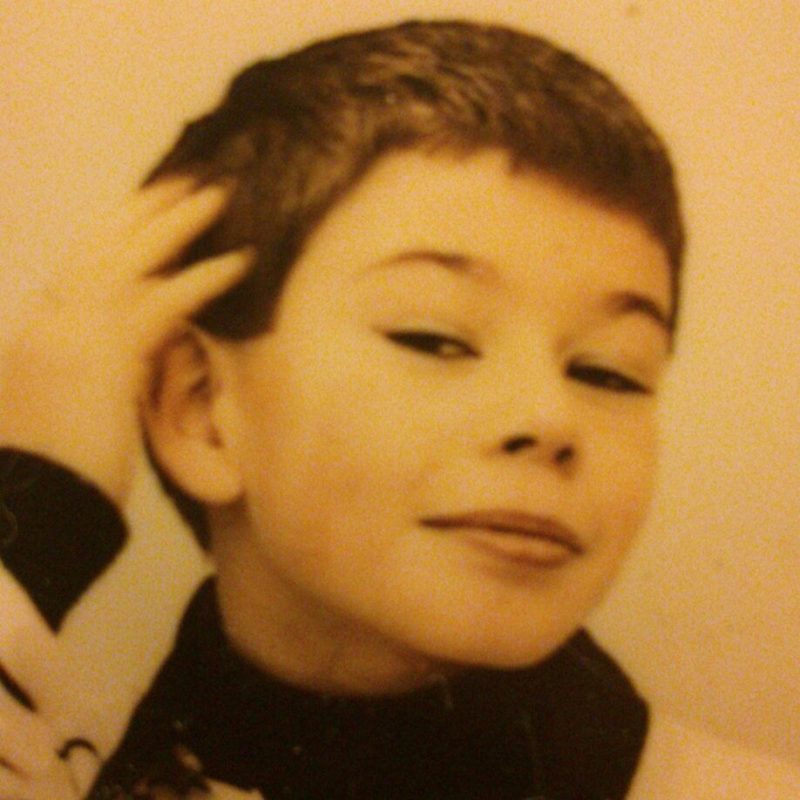 It's a resonant and concise encapsulation of the sound of the project, where a sense of humour and irreverence permeates electronic intricacy, rhythmic trances and impressionistic harmony. The wise owl and the smirking Bryden are, after all, two sides of the same coin. Pretentious, moi? The synthesis of structure cannot be conceived as single constituent parts: the totality of the sound leaves the impression, birthing the true character of the music. 
The album opens with First and Last, characterised by icy synths and dissonant spring reverb. It's a multilayered tone, simultaneously cosmic and claustrophobic, prying open life's essential mundanity. The track is showcased by a spoken-word interlude, where the song reaches a harmonic conclusion. The synths become epic and the voice gets closer, narrating the coda. "The most small-minded open mind you can imagine." In its stripped-back, syncopated melancholia, it brings to mind the mutant genre of Coldwave. Despite the influence of House and Techno, the tempo is kept relatively low by dance or pop standards, aiding the infectiousness of the staccato grooves. Funk, disco and coldwave are reinterpreted synthetically and are rhythmically "whacked out" of time. 
Elevenses has a beat like a robot drummer who's had a few too many. Its high mid-synth funk baseline recalls Stevie Wonder's Superstition, albeit through a minimalist and refracted lens. The clicking percussive production at times recalls the clink of spoons on mugs, overlaid with lyrics that reference an 'alone together' philosophy: "you do your thing and I'll do mine." (A positive or negative light is, however, up to the listener.) The nostalgia is "baked in," like baked beans of yesteryear. Pleasure Every Time has a blistering repetitive hook that triggers the replay compulsion on a song you love and sandwiches Elevenses signature spoken-word interludes. It's the most hook-heavy song on the record, marrying ecstasy and melancholy.  Turn Out A Light is more in line with a kind of minimal electronica or techno sensibility, as background vocals become a choir-like drone. Wave Goodbye To Grass is a meditative hymn on letting go; a farewell to sun-soaked summers of the mind's memory bank cinema. 
If John Bryden was a one-man orchestra before, Elevenses sees the symphonic instincts reach a newfound maturity. 
Elevenses is out now on Global Warming Records.  
Eyes of Others' previous releases on Edinburgh's Paradise Palms Records saw remixes from the late legend Andrew Weatherall. Stuart Evans of Green Door Studio (Sordid Sound System, Golden Teacher) produced and mixed the album.  The release is visually scored by the Manchester-based creative studio DRME, using original Eyes of Others footage from a remote island in the Scottish Hebrides. The record will be released as a K7 tape including 2 exclusive tracks + a limited edition hand-printed t-shirt and an original print booklet.
Follow Eyes of Others: