As one of the most hardworking bands this side of the Atlantic, Rosegarden Funeral Party have had quite the illustrious year. The Texas-based post-punk outfit released not one, but two albums last year – the powerful In the Wake of Fire and a stellar collection of collaborative covers called TAKE COVER. Hot off the heels of a successful US tour with Gene Loves Jezebel, the band has been hard at work preparing material for third full-length LP. They're also due to head out on the road in a few short days, playing a series of cross-country dates throughout November and December with VIO\ATOR. To capture all this energy and excitement in a bottle, the band has recorded a brand new standalone single, and we're honored to premiere it here today. Click below to listen to "Almost Heaven."
The track leaps forward from the gate with a thunderous roar of heavy percussion and a deep, yet-catchy lead guitar line. Leah Lane's sonorous vocals quickly cut through the din, with lyrics dripping with longing and regret. The track is three-and-a-half minutes of post-punk fury, showcasing a band at the top of their game, a fine-spun package of driving rhythms, passionate vocals, and memorable hooks galore. The track is available for purchase on Bandcamp, with all proceeds helping with tour expenses.
Lane has shared these words about the track and the band's upcoming tour:
"Almost Heaven" was written in the wake of our tour with Gene Loves Jezebel.  Having come off of our first tour since the pandemic, I felt deeply inspired to create again.  The way we were received in familiar cities and new towns alike gave me the vindication I needed to propel me into new music.  I had really fallen into a heavy depressive era after completing our 2021 projects, TAKE COVER and In the Wake of Fire, and found myself unable to write new music.  However,  the encouragement we received from our fans and the care, compassion, and friendship I felt from my bandmates, really helped to heal some of the wounds I was letting kill my spirit.
"Almost Heaven" was originally scheduled to be the first song on our next record, which we will begin work on at the top of 2023, after our November-December US tour with VIO\ATOR. However, we decided to record it early and release the song exclusively on Bandcamp for a very particular purpose. 
Dylan, our beloved drummer, is unable to play with us for the entire tour and will only be able to be with us for the November dates. We discussed the situation as a band and decided that rather than let our fans down by canceling half of our dates, we would hire a replacement. This new financial pressure is why we decided to record and release "Almost Heaven" on BandCamp exclusively (for now). 
We have always felt uncomfortable asking our fans for financial support without giving them anything in return, so we decided that we would give them our newest song early in exchange for a little bit of help getting us through this tour.
"Almost Heaven" is a song about being in love with someone you know you cannot be with. It is a song about the precious nature of innocent moments and the pain that comes with letting them go. It is a song about accepting the darker side of moments that may appear, on their surface, to be beautiful, but hide something darker between the lines and between the sighs.  Sometimes the way people hurt one another isn't so easily seen. Sometimes,  it is only in hindsight that we truly realize the way we were harmed.  Sometimes, both people get hurt. Sometimes, both people are guilty.  Sometimes, both people are innocent.  Love is complicated, life is more so. Life is a liquid. It moves and flows. It can freeze and it can boil. And every action, be it a thought, a feeling, or a movement, has an equal and opposite reaction. 
"Almost Heaven" was recorded, engineered, mixed, and mastered by our wonderful producer, Michael Briggs, at Civil Audio Studio in Denton, Texas. It features Dylan Stamas on drums, Michael Ortega on synth, Scott White on bass, and myself, Leah Lane, on guitar and vocals. It was recorded in one day… one of our best days.  
Rosegarden Funeral Party has never felt more like a family and we are very happy to be bringing this song into the world. We do so humbly and with love. We are truly so excited to be embarking on another tour in just 9 short days starting in El Paso, TX.  You can count on us playing "Almost Heaven."
Check below for the "Almost Heaven" single artwork and a poster for all of Rosegarden Funeral Party's upcoming winter dates.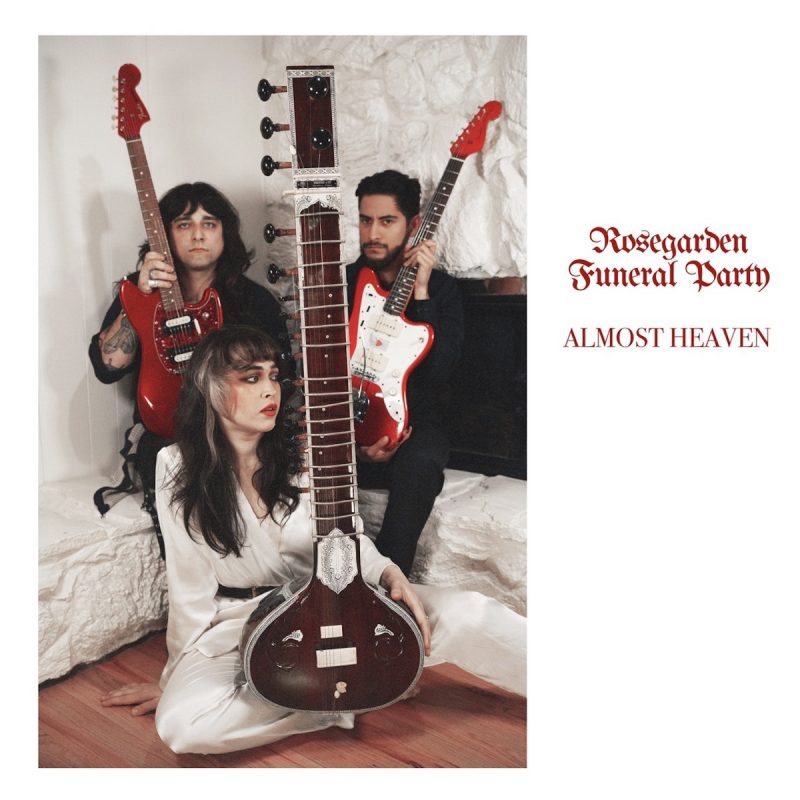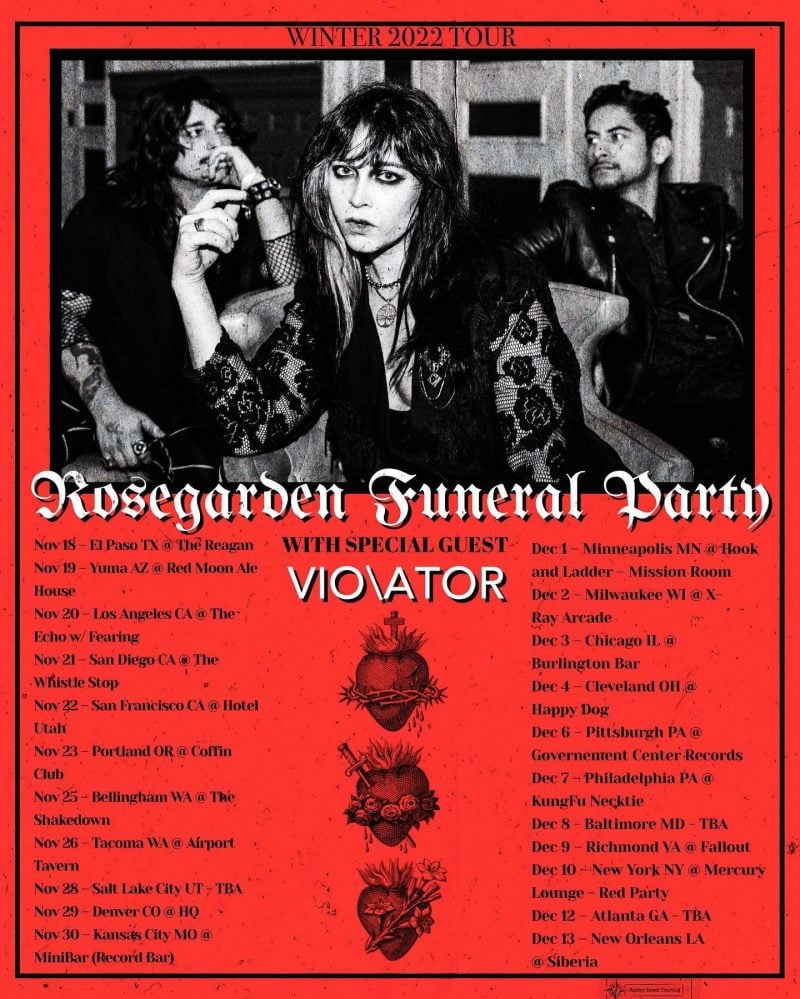 Photos by Michael Briggs