Italy's retrowave musical and visual project, Recall Madame X, has unleashed a requiem of sapphic, vampire love: the story of two women locked up in an art-house cinema for eternity. There is only one request to let the time pass: coffee and cigarettes. Referencing the imagery of Jean Rollin and the psychedelic horror cinema of the Seventies, the single and accompanying video for Cigarettes and Coffee is an eerie, intriguing work of art.
The harmonies in the track are marked by an out-of-tune and melancholy piano, in a constant crescendo developed in three parts (The Meeting/The Pain/The Resignation), with a suspended rhythm that becomes more and more concrete towards an obsessive and martial ending. The whole performance has a cinematic and oneiric feel: its sound is analogue, created with Groovebox, Moog, and modified electronics. The whispered voice was performed by the illustrator Francesca Azzoni.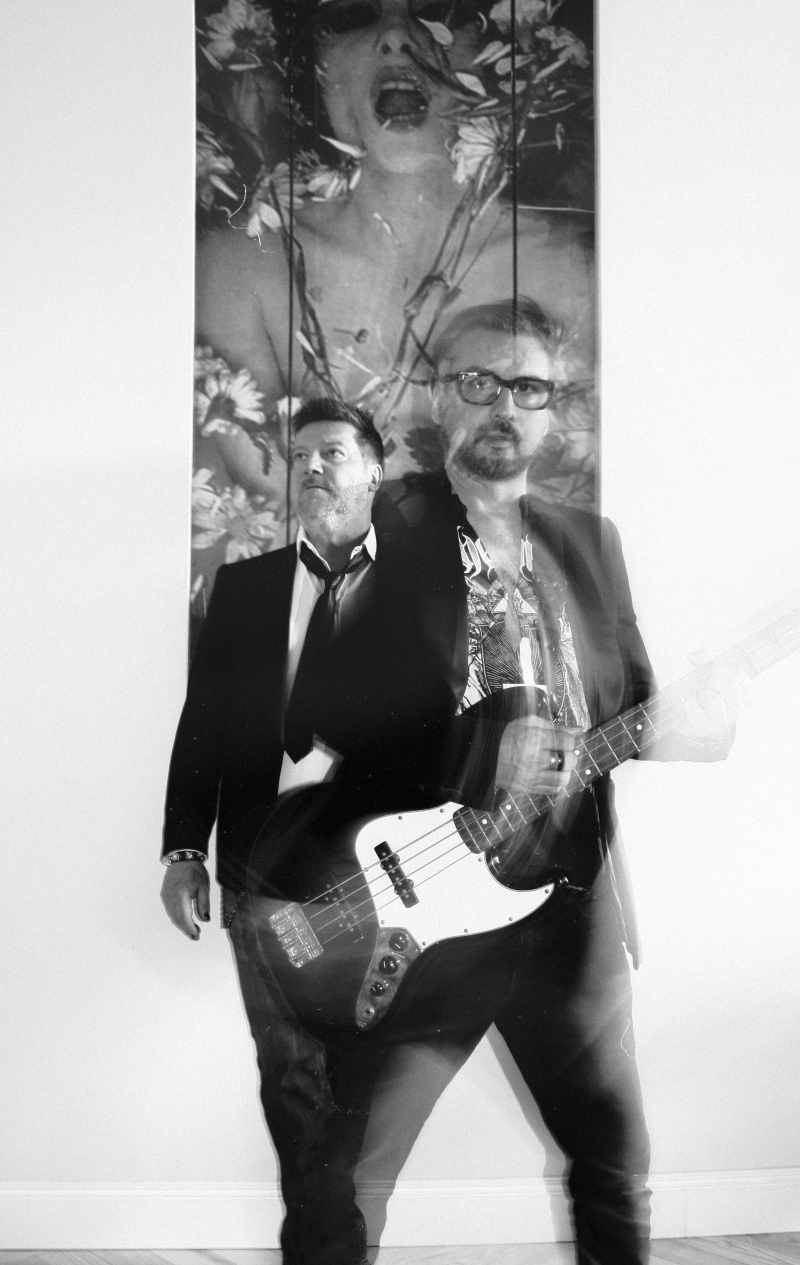 Recall Madame X involves the collaboration between Alessandro De Benedetti (musician, designer, illustrator) and Andrea Zuccotti (author, multi-instrumentalist, sound engineer). Both rescued in their restless adolescence by the spooky music and lyrics of the Banshees and Joy Division, and they began composing decadent post-punk songs with the support of a TR707 and an out-of-tune acoustic guitar.
Alessandro De Benedetti has served as the Creative Director of luxury fashion brands such as Exté, Mila Schön, Romeo Gigli and his own brand, since the early 2000s. During his career in art and fashion, he collaborated with Alejandro Jodorowsky, Katherine Jebb, and his idol, Siouxsie Sioux. Andrea Zuccotti, multi-instrumentalist and producer, founded the Italian electropop project Zerozen. He has collaborated on projects with Marco Vernetti, Sigma Tibet, Kristen Grove, Madaski, Santa Sangre, and Delta V. He is also a public lawyer committed to the defense of civil rights, in particular on issues such as LGBT+ rights, same-sex parenting, and international law. He considers both civil commitment and artistic work two different sides of his innate propensity to observe and describe the human being.
The first album from Recall Madame X, SupersexDeluxe (published by Aries Music), came out in 2007, with an electro-wave appeal and inspired by the subculture of 1970s soft-porn Italian noir photo novels, and by the movie's soundtrack What Ever Happened to Baby Jane?. They followed up with the single Rumore in 2008, and in 2013 released the concept album Dive Cattive (Naughty Divas). The third single, Vergini di Luce (Virgins of Light), inspired by the 1975 film Picnic at Hanging Rock, saw the special appearance of Max Zanotti (Deasonica), becoming the soundtrack of a short film by videomaker Katerina Jebb, and presented in Paris during Fashion Week 2016.
The video for Cigarettes and Coffee, filmed at Gerolamo Theater, Milan, was created by Alexander Coppola. Watch the video for Cigarettes and Coffee below:
The single and video anticipate the release of the new album Unconscious ID, scheduled for October 31, 2021.
Follow Recall Madame X: