The artist Erin Hoagg, under the name Rare DM, has found her stride during quarantine. The song "Send Nudes" and its adjacent video have sent ripples across the electronic music spectrum. Rare DM's style, a soft but demanding sort of approach, is relatable in the modern age of online dating profiles, text messages, and ghosting while her romantic dark pop music is alluring, mesmerizing and will have you curious for what she will release next. We chatted with Rare DM about her work, fostering kittens, and the future right before her first livestream set ever for this Saturday's Dark Energy x Synthicide Holiday Special (scroll to the bottom for more photos and information on the event).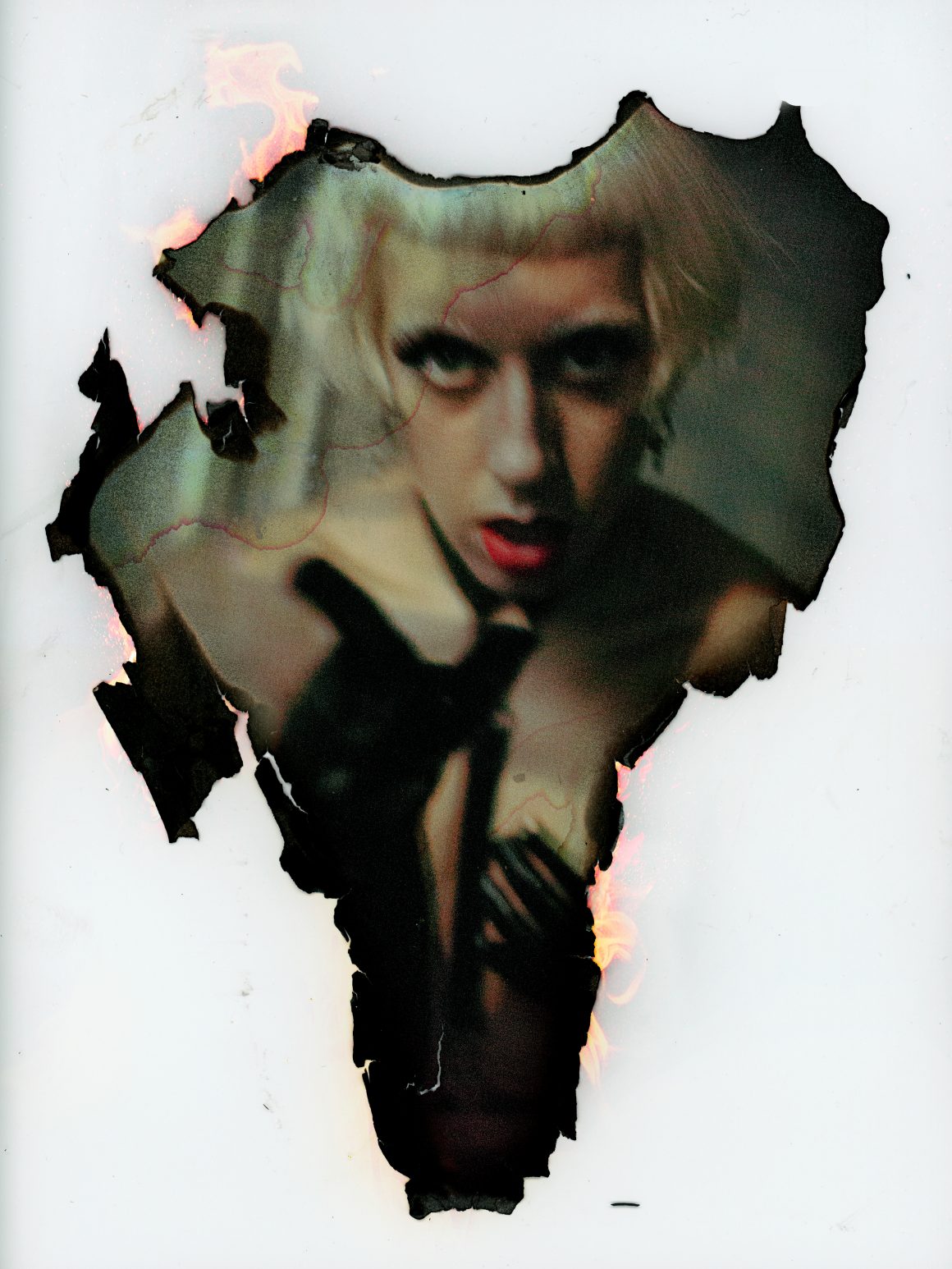 Your artist name literally refers to Direct Messages, correct?
That is one of the meanings! I like that people have their own association with DM – some people think of Dungeon Master from D&D, I've also heard Dance Music, Dark Matter, Draco Malfoy… I like Distant Memories and Dream Machine also. So yes, and also no.
Did you know from the beginning of your project that's where you wanted to derive your lyrical concepts from?
Loneliness in technology has been a big theme in my writing – we have the potential to be so connected to people through direct messages, emails, text, facebook, snapchat, tinder, etc, that there are a thousand new and exciting ways to feel rejected now. I did not set out to derive my musical concepts from direct messages and texts, although it has evolved naturally that my dissatisfaction with modern dating and communication makes it's way into my lyrics. My writing is often very pointed and based in reality – sometimes featuring actual IRL or text conversations, otherwise I am on another planet entirely. Idealizing something, someone, somewhere, and living in a fantasy realm. It could be considered a coping mechanism or perhaps a form of manifestation, an attempt at making my dreams a reality.
"Send Nudes" was created after the disappointment of modern-day dating, how do you remain positive about things like love and relationships while living in this internet-based, quarantine world?
Oh boy. To be honest, it's focusing on my career and doing interviews like this that is getting me through it currently. That and fostering kittens… (I have fostered 21 since March through
Bushwick Street Cats
) Currently I am the least focused on dating that I have been in years – and it's been very strange. I suppose my coping mechanism is literally not thinking about it. The last time I was really focused on my love life was when I wrote "send nudes" and I suppose I have been distracting myself and focusing on my career since. I crave physical affection like hugs and snuggles all the time and fostering kittens helps me not get sad about that. I know I could meet someone and just cuff up for the winter, but I have no interest in settling. I want that rare love – in the very least the potential for it. Unless I am really knocked off my seat by someone special (is that an expression?) I am not interested. Does that count as positivity? This is a hard question. Ideally I trip in the middle of the road and someone is like "omg here let me help you" and they are just perfect for me and the rest is history. I'm a sucker for romance.
I'm still deciding a few things about it, but as usual I will be going DAW-less using my Octotrack as my main instrument. Then going to sync my Machinedrum with it, run that through my OTO bam reverb, and probably bring a synth drum, and delay pedal to run my vocals through / have the midi synced with my electron gear. I'll be playing "send nudes" for sure, and a few songs off of Vanta Black as well as some unreleased material.
As a woman who is writing, programming, and recording everything on her own, do you find that you have something to prove to people who might doubt your expertise?
Absolutely. The misogyny in music is so real, I have finished a whole set with my OT and machinedrum while singing etc, and had a guy come up to me, point at the VJ, and ask if that dude was "djing my music for me" … like what? Did you not see me playing my gear the whole set? Did you think I was miming it?
I have worked very hard to be the producer and songwriter that I am. In general people (usually men) often assume that women aren't producers and don't make their own music. It's a really frustrating stereotype.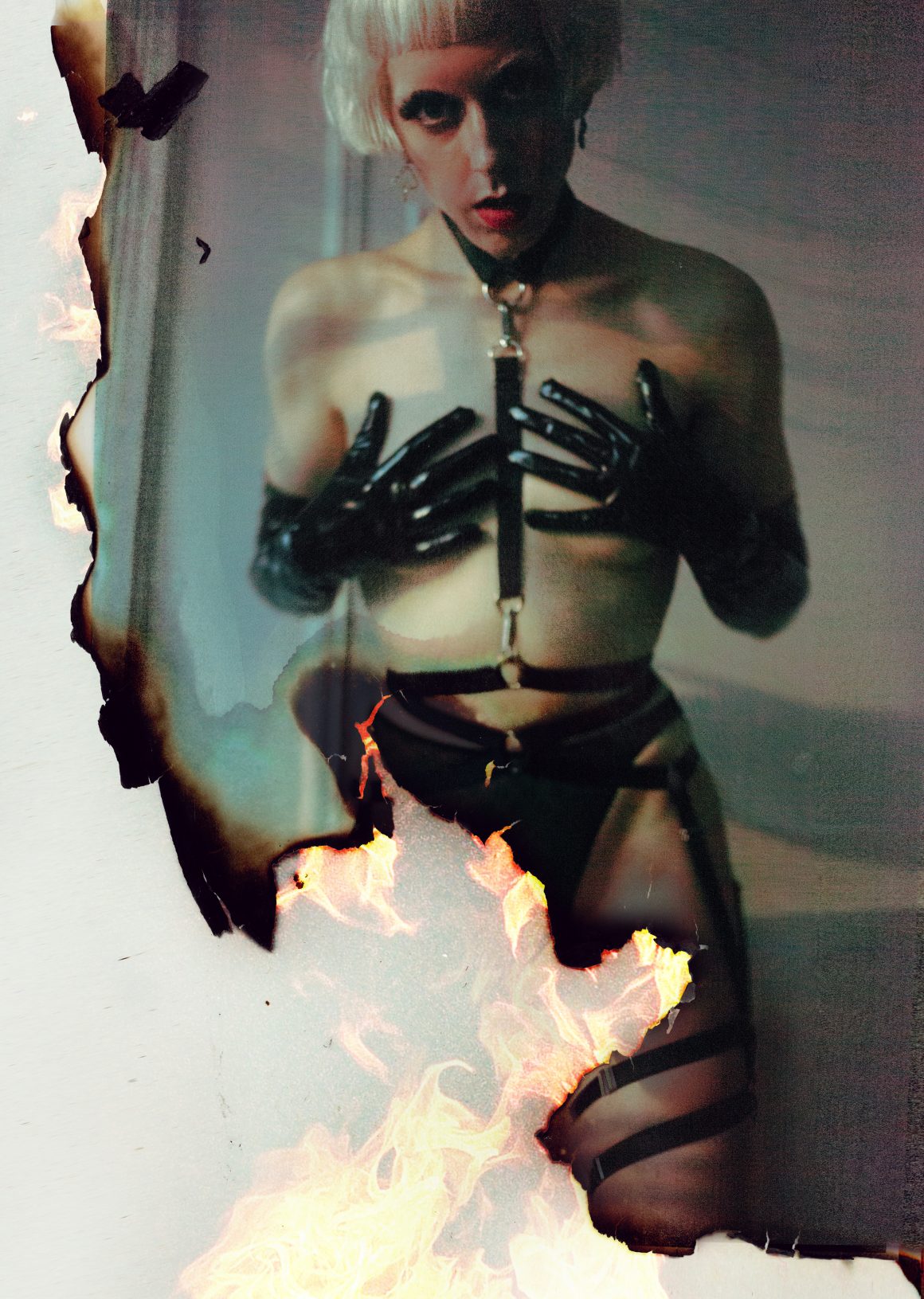 What's next after your success with the "Send Nudes" video?
Another album! I have dancier/more techno forward songs coming, and plenty of darkwave / analog as always. Still got some sad songs, though I am really excited to have some higher bpm tunes on the way. Expect more editorial work with
Lissyelle Laricchia
and looking forward to working with
Oliver Rivard and Jake Moore
again on videos! I can't wait to shoot the next vid. I don't know how I am going to release my next album yet, though I am ready to have some vinyl pressings of my music. Ideally I'll have some opportunities coming my way from "send nudes" that I don't even know about yet!! We'll see!!
Be sure to check out the Dark Energy x Synthicide Holiday Special with artists Red Window, Rare DM, Confines and Choke Chain Saturday, December 19 at 8p EST on Twitch. 
Photos of Rare DM by Lissyelle Laricchia. Live shots by Nikki Sneakers.