Kansas City combo Monta At Odds, led by brothers Dedric and Delaney Moore, has unfurled a gorgeous new single, called When I'm Gone. With Dedric's pulsing, melodic bass/programming and Delaney's artfully unhinged synthesizers framing the band's central character, the song is fleshed out by a talented cast of musicians and collaborators.
On this track, Mikal Shapiro appears on guitar, along with Matthew Heinrich on drums, and Lucas Behrens on guitar and synth. The band's lineup expands further with the additions of Krystof Nemeth (Emmaline Twist) on baritone guitar, along with Teri Quinn on bass leading the track with her vocals.
With three vocalists, the band has been able to add more psychedelic dynamics and post-punk elements to their usual dark synthpop musings. The sound of "When I'm Gone", led by Quinn, is comparable to early Human League, Gary Numan, Suicide, and Love and Rockets, with a smidgen of Philip Glass for good measure.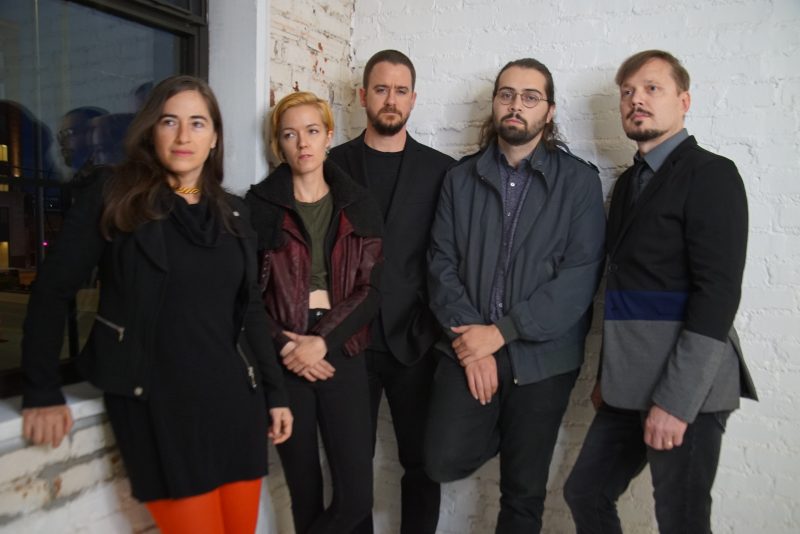 When I'm Gone first burst into being on vocalist Teri Quinn's banjo, transforming into a sleek, indie-tronic cascade. This track has a unique, almost medieval folk quality to it, with Quinn's ethereal voice guiding the buzzing synth backing and electric drum punch to a new realm with a neoclassical bend, anchoring Quinn's pleading words. "We both know you'll feel better when I'm gone" is an emotional punch in the gut: the hard choice of ending a relationship, hanging on for dear life; an impending break-up transformed to melodic earworm.
July 23, 2021, will host a full moon and see the release of Monta At Odds' full-length, Peak of Eternal Light. The album features ten songs of dark electronic synthpop with hints of sci-fi soundtracks. The music veers from fast-paced electronics to cinematic mood pieces across a varied discography of genres on display. Monta at Odds plan on touring the release in 2022.
Enjoy the performance video for When I'm Gone, directed by Miki P. (with additional video treatments by Dedric Moore) below:
Stream the song here:
Follow Monta At Odds: