Asheville, North Carolina dark post-punk outfit Secret Shame have unveiled their earnest new single, "Hide", the first song from the band's forthcoming sophomore album due out later this year.
A profound, honest confessional of deep vulnerability in dark times, the post-punk track carries immense emotional power and becomes a mirror for the collective despair in modern times. With brave candor, lead vocalist Lena Machina spoke about her struggles with addiction and anorexia, and how the song became an outlet for her. The song, in effect, has served as an emotional exorcism.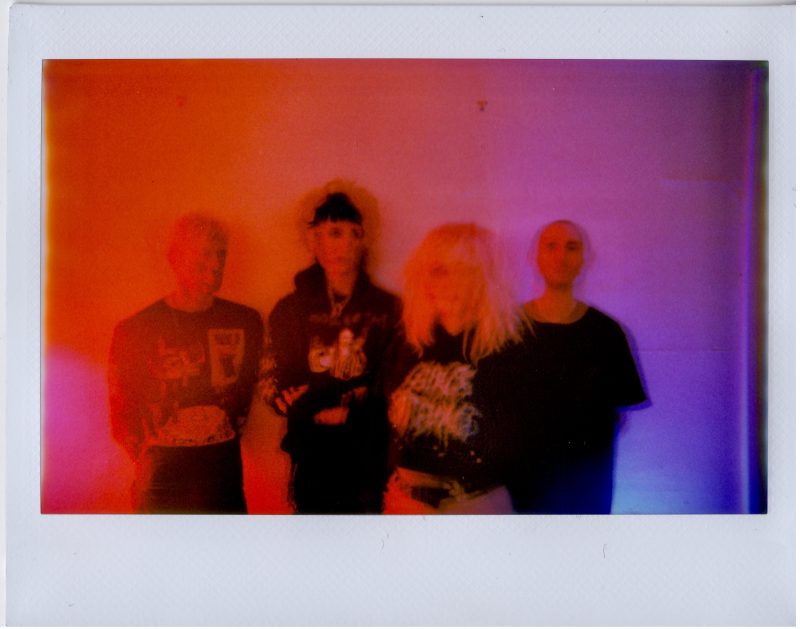 Lena Machina admits she has wrestled over speaking about sensitive issues so publicly, especially during trying times where so many are hurting, but hopes her honesty about the content of Secret Shame's music can help others find paths toward dealing and healing. If someone responds positively to these struggles, she says, speaking the brutal truth is worth the risk.
"During the pandemic, I have witnessed many people with mental illness spiral downwards," she says. "For some, back when many people were getting unemployment, it was a break from the constant bustle of life and an opportunity to catch up on old hobbies you've forgotten about, or spend time with family. For many others, it has been a nightmare of isolation. Even people who don't experience mental illness can be crushed by the weight of being alone with yourself…While my partner and I were stuck in a series of small rooms throughout 2020, I was consumed with self-hatred unlike I have ever experienced. 'Hide' is about the self-hatred that I have continued to experience every day since."
"Hide" was recorded in June 2021, was the first-ever track cut at the Drop of Sun Studios in Asheville, joining the ranks of Animal Collective, Indigo De Souza, Wednesday, and MJ Lenderman. Secret Shame is in the process of finishing the album, following their stunning 2019 debut Dark Synthetics.
You can find the track on your streaming service of choice here.
"If you or anyone you know is struggling with mental illness of any kind, know that your struggle is valid and you deserve to get help," says Lena Machina.  "You are sick enough and you are worthy enough of treatment. And you are loved. You are very loved."
SAMHSA's National Helpline 1-800-662-HELP (4357) is a 24-hour hotline for people experiencing mental crisis and substance abuse disorders. (800) 931-2237 is the hotline number for NEDA, the National Eating Disorders Association.
Follow Secret Shame: