The beginning of Chinese rock:
To talk about post-punk in China, it would probably be necessary to start with a very brief history of Chinese rock n roll, or "yaogun" (Mandarin for rock music), first, which didn't really officially occur until the 80s. Considering how rock has existed in the West since the 50s, and had a much more international influence in the 60s, that does seem a rather long time for it to have finally hit China. If you remember your history lessons however, China was previously busy undergoing a decade long Cultural Revolution, not to mention that nearly all media was completely state-run until the 80s.
Yaogun came about from a political and idealistic dissatisfaction – particularly with the artist Cui Jian, now seen as the "father of Chinese rock." His music became a symbol for angry Chinese youths becoming cynical of Chinese Communism, and his song "Nothing to My Name" became an anthem for Tiananmen Square protesters in 1989.
From that point on and into the early 90s, rock fell into the hands of general urban youth culture, and started hitting popular charts. One of the big bands of this era was Black Panther, a glam metal/hard rock act fronted by Dou Wei.
Although yaogun had become more commercialized, it also slowly declined in the mid 90s as general societal attitudes shifted away from politics, not to mention that music had become much more regulated by a media-controlling Chinese government in the aftermath of Tiananmen. Still, yaogun didn't die, it simply entered the underground.
The 90s:
A few bands came about during this era, in which the underground had a fairly strong punk rock scene. Of particular note, Black Panther's former frontman, Dou Wei, formed a goth rock band with drummer Zhao Muyang in 1992, The Dreaming, which only released one single, "The Ray of Suns." In 1994, Wei released a solo album titled Dark Dream under his own name, which drew inspiration from acts like Bauhaus and The Cure, as well as dub and reggae. It was characterized for its gray gloom with its spatial production qualities, dub-infused bass lines, and Wei's monotonous and mystic vocal style. Today, Dou Wei continues to make hypnotic shoegaze and post-rock music, often compared to acts such as Bark Psychosis.
There was some Western influence in the Chinese commercial pop scene, of particular note Dou Wei's now ex-wife, Chinese pop sensation Faye Wong, who took influence from artists like Tori Amos and The Cranberries. In 1994, she released Random Thoughts, which included Cocteau Twins covers. From there, she established a relationship with the band. Robin Guthrie and Simon Raymonde would pen a few songs for her, and she would also go on to cover "Serpentskirt" with them.
Now:
In the late-90s and early 2000s, a Western indie music scene developed that would trigger a similar explosion in the contemporary Chinese underground music scene. Aside from post-punk revival, genres such as indie rock, post-rock, garage, noise rock, post-hardcore, and grunge hit the ears of Chinese youth, and a slew of new Chinese bands were born.
The internet has helped significantly with this growth and exposure, and while China has one of the highest music piracy rates in the world, it wasn't always easy obtaining Western music beforehand. In the 90s, to pass censorship, foreign music would have to be imported with cut-outs – incisions and holes punched into the sleeves, jackets, or cover's spine of a record, CD, or cassette tape. In the Western market, this indicates a discounted item that goes in the bargain bin. For China, these cut-outs, or "dakou" as they'd call them, would be imported as junk, and it was the only way the mainland Chinese could get their hands on foreign music. This was crucial in the development of yaogun, and was so significant to the culture that "dakou" did not only describe these cut-out records, but also the generation of urban youth and musicians born between the 70s and mid-80's – the "dakou generation" of current musicians.
These days, the Chinese music market isn't significantly different from Western markets in that most record stores have closed down (though pirated music is still commonly sold in the streets). Still, support for local acts and resurgence of interest in vinyl collecting has allowed for the Chinese indie scene to thrive.
One the most important figures in the Chinese post-punk scene, especially the crucial Beijing scene, is New Yorkian banker and finance professor, Michael Pettis. His Maybe Mars record label consists of many of these post-punk bands, as well as other various Chinese punk and indie acts. Aside from Maybe Mars, Pettis was also behind the now defunct D-22 – the gigspot venue, comparable to CBGBs in its local status, responsible for kickstarting many of these acts. Though D-22 closed down in the summer of 2012, its spirit now lives on in Cafe XP (also run by Pettis), though the new venue is more focused on experimental music.
For Westerners, the Chinese music scene is quite a real delightful treasure chest of gems to dig up. For the Chinese, however, it's worth pondering about how it fits and interacts with their general culture. While their art may sometimes struggle with media censorship, their mainstream culture is also different from Western cultures, and they value different things. Punk rock and general underground music shows a sense of generally differently appreciated values for individuals than mainstream counterparts even in the west. Is Chinese punk, post-punk or general underground music scene "useful," not just as a way of "fighting the man", so to speak, but also as a way to comment on mainstream and conservative Chinese values, societal perceptions, and attitudes?
All said and done though….
Some of the major bands in the scene (2000s and beyond):
Re-TROS (Rebuilding the Rights of Statues)
From Beijing, Re-TROS is brooding, nihilistic, and cheerlessly ironic, taking great influences from Joy Division and Bauhaus. Some of their songs, like "Die in 1977", flirt with a deathrock vibe. Their Cut Off! EP attracted the attention of Brian Eno, who guested as a keyboardist.
Illusion Division by the Hand (IDH)

From Beijing, IDH is tenebrous, cavernously spacial and eerie, with overt Joy Division and Bauhaus influences.
Streets Kill Strange Animals
Deriving their name from vocalist Lei Meng's traumatic childhood encounter with unrecognizable roadkill, this Haidian band is a fresh act pulling roots from Fugazi, Yo La Tengo, and Sonic Youth. Energetic with a misanthropic disposition, SKSA should please Joy Division fans too.
Formed in Xi'an and taking their name from the Happy Mondays, 24 Hours plays with fun and catchy Brit-pop influences. Their debut was produced by Martin Atkins (of Public Image Ltd. and Pigface).
Carsick Cars

Also from Beijing, Carsick Cars plays with a calm, melancholic vibe over walls of overdriven guitar noise expressing inner frustrations; their sound owes much to Sonic Youth and The Velvet Underground.
White
Side project to Carsick Cars guitarist Shou Wang, their self-titled debut was produced by Blixa Bargeld (of Einsturzende Neubauten). Atmospheric, experimental but catchy pop tunes with pulsating Throbbing Gristle-like industrial beats.
Snapline

From Beijing, and the side project of Carsick Cars' drummer, Snapline also caught the attention of Martin Atkins. They've been compared to The Fall with their deranged, dissonant melodies and deadpan attitude.
The Gar

Indie post-punk and shoegaze act from Beijing, their tunes are approachable and emotionally earnest. They've drawn comparisons to Television and Pavement.
Joyside

From Beijing, Joyside is primarily a punk rock band, but a few of their songs have a jagged post-punk quality. They've been in several documentaries detailing the Chinese rock underground scene, and have toured in Europe as well.
P.K.14

From Beijing, P.K.14's (the acronym is a play on a handful of things) sound is mostly somber and haunting, but they aren't afraid to play raw, grooving licks as well.
The Fallacy

Founded in Xinjiang, Henan, The Fallacy's funky grooves consist of energetic, dark, cynical, highly jangled guitars that should please Joy Division fans.
HedgeHog
From Beijing, and another band relevant in the D-22 scene, they play upbeat and catchy indie rock. Two of the members have an indie rock/pop side project, B-Side Lovers.
The Yours

Hailing from Hong Kong, The Yours plays dreamy and catchy shoegaze owing to My Bloody Valentine and The Jesus & Mary Chain.
UNiXX

Also from Hong Kong, UNiXX plays existentialist, moody and angry post-punk that should please Joy Division fans.
Dear Eloise

A shoegaze and noise pop act from Beijing, with influences from The Jesus and Mary Chain, their sound is melodic and fuzzy.
AV Okubo

Coming from Wuhan, AV Okubo plays with a raw and powerful energy that is both danceable and biting with noise rock/pop elements, which may appeal to fans of Death From Above 1979.
Ourself Beside Me

From Beijing (with a drummer from Japan), this all girl band has a cute, mellow, and jangly sound that may remind you of acts like Liliput/Kleenex. Aside from post-punk, the band also draws from psychedelic rock, and has drawn comparisons to a number of acts including Television Personalities, Can, The Fall, and Bush Tetras.
Pet Conspiracy

A synth-driven band from Beijing, Pet Conspiracy plays atmospherically dark, whimsical, danceable yet meekly curious electroclash, that may appeal to fans of The Knife, Tying Tiffany, and Geneva Jacuzzi. Also, you got to love their humorous little tagline, "We are from China, but we don't eat dogs."
Nova Heart (click here for an Interview with Helen Feng)

From Beijing, Nova Heart plays beautiful nocturnal dance tracks that may appeal to fans of Blondie or even the italo disco revival scene like Glass Candy. Vocalist Helen Feng is formerly a member of Pet Conspiracy.
Queen Sea Big Shark
From Beijing, with their new wave imagery and new wave revivalist music, QSBS will get you dancing to their kinetically electro, disco-infused tracks. Will appeal to fans of New Young Pony Club and Yeah Yeah Yeahs.
Birdstriking
A fun, energetic, and perky post-punk band that should please fans of Sonic Youth and The Cure's more upbeat stuff.
Self Party
From Hangzhou, Zhejiang, and formerly named Monkey Power, these guys are an indie shoegaze act that owes their sound to My Bloody Valentine, The Jesus & Mary Chain, and others.
Fading Horizon
Coming from Nanjing, Fading Horizon's sound is dreary and bleak reverb-driven noise rock, with dark, monotonous vocals. Their sound should appeal to anyone with a taste for contemporary dark, underground post-punk.
Hot and Cold
Two Indian-Canadian brothers, Joshua and Simon Frank, formed Hot & Cold in New Delhi, but consider themselves to be part of the Beijing scene, playingexclusively in China. Their sound consists of danceable, groovy soul-influenced bass lines, and noisy guitars and electronics, with influences from The Fall and Cabaret Voltaire. They're the only non-Chinese act on the Maybe Mars label.
新裤子 (New Pants)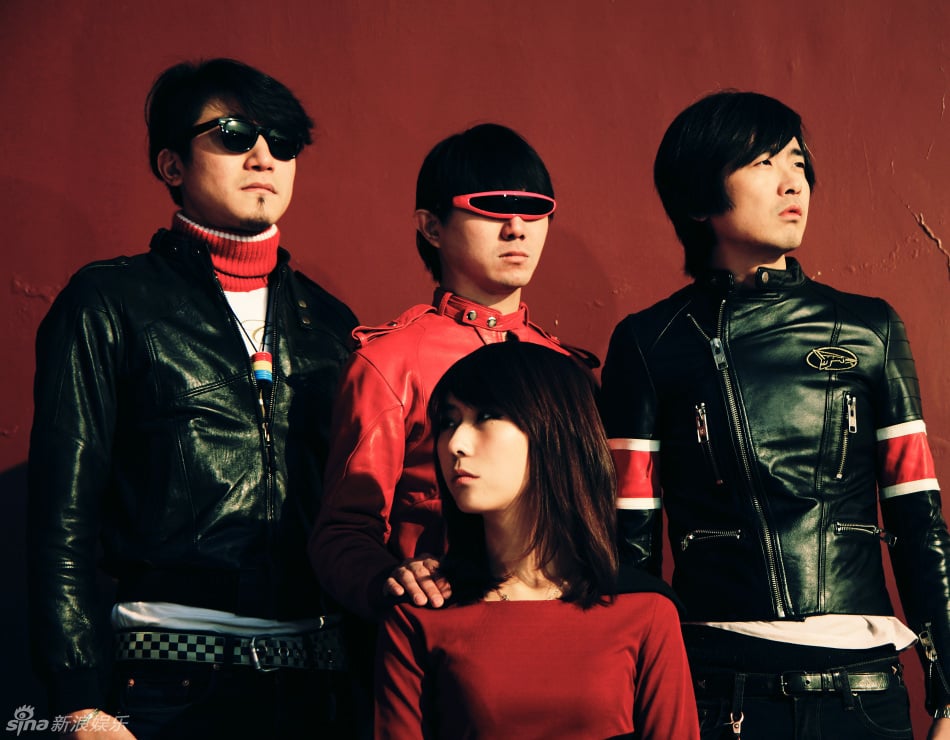 Catchy new wave revivalists from Beijing, who flirted with a Devo kind of imagery at first, with Ramones influences. Their sound evolved to more 80's disco and synthpop.
Chui Wan
While claiming post-punk and no wave as an initial inspiration, Chui Wan plays instrument-driven, complex, dour, psychedelic noise rock, claiming inspiration from acts like No Age and The Velvet Underground.
Battle Cattle
Drawing from post-punk, ska, and hip hop, Battle Cattle is actually made up of 3 Parisians located in Shanghai creating fun post-punk revival music that should appeal to fans of more sanguine revivalist acts like The Strokes.
Lowspirit
Lowspirit is an early 2000s indie shoegaze band from Shanghai, with acoustic, slowcore qualities, yet not afraid to get noisy sometimes. Fairly mysterious, the band has been off the radar for awhile now.
8 Eye Spy
From Nanjing, and taking their name from 8 Eyed Spy, one of Lydia Lunch's old bands, their sound lives up to the experimental, no wave-infused noise rock expectations.
Rank Moist Vegetation
Now defunct, RMV was a highly experimental, unapologetic noise rock band from Shanghai with a comparable social-satirical deadpan artistic sensibility as underground industrial acts like Whitehouse. The band drew influences from acts like SPK, Prurient, The Birthday Party, and Swans.
Stalin Gardens
Rank Moist Vegetation went on to become Stalin Gardens. Their sound is a more refined dark and atmospheric post-punk a la Joy Division, with shouted monotonous vocals that may remind you of a little bit of The Horrors as well.
Mr. Ray
A play on the word "mystery," Mr. Ray is a newly formed band from Beijing. Drawing from dark post-punk, no wave, and psychedelic rock influences, their sound is minimalist in structure and play style, with abstract, screeching vocals and tribal-like drumming.
And by no means is that everything – just a handpicked selection, particularly of the major acts.
Just like any other Western music scene, the Chinese are constantly forming new bands in garages, or recording in their bedrooms. Some of these acts can be discovered on Douban – a major Chinese social networking site akin to Facebook. There, many new Chinese bands of all genres can be found, including post-punk and post-punk inspired bands. Like Facebook and Myspace, Douban allows for music bands to have their own pages, and is a great resource to find small, up and coming bands and listen to their demos. A few of these bands have their own Bandcamps as well.
A few other great resources are the websites Rock In China (rockinchina.com), a wiki dedicated to Chinese rock, and CRI English's excellent video webcasts, The Sound Stage hosted by Jonathan Alpart, which is a very educational and entertaining resource for those wanting to discover and see more of the Chinese indie rock scene.
A final quick run through a few other obscure acts:
Dark, cold, solemn, depressive, cynical, sometimes-gothy post-punk acts, for your Joy Division fixes:
Me Too (or 迷途), Closer, Mr. Rotten, 补骨脂 (Buguzhi; "Psoralea" in English), Irregularities, The Planets, Da Bei (大悲, aka Mercy and Sorrow; rough English translation is "Big Sorrow"), 浅醒 (Shallow Wake), Yantiao, Passengers Disappeared, 哲 (Wise; with acoustic dark folk, even dark cabaret at times, qualities), 她还没有死(rough translation, "She Still Has Not Died"; dark instrumental with Durutti Column-like guitars)
Experimental noise rock and no wave:
Tape, Future Them, Plastic Heads
Shoegaze, dream pop, and ethereal (My Bloody Valentine-ish to Julee Cruise-like):
Islet, The Sound and the Fury, Deer, Forsaken Autumn, Cheesemind, Scarlet's Other Parts
Synth-driven:
5 Mins (dark synth), 超级市场 (Supermarket; synthpop)
Other post-punk-driven or inspired indie rock:
Sonnet, The Bigger Bang, Rubber Phonograph Needle, 七八点(Qibadian, rough translation- "Seven Eight Points"; some jangle pop and possible c86 flirtations about), N.M.L.K. (Naked Martians Loop a King; some flirtations with Wedding Present and Mission of Burma), The Quarters, Tiger Uppercut, 小火车心 (Mini Train Heart)
And of course, there are many more hidden gems out there just waiting to be discovered…