Sacramento post-punk dreamers Creux Lies unveil a spellbinding new video for their single "Becoming", a soaring anthem for harnessing strength of the heart during life's darkest hours.
Creux Lies Frontman Ean Elliot Clevenger describes the song as "a track about the journey through the chasm of personal hell and the transformative ability of the heart to lend ladders to the divine."
On writing the song, Clevenger adds: "Like all the tracks on this album, the words arose from some of the darkest moments of our life experience…When the lockdown came, the infinity of isolation became the day-to-day…I guess I was embracing that darkness and offering it some friendship; sometimes that's all you get."
The accompanying video, a surrealist film pays homage to Maya Deren's eerie, groundbreaking film Meshes of the Afternoon, bringing the terrifying cloaked figure with the mirror face to a new setting: an open field of dreams. The video, like the original film, bends linear time and the imagery lends itself well to the ever-churning hamster wheel of lockdown existence. It is a fascinating, unsettling dreamscape, gorgeously filmed by the band. Deren would be proud.
Watch the video below:
Following the release of their first album, The Hearth, the band began nurturing some new compositions for a second release. This process began similar to the first album, each of working us separately on songs, then bringing the bones, veins, and skin of a track to the rest of The Creux to fully animate. The chaotic energy surrounding the band's mix of direction was a welcome departure after playing the same tracks live for two years straight.
When the pandemic hit, the band retreated to their individual bubbles, trying to make responsible choices on how to continue writing and recording this record promptly – they had just penned a deal with Freakwave, with a target of releasing sometime in 2020.
"It was a pretty challenging endeavor for a band that typically relies on each member to bring greatness to the sound," says the band. "We began experimenting with using virtual jam sessions and shipping files to each other. Luckily, we are all decent home sonic production creators, so creating and flying around edits and changes over the months leading up to our time in the studio wasn't tricky."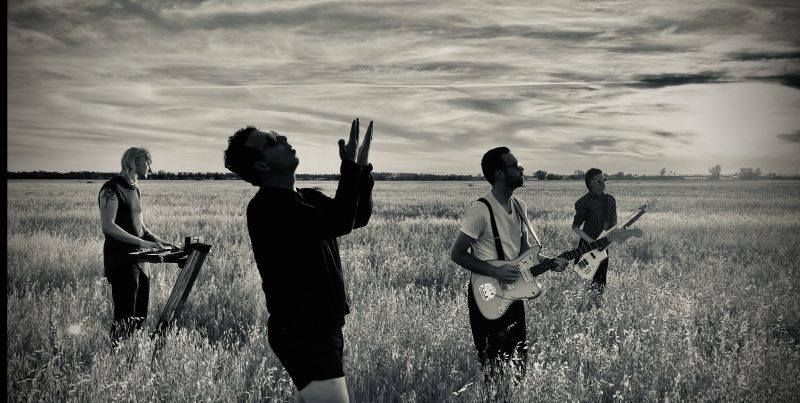 Creux Lies also notes that this album offers a complete range of emotions throughout the record: "prepare to find yourself ass shaken, and watery-eyed before you raise the needle."
Pre-order and pre-save Creux Lies forthcoming new album Goodbye Divine here.
Follow Creux Lies: