[dropcap]I[/dropcap]n Russia, not unlike many other places in the world—talk is cheap. Creative work in itself is more important than any over analysis and lengthy tea-soaked discussions in a salon could ever convey. Musing on that thought, I think I can understand the strange, dry, and laconic retorts that came back when journalists have interviewed Motorama in the past. However, what I admire most about the band is that they seem to indeed be true music aficionados—who are really only in a band to make the music they want to make and capturing the sound they want without being concerned with coming up with any didactic descriptions for the masses. Yep…I reckon Motorama are the strong and silent type at the party.
But they are speaking volumes through their latest release "Poverty"—whose opening track "Corona" eclipses all extraneous stimuli until the album's very end…entreating us to keep in touch with the closer "Write to Me".
So…heeding his advice—I got a hold of the bandleader Vlad while on break after a short European Tour (which included dates throughout France, Belgium, Switzerland, and Germany)—and sent him over some interview questions to which he so graciously answered below:
---
Is this year your 10th Anniversary as a band?  I am sorry to dust off an old interview cliché and outright ask where the name Motorama comes from…but I am curious….
I'm not into counting years and spending anniversaries, but yes, the band started in 2005. A guy who used to play bass found this word [Motorama], he watched US road movie with the same name. I don't like this name, but I don't think much of it.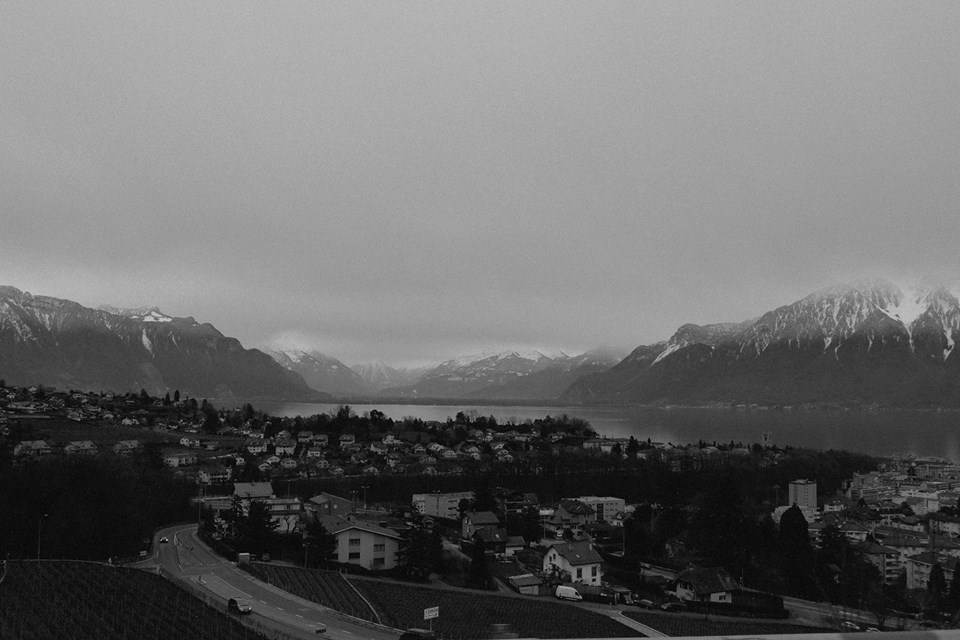 I am also curious as to what it is like coming from Rostov-on-Don, maybe it is not unlike most cities, but as a lot of the local atmosphere bleeds into most Post-Punk music,I feel compelled to ask…. Or was the situation more isolated where you were connecting to your passions through the internet?
Nothing exciting to tell about our city. In general the situation here is depressing and uninteresting. Internet was and still is a solution for me to discover something new in music, photography and art.
What were the contributing factors in deciding to form Motorama, what brought each of you together as a band?  Also—when has the lineup become consistent?
We had nothing to do and we liked The Velvet Underground and Nick Cave and many other bands and artists, so we thought that we can start something in our city by ourselves rather than to wait for something. At the moment I'm in a band with my wife Irene, she's playing bass, (from the beginning of 2015 she has to stay at home with our newborn son, so I'm changing her on bass guitar when we play live, she's still in the band doing logistics, merch and other stuff and she will return as a live member a little bit later) and my friends Alex, he is playing keys, and Maxim, he is playing guitar. The band is transforming all the time and the lineup is changing, but Irene, Max and Alex are still with me. I do love them and appreciate their contributions for the band.

What  else were you listening to before forming?  To me it seems that the less obvious Factory Records bands could have been a major influence, such as The Wake… But I wonder if there is a Russian Post-Punk culture and scene that most Westerners are not familiar with that could have been an influence (I love Kino, for example)
I was very into soviet new wave and post-punk bands. Like:
"Kofe"
Megapolis
NII KOSMETIKI
 Molotov Kokteil
Nikolai Kopernik
and of course Kino
I think they definitely influenced the band and me personally.
After Horse and Bear, a turning point seems to have been the release of your debut album Alps. How did Alps come about? That album's release led to my own personal introduction to Motorama, and from there I noticed that the band started touring outside Russia. Are there any European cities you have enjoyed playing in most? Or are there any bands you have enjoyed playing gigs with?
We recorded "Alps" together with Max at home in 2010. I had some rough sketches and wanted to do a bit different record than our previous EPs.
About European cities, I do like most of them. There's nothing to compare with Russian music club culture. We had some issues somewhere, but it's hard to remember the exact cities, mostly it's all about technical staff in the venues, we don't have our own sound guy, so we highly depend on the staff in the clubs. And we don't like pretentious technical guys with their own "professional" views, I think it's a typical Russian thing to respect only your own "golden" experience. But most of the promoters and local guys in Europe provide us with perfect hospitality, great homemade vegetarian food and cosiness. We are really lucky to collaborate with these people.
By the way, did you notice the shout out Savages gave you a while back? That would be a great billing to see both your bands playing together.
https://www.facebook.com/savagestheband/posts/597306943635340
Yes, Savages is a great band with a strong attitude and views.
Being that I have tried to bring bands from overseas to the US, I can understand the frustration in time and finance in trying to book a tour there.  Are there any plans to tour North America (or maybe even play a gig in Mexico) in the near future?  I personally think it's long overdue that the band is onstage in New York, or Los Angeles.
We have plans for Mexico, Peru, Chile, Costa Rica for May 2015. Would be great to play more concerts in New York or Los Angeles, maybe in summer/fall 2015.
Touching upon your videos, I find them artistic—but without any pretense. There also appears to be a real affinity for nature (this seems to be a constant theme within the band) along with familial elements as well. Is there any  underlying principle in the creation of a Motorama video?  Or perhaps there is a cache of inspiration from particular film-makers that inspire these short-films?
I don't know really, all our videos are a bit unconscious and intuitive, the same about photos, words and music. I really do like some film directors, like Haneke from Austria and Zvyagintsev from Russia but I'm afraid the connection with us will be too pretentious and silly. But thanks for your kind words about our videos.
The promotional singles of of your latest album Poverty are some of your strongest material yet…a fine example of a band getting better with each release.  I love Dispersed Energy, and Heavy Wave.  The latter track, Heavy Wave, is definitely a more honed and polished expression of Motorama's "sound"…but the former track, Dispersed Energy, however, seems to delve deeper into the 60's garage roots that can be found within the inception of Post-Punk music.  I would dare say Dispersed Energy sounds more like The Doors than anything else you have ever put out.  So…was there any intention to channel this distinctly 60's sound?
That's an interesting view. We really do like The Monks and The Doors and I think you know The Monochrome Set, they are amazing.
All those hooligan motives, you know what I mean.
I missed you last year in Leipzig at WGT, ironically because of a broke-down car on the Motorway…so I am hoping for another chance this year.  You have just returned from a small European tour through France, Belguim, Switzerland, and Germany.  Can we expect more dates in the coming months in support of Poverty?
Sorry for the missed concert last year, damn broken van. We are going to play WGT this year. And we have more gigs for Germany in May.
http://www.songkick.com/artists/36738-motorama
Friday 17 April 2015
Motorama
with Shaka Ponk
Zenith De Strasbourg – Europe, Strasbourg, France
Thursday 14 May 2015
Motorama
Molotow, Hamburg, Germany
Friday 15 May 2015
Motorama
Magnet Club, Berlin, Germany
Saturday 16 May 2015
Motorama
Beatpol, Dresden, Germany
Monday 18 May 2015
Motorama
Gleis 22, Münster, Germany
Wednesday 20 May 2015
Motorama
Blue Shell, Cologne, Germany
Thursday 21 May 2015
Motorama
Drucklufthaus, Oberhausen, Germany
Also on Itunes: https://itunes.apple.com/ru/album/poverty/id944188004