On July 30th, 1980 New Order performed their first gig following the demise of Joy Division after the suicide of frontman Ian Curtis. The initial lineup was pared down to the core trio of Bernard Sumner, Peter Hook, and Stephen Morris, with each taking a turn at vocal duties before settling on Sumner as the new lead singer.
This first concert was for the Printed Noises benefit at the Beach Club at Oozit's in Manchester. New Order's performance was billed as "The No Names" after The Names, a post-punk band signed to the Belgian imprint of Factory Records, Factory Benelux, had to pull out.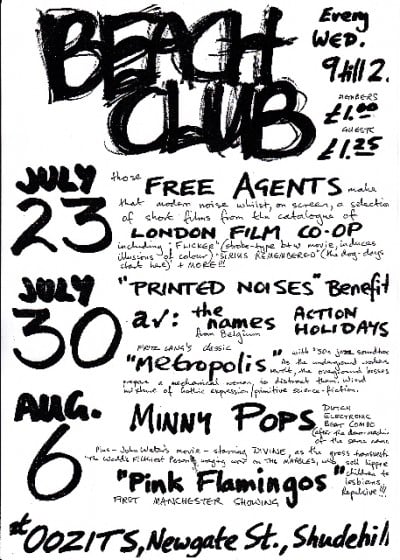 The setlist is as remembered by drummer Stephen Morris in Uncut magazine December 2018, with perhaps one song missing, such as "Cries & Whispers", "Mesh", "Homage", or Procession which were performed later during New Order's North East American tour in autumn of 1980, the rescheduled dates that were originally set to be Joy Division's first US tour.
Setlist: 
In a Lonely Place
Ceremony
Dreams Never End
Truth
Watch New Order at their fifth gig two months later performing at Hurrah's in NYC.
*Featured Photo by Neal Trousdale from the September 30th, 1980 gig at the Underground in Boston