Montreal-based electro/EBM collective No Master, No Servant has just released their debut album, entitled Love Transforms Us, But Into What?, self-released by the band and distributed via Flesh Prison Records.  The project is a five-piece collective, helmed by musician and label head Matthew Samways, who also ran Electric Voice Records in the early 2010s. No Master, No Servant has been cultivating a sound that combines dark techno, Belgian new beat, and minimal synth into a cohesive journey. Listen to lead single "Fight" below:
"Fight" is a perfect minimal synth treatise, with ethereal synths, bubbling analogue percussion, and discordant melodies providing the backdrop for "Manic" aka Samways' dubbed out vocals, doubled by MV's detached femme voice and augmented by Fae's violin. While one of the catchiest tracks in the set, the rest of the album is a powerful listen that spans several electronic genres and explores the collective human psyche and beyond. The elusive credentials of the collective members; Manic, MV, MSW, Misery and Fae detaches a marching band hierarchy, giving the sonic experience a true sense of embodiment; a collective result.
Other highlights on the album include "There's Nothing Left to See Here (Neuro Beat), the haunting and melodic "A Rose, a Thorn," and closing track "We Will Bloom and Exist in All Out Glory." Fans of projects such as Chris & Cosey/Throbbing Gristle, Pouppée Fabrikk, Shock Therapy, Les Joyaux De La Princesse, and Belgian new beat will find much to love across the ten-track set, which is issued in both digital and limited-edition cassette form.
The physical release comes with a copy of a 12-page zine that shares the same title as the album, which features pictures, lyrics, photos, and the band's manifesto, which explores the collective unity of love and personal growth. Read the manifesto here below: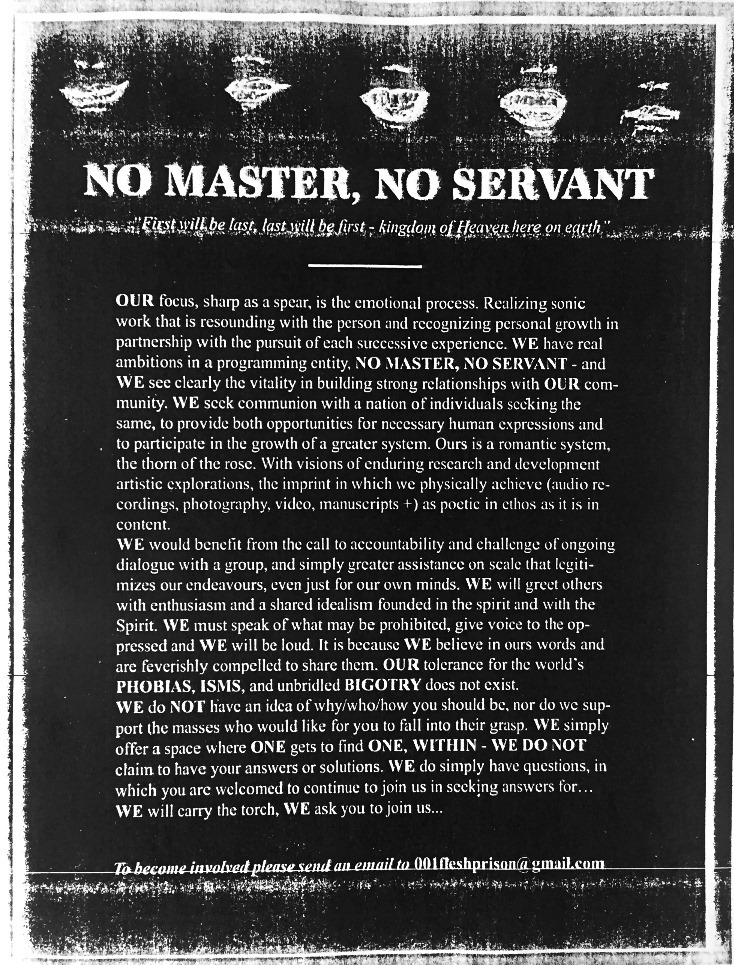 In line with their manifesto, No Master, No Servant have decided to donate all profits from the album to local causes that support queer and trans people of color. Check below for the album artwork, track listing, and purchasing links.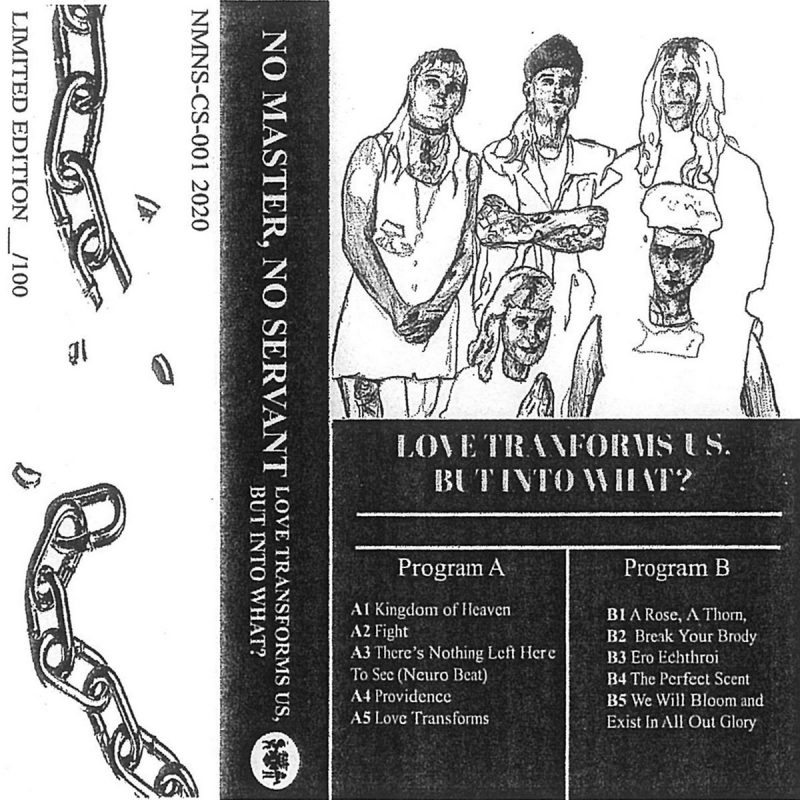 No Master, No Servant- Love Transforms Us, But Into What?
1. Kingdom of Heaven
2. Fight
3. There's Nothing Left Here To See (Neuro Beat)
4. Providence
5. Love Transforms
6. A Rose, A Thorn
7. Break Your Body (Break the Binary)
8. Ero Echthroi
9. The Perfect Scent
10. We Will Bloom and Exist In All Out Glory
Purchase via Flesh Prison Records | Bandcamp