Belarusian post-punk band Molchat Doma following the announcement of their forthcoming third studio album, Monument, have unveiled the video for the record's first single "Ne Smeshno".
"Ne Smeshno", is a brooding track steeped in shivering contexture woven from that humming feeling that lingers after waking from a dream. With a florid, funky, and melodic bassline, punctuated by hazy synth accents, and haunting vocals, "Ne Smeshno" is a spellbinding spectre of a song, that sounds as timeless and original as The Cure's output from 1980-1982.
The video for "Ne Smeshno" begins on a bus, possibly giving a nod to their friends Ploho, who had a similar idea recently, but instead of theatrical vignettes, Molchat Doma wearing something akin to hazmat suits, gently remove bus passengers literally nodding off into a state of catatonia, placing them in various poses outside the vehicle, before performing live to the somnambulist crowd who slowly awaken to the sound of the music.
Watch the video for "Ne Smeshno" starring Alina Nasibullina, and with concept and Direction by Darya Zhuk, below:
Monument follows Molchat Doma's 2017 debut, S Krysh Nashikh Domov, and 2018's Etazhi. Earlier this year, the Belarusian band's track Sudno went viral in various memes…you may have seen at least one of them featuring cute upside-down bats at a "goth club."
Molchat Doma, which translates to "silent houses," formed in 2017. Their current lineup consists of Egor Shkutko (vox), Roman Komogortsev (guitar, synthesizer, drum machine), and Pavel Kozlov (bass guitar, synthesizer).
The music of Molchat Doma features all the hallmarks of dreary post-punk music: plenty of minor chords, eerie synths, and resonant, at times otherworldly vocals. In this case, it is as if Factory Benelux put out a compilation From Russia With Love, and had all the Manchester bands, Joy Division included, provide songs with lyrics written in Cyrillic.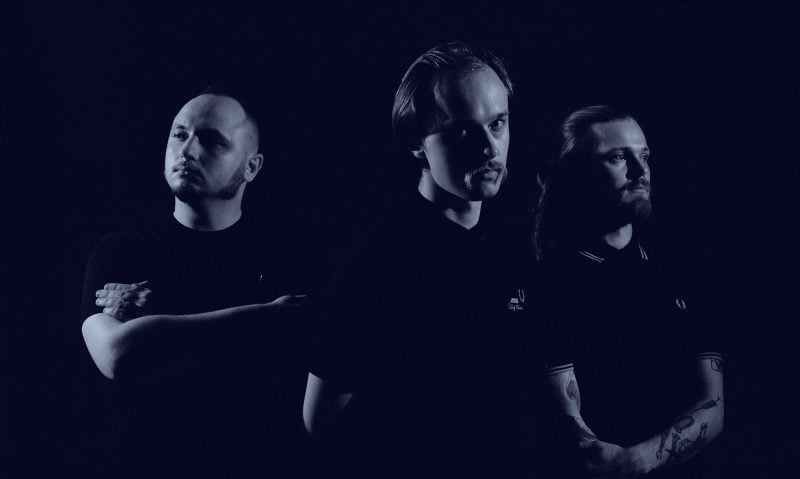 For 2020, Molchat Doma had initially planned to tour in North America for the first time, alongside David Lynch chanteuse Chrysta Bell, but the pandemic prevented these plans from coming to fruition. Despite this,  Molchat Doma team up with their Sacred Bones compadres to contribute a Russian language darkwave cover of Heaven and Hell to a Black Sabbath tribute album, titled What Is This That Stands Before Me?
Monument is out via Sacred Bones on the 13th of November.
Tracklist for Monument:
01 Utonut
02 Obrechen
03 Discoteque
04 Ne Smeshno
05 Otveta Net
06 Zvezdy
07 Udalil Tvoy Nomer
08 Leningradskiy Blues
09 Lubit 'i Vypolnyat'