During the early 1980s, Manchester post-punk legends A Certain Ratio spent some time in New York City, immersed in an artistic environment with a pile of massive luminaries, who would hold sway over the band. The integration of urban cultures, poets, artists and designers all informed each other's respective media, sharing ideas at lighting speed, and birthing various forms of musical genres, including hip-hop.
Concurrently, two young street artists named Al Diaz and Jean-Michel Basquiat were perplexing the city with their uniquely cryptic graffiti poetry and phrases under the tag SAMO©—a shortened phrasing of "same old shit." The pair wryly poked fun at the art world.
"The SAMO© story is a long, convoluted one," Diaz said in an interview to artnet News. "JMB [Basquiat] gave our often-used slang word, same ol', a new purpose as the name of an imaginary religion/cult/product. I was a seasoned graffiti artist and I saw the possibilities it had as a 'Jesus Saves'-type of graffiti campaign, so we began to spread it around as a private joke."
The pair of artists went their separate ways, and within a few years Basquiat would become one of the most lauded artists of the scene, hob-nobbing and eventually collaborating with Warhol, selling his paintings for astronomical amounts of money.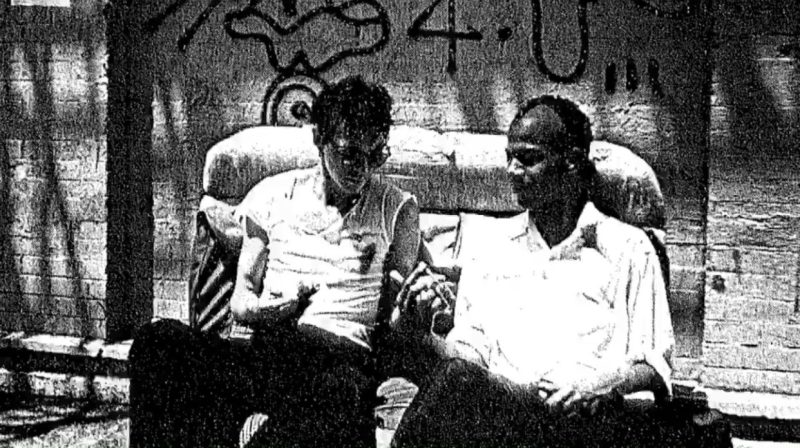 Tragically, fame and a massive cash flow led to his demise. A year after Warhol's death, Jean-Michel Basquiat tragically died from a heroin overdose at the tender age of 27 in his loft on Great Jones Street in 1988, still at the top of his game in the art world.
Diaz revived SAMO© as a protest during the Trump election, and continues to create work under the tag, keeping the spirit alive. Occasionally, you will still see a new SAMO© phrase appear at a random subway stop or on a door.
Same ol', same ol'.
A Certain Ratio embodies this collective spirit with their new song SAMO, where vocalist Jez Kerr namechecks a string of those mythical figures from that scene – Warhol, hip-hop pioneer Fab 5 Freddy (similarly namechecked in Blondie's Rapture) – and recites a series of phrases that SAMO© tagged around SoHo, NYC. The song and lyric video serve as a touching encomium to Jean-Michel Basquiat's vibrant, intense artwork, as well as a zeitgeist long past.
Watch below:

 
'SAMO' follows recent singles 'Afro Dizzy' (which spent four weeks on the BBC 6Music playlist) and Waiting on a Train, from 1982 out via Mute Records.
Even by the band's high standards – which includes a gleeful disregard for boundaries of style and genre, their eye fixed firmly on constant movement forwards – their latest studio album 1982 is multidimensional. Recorded by the core ACR lineup of Jez Kerr, Martin Moscrop, and Donald Johnson, alongside Tony Quigley, Matthew Steele and Ellen Beth Abdi, with a cameo from Mancunian rapper Chunky, it shoots off in every direction: searing Afrobeat, mind-melting jazz breakdowns; moody electronic experiments. That, like SAMO©, keeps that spirit of open-minded collaboration alive and kicking.
Pre-Order 1982 here.
To celebrate the release of the album, A Certain Ratio will be embarking on a UK tour throughout April – full details below.
 
A CERTAIN RATIO – 2023 TOUR
 
Before that, the band will be hosting a number of special Q&A / signing events in partnership with independent record shops in Manchester, Nottingham and London:
31 March – Manchester, Piccadilly Records – Q&A w/ Chris Hawkins (BBC 6Music) / signing
1 April – London, Rough Trade East – Q&A w/ John Kennedy (Radio X) / signing
2 April – Nottingham, Rough Trade – Q&A w/ Paul A Taylor (Mute) / signing
Follow A Certain Ratio: