Scotland's Man of Moon, a duo comprised of Chris Bainbridge and Michael Reid, have never been the type to throw everything at the wall and see what sticks. Their music has evolved over several incarnations into a deeply personal slant. With each successive effort, they have meticulously sculpted "cavernous psychedelic guitar rock" into their unique vision. This has culminated in their passionate debut album, Dark Sea, due out 25 September 2020 via Cosmic Pool. The band poetically describes Dark Sea as "ten tracks that stand tall like totems in the ground."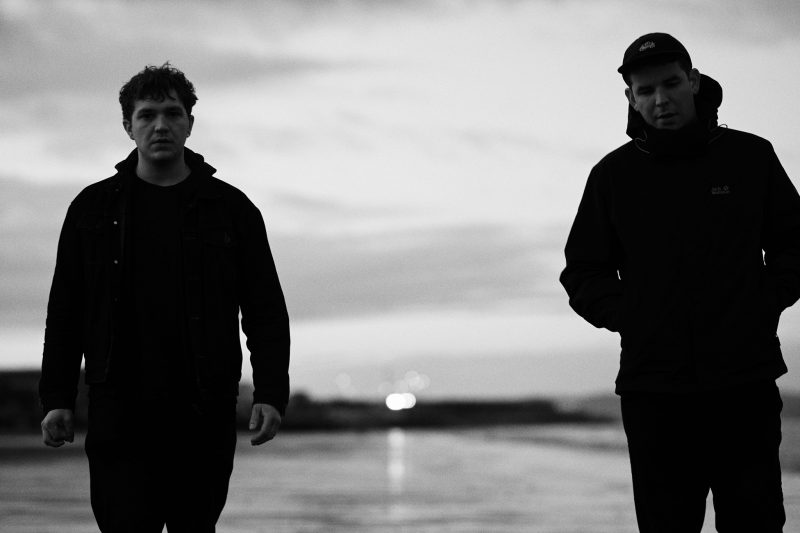 Water has always held an influence over Bainbridge, having grown up on the coast. This is referenced within the lyrics as well as the album title itself – it perhaps explains the ebb and flow of Man of Moon's music too. Yet Dark Sea is fluid; it's a record made for those on the go. The album urges a forward tilt, with drummer Michael Reid's driving motorik underpinning thick layers of guitar, and Bainbridge's gruff yet melodic Scottish burr.
Recorded at The Cottage Studio at Loch Fyne in Argyll, Dark Sea's sound was highly influenced as much by the dramatic landscapes surrounding the recording environment. "The album's moments of euphoria come from the fact that every time we stepped between takes we were just looking across the water at these huge, mountain landscapes," says Bainbridge.
"We approached it in the similar way we approach our live set in that we wanted the listener to experience a journey," says Bainbridge. "I love listening to music while I'm on the move, especially on a train when you can sit and listen while scenery flies past you, so we wanted the beginning of the record to really feel like the start of a journey."
Man of Moon have always had in their arsenal and for which Dark Sea acts as the most fully formed iterations of them yet. There are new directions here too, though: Strangers, in particular, is a jagged stomper inspired by LCD Soundsystem in the way it merges post-punk with four to the floor-leaning electronics.
From tours with Django Django and The Twilight Sad, to previous recording sessions with Frightened Rabbit's Andy Monaghan, it's often felt that Man of Moon have become one of Scotland's best-kept secrets. With the release of Dark Sea, the tide looks set to turn.
It is time…to release the Kraken!!