British ambient synth-rock outfit, Low Spirits, featuring Fred Macpherson (Spector) and Cavan McCarthy (Swim Deep), releases an astonishing new EP, entitled Worlds Apart.
Low Spirits, who released the trilogy Geiger last spring, delves into a more nebulous atmosphere of synth pop, drawing from a broad range of influences and relishing a new freedom of expression.
Macpherson's rich, tender vocals in Worlds Apart take centre stage to a minimalistic, slightly industrial sonic texture: a single 909 kick underpins a survivalist romance, imagining a life of contentment 'off-grid' in rural England. The haunting vocals from Lucia Fairfull melt into producer Maxwell Sterling's detuned strings…and a field recording of Birmingham's Genting Casino.
"We were basically just trying to rip off Depeche Mode," explains Macpherson, "but then we took the drums out, sent it to Max and Lucia and it just started coming alive. It was strange collaborating while locked down in different places, but it suited the spirit of the song. With Miscall to Prayer we've made lots of crap soundtracky techno kind of stuff that should probably never leave the hard drive, but our friend LEEE mixed this one and showed us that less is more."
The instrumental B-side Miscall to Prayer opens with the gurgled cries of a friend's newborn before descending into a throb of claps and subs, twisting and turning in a combination of terror and serenity.
This exploration of sound in the realm of electronic music is a welcome one. Where many artists are taking the "anywhere but here" attitude, imagining themselves as cyborgs, crust punk heroes of a crumbling dystopia, or other routes of escapism, Low Spirits dwells, zen-like, in an observant liminal space of the nightmare of post-industrialism, envisioned by William Blake two hundred years ago. Where many shirk off the element of humanity, they calmly embrace – and contemplate it.
Low Spirits' Geiger trilogy (2020) saw collaborations with drone royalty Blanck Mass and composer Jerskin Fendrix, alongside two videos directed by Thomas Brett.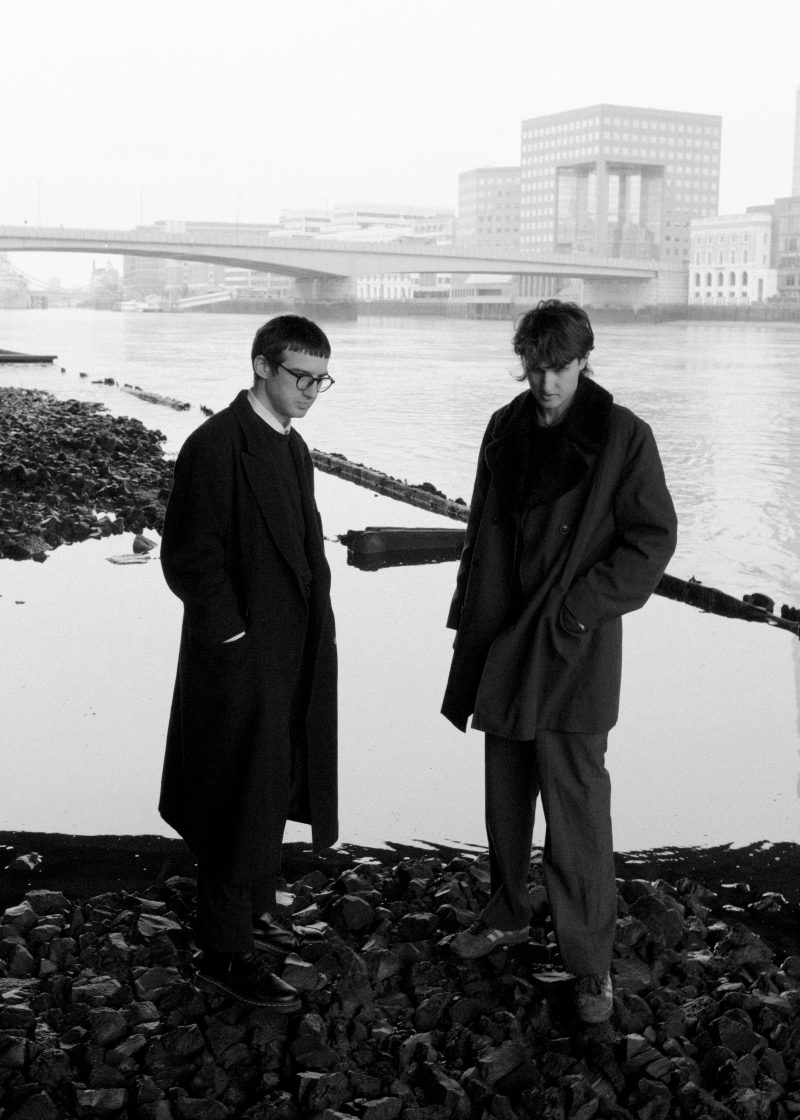 INTERVIEW WITH FRED MACPHERSON:
You and Cavan have had some notoriety over the years with your respective bands Spector and Swim Deep, both of which are very different from your Low Spirits offerings. What has Low Spirits fulfilled for you as artists?
Fred: I think it's answered the question of what music we would make outside of our respective bands and any real music industry infrastructure. We've both been lucky with the amazing opportunities they've offered, but that's always come with a certain sense of ambition and expectation. With Low Spirits we're basically the only two people who know about it or even really care (so far), so it's kind of a private universe between us and whoever we're making a particular track with. I was about to say "the freedom of obsolescence," but that sounds like a Mastodon album title or something a computer game boss would say.
Your lyrics are very much rooted in the human experience under a dystopian haze. What inspired Worlds Apart?
Fred: Real world events tend to outdo dystopian lyrics, and these are no exception. Although (like Geiger) it was written before the pandemic, it does seem like it takes place in this more restricted, disjointed version of the British landscape. I was picturing a kind of alternate history Luddite's anthem, fantasising about living off-grid if all the 'dark satanic mills' had been stripped for parts, and the industrial revolution had only happened in certain places. Like a really cold Mad Max or something. More literally, it was inspired by Evangelion, The Terror, Depeche Mode and the Birmingham comic shop we nicked the name from.
The experimental Miscall To Prayer is a fascinating sound collage that calls to mind everything from Fad Gadget's more avant-garde work to the BBC Radiophonic experiments of Delia Derbyshire and Daphne Oram. What sparked the idea to explore using field recordings, and do they have any special significance?
Fred: That's very kind of you to say. I don't think it touches the magic of any of the above, but I guess implementing 'real world' recordings helps outweigh the  compartmentalised nature of digital recording. Even our analogue gear often ends up midi-controlled, so this is another way of getting off the grid in more literal terms, away from strict sequences, keys etc. There's so much mindblowing electronic music out there, we're conscious to try and keep a foot in the organic/band world of things so we don't just end up making loads of bad, embarrassing techno.
What would you like to try doing next musically? 
Fred: We're working on an EP with other people singing most of the tracks, which feels exciting. We're still developing the sound (hence only releasing a couple of songs a year at the moment) so a longer, more varied body of work is a good challenge.
You've been collaborating with many different artists, are there any people you have in mind to play with in the future?
Fred: Yes. I'm scared of jinxing any by naming names, so I'll shout out some amazing ones we've worked with already: Jerskin Fendrix, Lucia and the Best Boys, Maxwell Sterling, Boothroyd, The Ninth Wave, Dreamtrak, Thomas Brett, Ciaran Wood and more soon hopefully…
Watch the beautiful, minimalistic video for Worlds Apart, directed by Ciaran Wood, here:
Stream Worlds Apart/Miscall To Prayer here:
Worlds Apart / Miscall to Prayer is out now the band's own 96% label.
Follow Low Spirits here:
Cover photo by Joseph Tovey Frost