Unless you have been six feet under, you have hardly any excuse to have missed Skeleton Hands and their fantastic debut album "Gone" released last year. Skeleton Hands are a "Cold-wave" duo from Cincinatti, Ohio, comprising of Evan Scott Sharfe – (Vocals, Guitar, Programming, Bass Guitar, Synthesizers) and Chase Anderson- (Guitar, Programming, Synthesizers)
While listening to the music produced by Skeleton Hands, you may think you are listening to something originating from vintage contemporaries of New Order and Depeche Mode, rather than being inspired by them. Indeed, While packing the dance floor with their refreshingly "new-wave" beats, the thought that this is a new band is often difficult to fathom.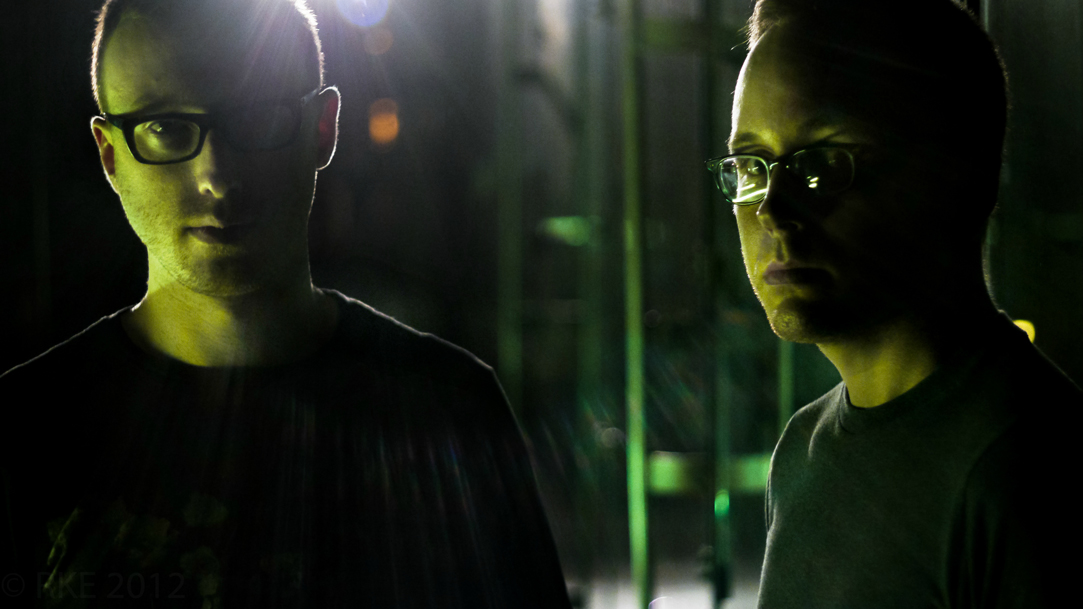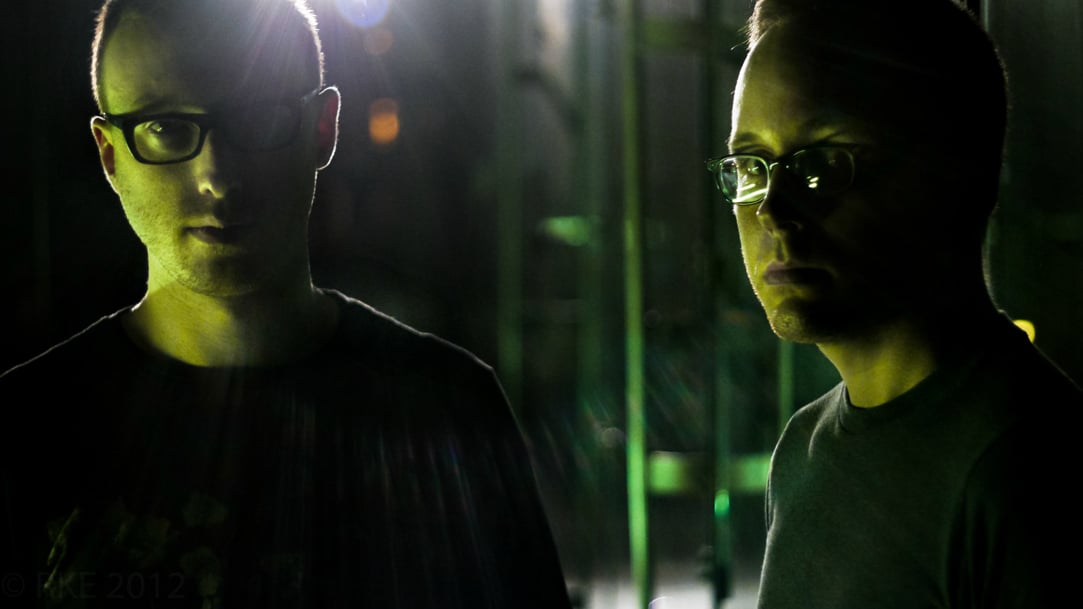 ---
So…Where did the name Skeleton Hands come from?
A friend of ours has long and slender fingers and it was her nickname. We liked the sound of it, so we asked her permission to use the name.
The names Lazer Bat and Astro Wolf remind me of  something from SNL'S Gothtalk, . How did you come up with these names–and have they influenced your stage personas as Skeleton Hands, or perhaps you are not taking yourselves too seriously?
We don't really have stage personas. We're just Evan and Chase. We don't even talk in between songs. The music is of utmost importance, always. The nicknames came from being bored and slightly intoxicated. We've named a lot of our friends as well, Space Turtle, Night Lizard, Sonik Panda, and Triple Cat, to name a few. We just thought it would be fun to use them for the band to show that we don't take ourselves all that seriously.
What are your influences?  There are definite Post-Punk influences in your music, but a stronger dance rhythm than most classic bands, save for some New Order, maybe Xymox's Twist of Shadows, and perhaps some French Cold Wave bands…
Our influences vary. We like a lot of different music. Everything from golden era hip hop to old punk or ambient, Shoegaze and Italo-disco. We never set out to have a post-punk or cold wave sound. It kind of just happened. We just used sounds and tones we liked and it came together to sounds a certain way. We don't really think about it too much.
Are there any new or old bands you would love to tour with?
Liking a band's music isn't enough to want to tour with them necessarily. We'd have to get along as well. That being said, almost any of the bands as we have had the privilege to play with would make great road companions. But I guess if we had to choose based on music alone, touring with Depeche Mode would be amazing, circa 1986. We can time travel right?
Who does your production?  For a band that often comes up as "unsigned" on youtube or bandcamp, your recordings are top-notch. You almost would have to think you have either very expensive equipment, or friends with a great studio.
Actually we have neither. We produce all our own material. And we don't have very expensive equipment either. "Gone" was recorded in Chase's bedroom using Logic and a shitty microphone from RadioShack. Then I took all the tracks into Ableton Live and put finishing touches on them. Then our friend Kevin Frey did a final mix down and mastered the album.
How do you go about writing a song usually?
Usually things start off with a loop or demo made by Chase or I. From there we develop the idea by playing it over and over again. That's usually how all guitar parts and lyrics come about. By improvising until we find something we like. Once the lyrics are fully realized, we arrange the tracks in Ableton and start tinkering with the sounds more. The synth sounds, drum sounds, etc. By that point it is ready to play live and it develops even more from there. As far as equipment goes, our rigs are constantly evolving. Live I play a Fender Jazzmaster, Fender Jazz Bass, and a Korg MS2000 thru various effects pedals and a custom bass cabinet. Chase plays a Fender Telecaster through tons of pedals and a Vox AC-30.
Have you been surprised by how far your music has traveled and where you now have fans?  (I myself was turned on to Ravage by a DJ/promoter friend in Berlin–btw thanks Ralf Thyssen!)
Yes we have. It's kind of strange to be more known on the internet than in our local scene but we love it. It's so humbling. We started this for ourselves and it's so great to know people are as excited about this music as we are. We just wish we had the opportunity to visit everyone and play for them. Perhaps someday soon we'll be able to.
And speaking of which, I keep seeing more and more people in Germany becoming fans of your music. Have you received offers to play Europe?
Other than fans pleading on our Facebook to play here or there or wherever, we've had no serious offers.
---
No serious offers, almost hard to believe!
Pick up their album "GONE" which features tracks such as Ravage, Oxygen, Ghost, City Lights, and more!