On Friday, August 14th, Montreal-based electronic/coldwave project Live For You issued their second EP, Sometimes It Feels Like Chains. The four-track EP was recorded in 2019 and encapsulates the romantic and creative partnership of vocalist Caitlin Rae and multi-instrumentalist Eddie Wuebben (Sextile), who tragically passed away last October, shortly after the two were married.
Rae has spent much of the last year processing her loss and finishing these recordings, both as a new step forward and as a means to honor Wuebben. With that in mind, we're honored to share the video for lead single "Gem1n1 Sun​/​/​Gem1n1 Moon."
The track is a sleek slice of dark, dreamy synth pop, chock full of heavy dance rhythms, catchy hooks, and pulsing synth lines that recall some of the best minimal electronic music from the early 1980s. Rae's vocals are the perfect compliment to the track's electronic onslaught, adding a distinctly ethereal sensuality to the track that is equal parts Cosey Fanni Tutti as it is Julee Cruise. The video, directed by Perfect Zero features Rae performing, dancing, and pantomiming, a near-exorcism of emotion through a series of filters and analog decay.
About the album's synthesis and the duo's deeper connection, Rae offers these words via Bandcamp:
Making music was our joint passion. Most nights, Eddie would stay up meticulously crafting beats, sequences and compositions. In the morning, he would wake me and help me get in the zone for tracking vocals. He always laughed at my aggressive tendencies with the mic. Most of the time I would just freestyle the lyrics. I had a lot to say, and I felt safe saying it around him. I would offer a few chords and a melody and within hours he would have an entire track completed. He really encouraged me to lose the soft, dreamy voice I had been used to singing with and helped me find a voice and style that I was passionate about, I felt like it was my own. I could express myself and he made that happen for me. He liked to encapsulate feelings and would transform them into droney, frantic music. He strived to make music that genuinely made people feel something; sadness or excitement, it didn't matter. Our rule when recording together was to never leave the same room, I guess we just liked being around one another and inspired each other.
Sometimes It Feels Like Chains is available in both digital and cassette formats via Pop Nihil. Check below for the full album artwork, track listing, and purchasing links: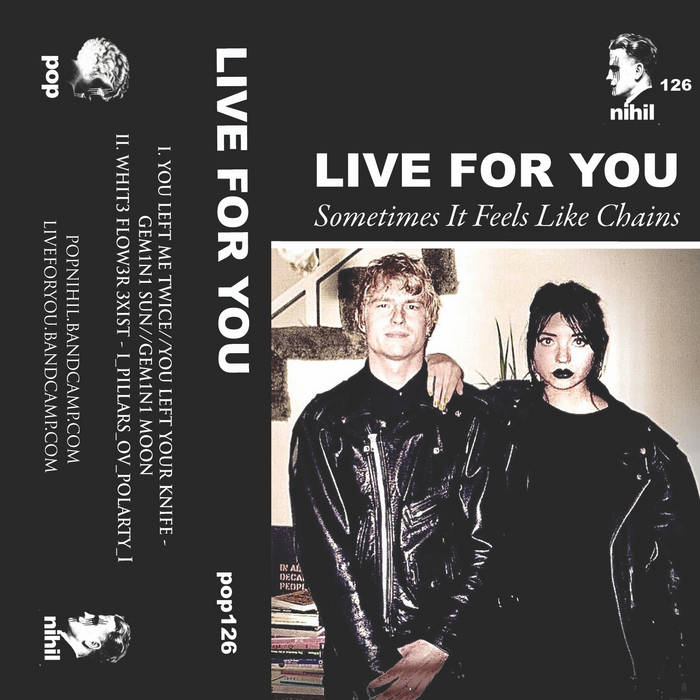 Live For You- Sometimes It Feels Like Chains
1. You Left Me Twice//You Left Your Knife
2. Gem1n1 Sun//Gem1n1 Moon
3. Whit3 Flow3r 3xist
4. I_Pillars_Ov_Polarity_I
Purchase digital and cassette editions via Bandcamp