Fusing the sensibilities of Danish synth and 80s New Wave, Don't Get Lemon find humour and beauty in the grotesque that surrounds us, crafting intricate dance music and a colourful torrent of motion for a dark, frustrating world.
The Texas-based electronic music trio, best described in their own genre terms as "heatwave," debut their album Hyper Hollow Heaven (à La Carte Records). Don't Get Lemon's electronic-pop puts vocalist Austin Curtis' baritone on full display, as it gravely spells relative doom and cheeky paranoia over upbeat, maximalist compositions by Nick Ross and Bryan Walters. 
"It's bigger and more anthemic at times, yet softer and more introspective at others," the band says about the forthcoming LP. "With Hyper Hollow Heaven we were able to further expand on motifs and recurring themes that we had touched on before, but are now able to become more fleshed out in the album format, which is a big reason we wanted to release an album, instead of say constantly putting out singles, which is usually more beneficial for bands of our size." 
The LP is led by a string of singles: it opens with the sweeping vertical blast of "The Film Star's Car", moves into a jaunty existential crisis with "Begin Again (Or End?)" sounding a bit like Figures On A Beach, rife with deceptively jaunty whistles. This is followed by the kaleidoscopic, dizzying-speed "Industrial (Amusement) Park (Revolution)".
What comes next is the upbeat pondering of a lost…or forgotten…rebellion. "D.I.E.I.N.T.H.E.U.S.A." sorts out the fears dying in America; the sinister "Black Tarmac" delves into the philosophical crises typical of Tears For Fears or modern bands like Spector, drowned in dissonance like anxious thoughts.
"Working Man's Ballet" pays homage to legendary footballer Alan Hudson. In his youth, Alan Hudson played for Arsenal, Chelsea, Stoke City, and the Seattle Sounders, as well as the England national football team. Hudson was talented but his antics riled the conservative English team, who were unable to handle his flair, flamboyance, and personality. 
The kinetic closer "Purple Hour Kingdom", featuring guest vocals from Renay (Monochrome Lover). 
"Each single, alongside the five other tracks on the LP, further common lyrical themes that echo the fear, panic, and anxiety we're forced to live with on a daily basis as our future grows inherently darker,' they explain.
Hyper Hollow Heaven examines societal decay in late-stage capitalism and its widespread panic, setting it to a glowing, rapid-fire collection of beats, synths, and tropical rhythmic patterns.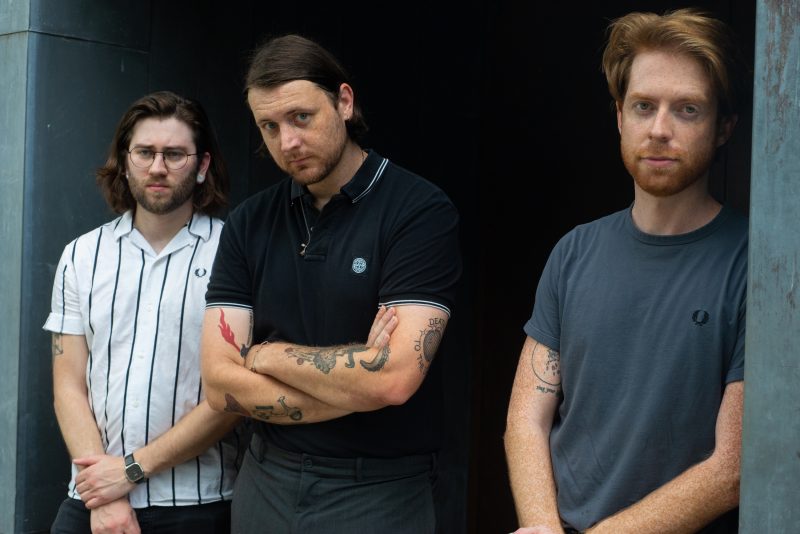 "Thinking about the reality we're inevitably headed to can be debilitating, and the album is self-aware that art and individual creativity and freedom is helpless in changing anything," the trio insist. "That change can only come through collective action, which is tough to commit to because it's a form of self-sacrifice, and goes against our own self-preservation. Which is ironically what we need to survive on this planet. Some of the images created can be dark and surreal but there is also tongue-in-cheek black comedy and humor to the absurdity of it all and that in a twisted way there's a seduction in seeing the end. The lyrics are conscious of the futility of art in saving us. That's not to say art isn't a reason for living or isn't beautiful, but it in and of itself cannot bring wide-spread change."
Hyper Hollow Heaven finds Don't Get Lemon enhancing their sonic experimentation with a more complex rhythmic approach, all while fine tuning the lyrical themes to echo what's around us.  
Listen to Hyper Hollow Heaven below:
Stream and pre-order the vinyl version below at their Bandcamp here:
The LP will be issued on vinyl, cassette, and VHS tape, mirroring Adam Curtis' use of archival footage to help visualize the narrative. Hyper Hollow Heaven is a statement to have and to hold, to hear, and to view.
"The VHS is the definitive Hyper Hollow Heaven experience because we expand upon the lyrical content and provide visuals to reinforce the album's motifs," the band says. "Listening to albums can at times be passive, and you may detach yourself from the lyrics, but with an unrelenting visual you are forced to sit and digest what you are hearing and seeing."  
Watch this exclusive companion film online www.twitch.tv/alacarterecords Tonight, Mar 29th At 9 pm CST 10 pm Est/7pm PST. Featuring music videos from Merum, Clearacid, Lessercare, Kontravoid, Spirits Of Leo, True Faith, The Violent Youth, Sculpture Club, Monochrome Lover, and Temptrix13.
Follow Don't Get Lemon: