New Orleans minimal synth artist Nail Club announces a whole charcuterie board of atmospheric, retro-futuristic delights in her new LP, Mise en Abyme, via Hot Releases.
The eight-track collection bleeds sawtooth waves, hissing tape, drum machine distortion, and raw emotion delivered in a droll, detached voice. Bringing to mind Anne Clark, Algebra Suicide, Futurisk, and Esplendor Geometrico, these synthy-dreamscapes span the time-space continuum with hypnotic precision.
Sara Storm, the mastermind behind Nail Club, revolves her style around cinematic soundtracks to real crime themes. Her degree in Criminal Theory provides inspirational fodder for her charged lyrics, often about tragic historical events, such as the 1993 murder of Brandon Teena. She also composes music for her friends' films, bringing a Lynchian vibe to her work- if not necessarily in sound, in dramatic conception. Storm's music has appeared in films by Lynn Stevens (Young Man Blues, The Downtime, Killer Of Women, and Nero Nava (One Person).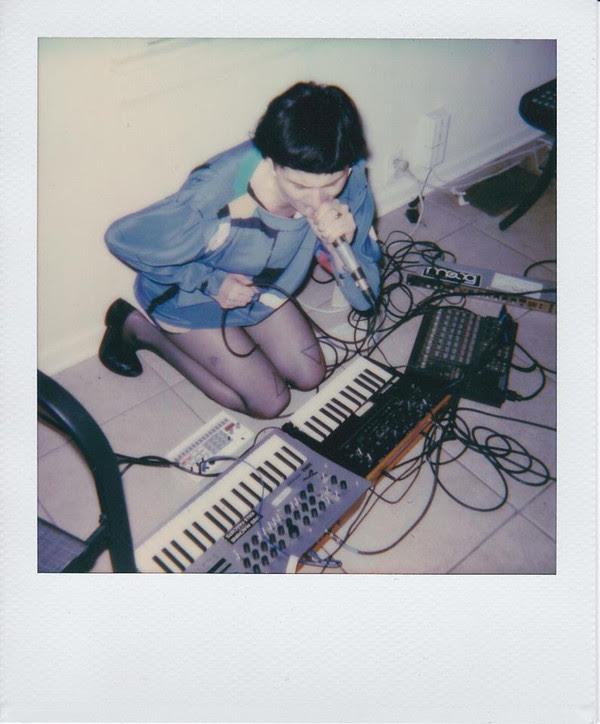 There is a familiarity to her work, particularly in the opening track "Opening Night", as visions of early 80s TV idents whoosh through our minds' eyes; the sonic poetry peppered with screeching cacophony, as if blocking the pure tones in an aural static storm. "Patience" moves into a jerky dance beat, while "Mirror" grinds through the sawtooth mill, disembodied voices howling over the hissing din.
The disturbing video for "Pending", directed by Nero Nava, effectively portrays Nail Club's time-bending sound with a filmic quality from another era, particularly cheap porn. The sinister melodrama of the casting couch trope and loss of innocence is peppered with seedy, sexually charged imagery as a woman is pushed around a backstage den of iniquity. The main predator in this video clip, however, is a woman.
"My theories are all on sex crimes…I get my bachelor's in the fall, but then I'm going to go to film school after that and kind of tie in what I've learned from Criminal Theory to Erotic Thriller Cinema," Storm told Popular Culture Beat.
Watch the video for "Pending" below:
Nail Club's Mise en Abyme is a fuzzy and buoyant lo-fi synth daydream. Stream and purchase it via Bandcamp:
The album is also available now on a limited-edition 12-inch red vinyl.
Follow Sara Storm: