Melbourne/Naarm post-punk group screensaver has released the brilliant single "No Movement", and several others, from Expressions of Interest, the band's debut album, released via Heavy Machinery Records (AU) and Upset the Rhythm Records(UK).
"No Movement" is a frantic, hyperactive jam, composed to the shaky, unpredictable wailings of a human stuck in a room; rearranging their knicknacks, checking the fridge for the umpteenth time, and experiencing bouts of anxious thoughts permeated with moments of staring off into the middle distance.
"…I construct a scene in my mind, or a character, and then I write around it," says vocalist Krystal Maynard. "Often songs develop from a single line or one central idea. Rarely do I pick a topic and intend to write about it, songs develop kind of organically and end up somewhere of their own accord. I guess there's a stream of consciousness element to it; let the words take you where they want to go without overthinking it. Mostly I write about shared human experiences and emotions, bemoaning capitalism and societal expectation and the pressures of the modern world. I comment on these things, offering no real solution, just having a rant, it's good to get it out right? I think it's a form of release, a platform for me to vent about the frustrations of human existence."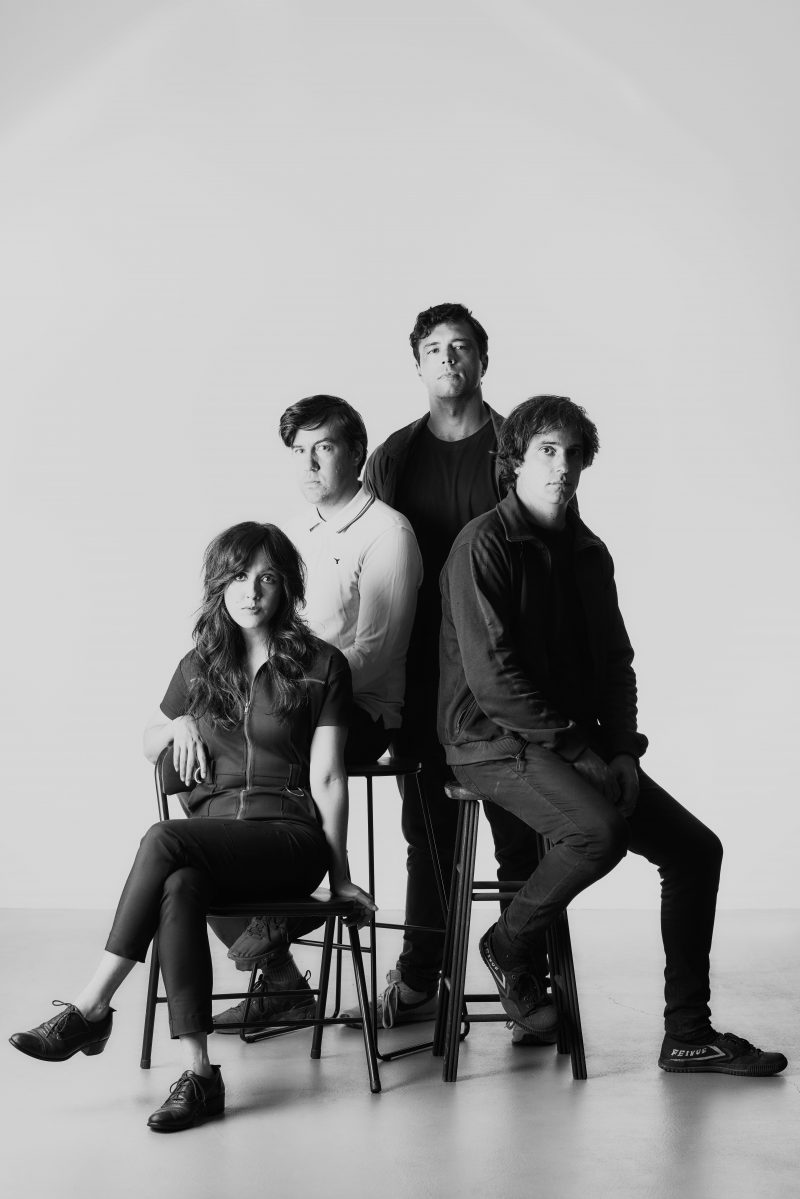 Sonically, the song features trace elements of Bush Tetras, Nun, Gang of Four, The Stranglers, and even Lene Lovich—with Maynard's menacing vocal bellow driving it forward. Her style is equal parts haunted and commanding as her lyrics dive into themes of social degradation, frustration, and repetition, whilst exposing the fragility of our bodies/minds on the whole.
The ten-track album is rich and detailed, paying homage the to late 70s/mid-80s post-punk and new wave. From electronic-driven Krautrock, to tribal toms and dirge-y synths, to death-disco style tracks with touches of EDM, Expressions of Interest is both fierce in attack and worthy of the dance floor.
"I think we managed to nail a few different energies with this record," Maynard continues. "Perhaps something that wouldn't have occurred if we hadn't been forced to write some of it remotely due to the pandemic. We've got these fierce, full speed ahead synth-punk songs…which ooze adrenaline and intensity, but then we have these more contemplative moody tracks. They have this nuance to them; they were created with a more delicate approach that could only be obtained by writing in our homes in a considered manner. The pressure of a jam room creates music fraught with energy and tension and momentum, which is a vibe we're into, but we found that writing some songs in a piecemeal fashion meant we could lean into minimalism and allow the simplicity of deconstructed arrangements to shine more. There's also a danceable element to most of the record, from death disco to the new wave/krautrock drive. These energies interweave through the record to give it peaks and troughs, making it a sonically stimulating record that keeps the listener engaged."
Listen below:
The album was commissioned as part of Melbourne's arts and music project, Flash Forward.
After spending three years in an incubatory state, the band began as a trans-Pacific collaboration between Christopher Stephenson (Spray Paint/Exek) and Krystal Maynard (Bad Vision/ex Polo) in 2016. By 2019 Christopher had relocated to Melbourne and the pair recruited Giles Fielke (ex LowTide) and James Beck (Personal Touch/ex Rat Columns) on bass and drums. The band began playing locally in late 2019 and made a short run in the US opening shows for Wiccans and Timmy's Organism. Despite the restrictions in Melbourne due to Covid-19, in 2020 the band produced their debut single "Strange Anxiety". This was followed up with "Living In An Instant", an agitated post-punk track which featured on Blow Blood Records' ALTA 2 (A Long Time Alone) compilation.
Expressions of Interest is out now.
Follow screensaver: