And are you honest
And are you free
And do you trust
Trust in me
There's a monster inside all of us—but only if it's forced to release. The newest Boy Harsher song, "Tower," tackles the demons found within tortured souls, those bruised, battered, and tortured by love's chokehold. "We wrote 'Tower' several years ago and although it's evolved over the years, its initial intent remains the same—that feeling of being enveloped, suffocated, entrapped in a relationship, which in turn manifests into reckless attack," says vocalist Jae Matthews. "What you love most can make you into a monster. That's what this song is about, being a paralyzed fiend."
"Tower" builds in suspense—in true horror form—as it crescendos to its precipice. In hysterics, Matthews projects emotion that could only be extracted from some demonic possession overtop music that references to Giallo or John Carpenter film scores. The song retains all of Boy Harsher's inherent desire found in their music but explores noisey soundscapes that result in a decadent turmoil.
Watch the video below:
The song is the first taste from The Runner, a horror film dreamt up during the chaos of the pandemic. Finding it difficult to write the same sort of "club music" that Boy Harsher is known for, Matthews and Gus Muller turned to swelling, ominous synths and cinematic song structures not suitable for the dance floor—it is the soundtrack for a "sinister character: a woman running through the woods." Thus, The Runner came to be, a film that "explores lust, compulsion, and the horrific tendencies of seduction." (The character is played by Kristina Esfandiari of King Woman and NGHTCRWLR who has a past appearance in Boy Harsher's "Motion" music video.)
Out on January 21, 2022, The Runner OST features singers Mariana Saldaña of BOAN and Cooper B. Handy aka Lucy. Select venues from Boy Harsher's upcoming tour will screen the film. The trailer for The Runner will premiere on Thursday.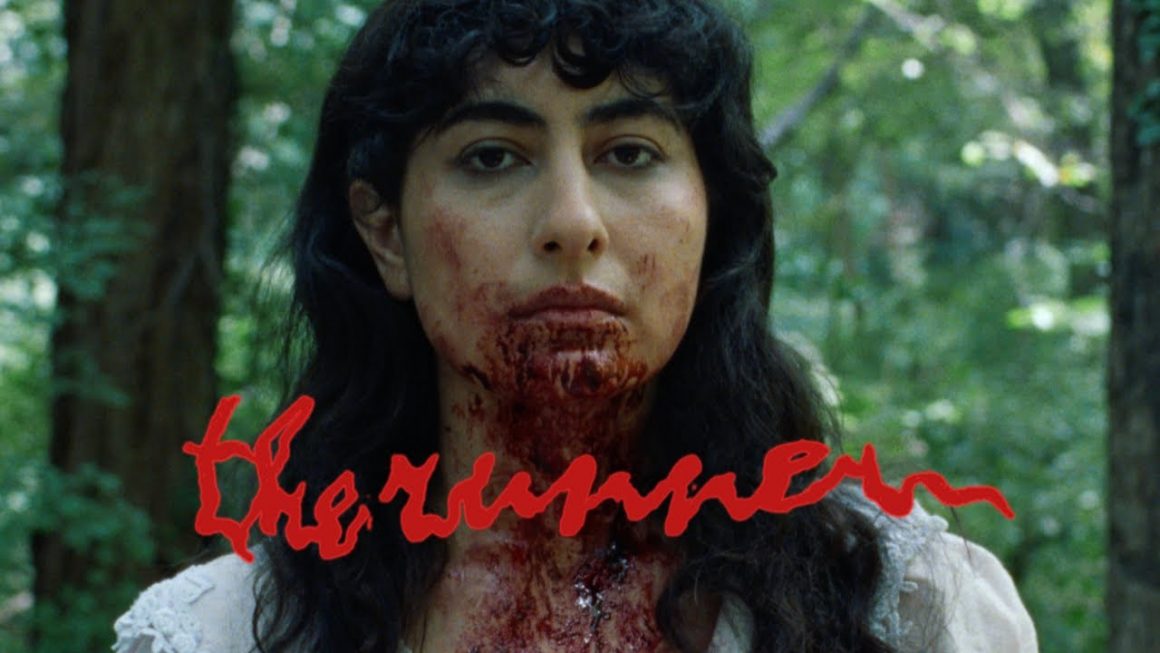 Boy Harsher Tour Dates (on sale this Friday)
Wed. Oct 20, 2021 – Atlanta, GA @ 529 Club
Fri. Oct. 22, 2021 – Miami, FL @ III Points Festival
Thu. Oct. 28, 2021 – Austin, TX @ Levitation Festival *SOLD OUT* ^
Sat. Oct. 30, 2021 – Holyoke, MA @ Gateway City Arts *SOLD OUT* #
Sun. Oct. 31, 2021 – Brooklyn, NY @ Brooklyn Made *SOLD OUT*
Thu. Dec. 30, 2021 – Chicago, IL @ Empty Bottle *SOLD OUT*
Fri. Dec. 31, 2021 – Chicago, IL @ Empty Bottle *SOLD OUT*
Sat. Jan. 1, 2022 – Chicago, IL @ Empty Bottle *SOLD OUT*
Thu. Jan. 20, 2022 – Boston, MA @ Crystal Ballroom at Somerville Theatre %
Fri. Jan. 21, 2022 – Philadelphia, PA @ Union Transfer %
Sat. Jan. 22, 2022 – Richmond, VA @ The Broadberry %
Sun. Jan. 23, 2022 – Durham, NC @ Motorco %
Mon. Jan. 24, 2022 – Asheville, NC @ The Grey Eagle %
Tue. Jan. 25, 2022 – Atlanta, GA @ Terminal West %
Wed. Jan. 26, 2022 – Nashville, TN @ High Watt %
Fri. Jan. 28, 2022 – Washington, DC @ Black Cat %
Sat. Jan. 29, 2022 – Brooklyn, NY @ Music Hall of Williamsburg %
Sun. Jan. 30, 2022 – Brooklyn, NY @ Music Hall of Williamsburg %
Fri. Feb. 4, 2022 – Los Angeles, CA @ Belasco Theater (+ film screening) %
Sat. Feb. 5, 2022 – San Francisco, CA @ Gray Area %
Mon. Feb. 7, 2022 – Portland, OR @ Wonder Ballroom %
Tue. Feb. 8, 2022 – Portland, OR @ Wonder Ballroom %
Wed. Feb. 9, 2022 – Vancouver, BC @ Rickshaw Theatre %
Thu. Feb. 10, 2022 – Seattle, WA @ The Crocodile %
Fri. Feb. 11, 2022 – Olympia, WA @ Capitol Theater %
Mon. Feb. 14, 2022 – Paris, FR @ Cabaret Sauvage (+ film screening @ La Peniche Cinema) ^^
Tue. Feb. 15, 2022 – Nijmegen, NL @ Doornroosje (+ film screening @ Lux Cinema) ^^
Wed. Feb. 16, 2022 – Leipzig, DE @ WERK2 (+ film screening @ UT Connewitz) ^^
Thu. Feb. 17, 2022 – Berlin, DE @ Astra (+ film screening @ Intimes Kino ) ^^
Fri. Feb. 18, 2022 – Frankfurt, DE @ Zoom ^^
Sat. Feb. 19, 2022 – Hasselt, BE @ Muziekodroom (+ film screening @ Zed Cinema) ^^
Sun. Feb. 20, 2022 – London, UK @ Earth (+ film screening @ Rio Cinema) !
Sat. June 4, 2022 – Barcelona, ES @ Primavera Sound
^ = w/ Drab Majesty
#=w/Lucy
%=w/HiroKone
^^ = w/ Kris Baha
! = w/ Helm