Oh Terminus, when we were out at sea
To fight the demons and creatures in the name of lost and free
Atlanta-based post-punk act Picture One descends from the stratosphere with a brand new retro synth-infused goth dance LP: Hearts of the Terminus.
Helmed by musician Thomas Barnwell, the musical project hones in on the dichotomy of playful and dark through a synth-driven melange of anachronisms, creating a sound that is both fresh and nostalgic.
A solely synthesized departure from 2020's post-punk outing Across The Depths of Seven Lakes, Hearts of the Terminus was inspired by Barnwell's experiences living under COVID, attending anti-police brutality protests, and exploring abandoned spaces within the city of Atlanta.
With the pandemic keeping them from touring, Picture One returned to the studio with a positive vengeance, resulting in a collection of passionate dance floor bangers to help exorcise personal demons. The album is full of booming floor toms, LinnDrum kicks, synthesized arrangements, and commanding vox blending the essences of Andrew Eldritch and The Human League's Phil Oakey. 
Hearts of the Terminus is a personal love letter to the city of Atlanta (established as "Terminus" in 1837) and a diary of powerful emotional catharsis for modernity. The cities and neighborhoods we once knew are unrecognizable now as we navigate a more humane and sustainable way to live. Hearts of the Terminus takes stock of this moment in time, the sudden shift in reality.
"I wrote a lot of the lyrics for this record while going on long walks around the city during these surreal and isolated times," says Barnwell. "It's an album about reconnecting in a new way with the city I love, blemishes and all."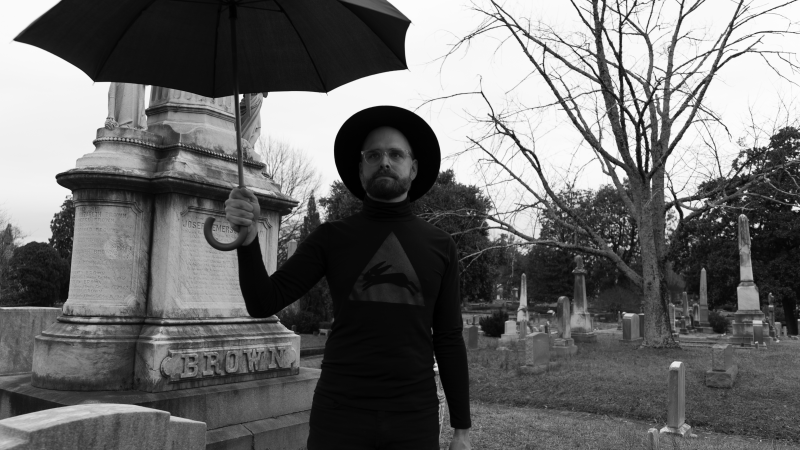 The short opening track "The Home Beneath" resonates with a glorious, divine cyberpunk chorus, evoking the "tears in the rain" rooftop scene in Bladerunner. This seamlessly gives way to the Howard Jones-esque title track "At Terminus Station", a bubbly synth-pop track that would be at home on a John Hughes soundtrack.
"The Wanderer" was the first single Hearts of the Terminus: its lyrics grapple with concepts of emotional accountability and self-awareness ventured through self-reflection, introspection, and growth. It's about overcoming destructive patterns and striving to become a better individual. The chorus calls heavily upon Giorgio Moroder-produced pop music while borrowing vocal phrasing from genres as varied as sophisti-pop to black metal.
"For All That We Ever Want" seeps manic energy with sharp pizzicato strings, solid electro bass, and words on the naive exhilaration of committing to something new. With a catchy hook, commanding yet ethereal vocals, and booming floor toms, this track is an exciting emotional catharsis. A heady combination of Eurythmics-style synth precision and the intensity of Sisters of Mercy, it's a beautiful offering of stoic contemplation and the possibilities that arise with a sudden re-routing of life.
A kinetic machine-like beat leads into "Transponder," straddling the wide berth between buoyant industrial-pop, Krautrock on a double shot of espresso, and new wave, with its effervescent synth reverie that playfully ascends and descends throughout the song. The chanting outro is hypnotic perfection.
The bombastic "Séance of the City" ripples with shimmering synths that meander through a shifting song structure.
"Monolith," with vocals reminiscent of Drab Majesty and Sisters of Mercy. opens with a foreboding, quivering melody with retro synth accents, fusing the sound of 70s Giallo with 80s synthwave.
All Systems Failure, channeling the EBM vibes of D.A.F. and Nitzer Ebb, explores the failing social systems around us, and our roles within them. The song focuses on our inability to fully view the moving parts of current complex structures, and our ultimate ability to more clearly view the failings of older power structures. 
The album closes with "The Black Heart Song", a dark dance track that fuses HI-NRG Italo synth with darkwave vocals.
Listen to Hearts of the Terminus below:
Hearts of the Terminus is out now.
Follow Picture One: