Arizona's Half String have always been a band near and dear to our hearts. We originally included the band's lone full-length, 1996's incredible A Fascination with Heights, on our Definitive Dreaminess: 100 Essential Dream Pop Releases list. The album, with its powerful production and swirling song structures remains as fresh and enthralling as it was when it first came out. With that mind, we're honored to announce the upcoming reissue of the album via the freshly rekindled Independent Project Records, complete with a brand-new video for "The Apathy Parade." Watch below:
"The Apathy Parade" is one of several defining tracks from A Fascination With Heights. Serving as the penultimate track on the album, the song goes straight for the throat immediately, with Kimber Lanning's pummeling snare-heavy drumbeat locking into perfect synchronization with the a band firing on all four cylinders – vocalist Brandon Capp's heavenly vocals melding with Dave Roger's throbbing bass grooves and shimmering, sinewy guitar lines courtesy of both Matt Kruse and Capps. The track takes an unexpected turn at the halfway mark, slowing down to a more melancholic sway. "In our dreams and our hopes, we slip away," Capps vocalizes, tapping into the universal ache during the eye of this storm, before the song comes to a crashing, chaotic conclusion.
The video, directed by Brandon's daughter Maisy Capps, features footage of microbiological activity in liquid, observed under a microscopic lens. The vigorous energy of the track is reflected in the video's brightly disorienting visuals, a poignant and poetic juxtaposition of life and energy that offsets the song's soul-searching lyrics. "I wanted a fresh perspective on what a new music video for a song from 1996 could look like," Brandon adds, "so I reached out to one of my favorite artists, my daughter Maisy, who was born the year the song was first released." Maisy describes her work on the video as "an act of observation, not fabrication." She elaborates, "I wanted the visuals to be directed by the song, which captures angst in a very distinctive and eloquent way." Capps filmed the video using an ingenious DIY setup that utilized an iPhone, an eyepiece adapter, and a compound microscope. The footage was orchestrated and edited by guitarist Matt Kruse.
The reissue of A Fascination With Heights is due out on September 17th via Independent Project Records, with vinyl editions to follow in late 2021. The album, which was originally released on compact disc, will receive a deluxe reissue treatment, including a slew of bonus tracks across a variety of formats, including a bonus 7"/CD single featuring two Part Time Punks session recordings. The expanded edition will be released on both CD and 2xLP and adds more than 35 minutes of previously unreleased music, most of which hails back to the original album recording sessions. The material was culled mainly from a series of rehearsal tapes, a 1994 live recording, and various studio sessions all of which perfectly compliment the album. Among the treasure trove of bonus tracks is the instrumental bass-driven swirl of "Stabbing," the deeply haunting "Boysenberry," and a stunning, breezy remix of the title track from fellow dream pop labelmates Alison's Halo, created by Adam Cooper and  featuring Catherine Cooper on lead vocals.
The album artwork has received a lush redesign as well, featuring IPR's trademark hand-letter press packaging, always a delight to any fan of the label over the years. The package also includes expanded liner notes by Peter Relic.
"Releasing A Fascination With Heights on vinyl is something I always wanted to do," adds Independent Project Records' Bruce Licher (Savage Republic/Scenic). "The fact that the music holds up wonderfully after a quarter century is all the incentive we needed to make the album one of the first releases by IPR in our newly revived incarnation. We've expanded this album both musically and visually to give the fans of the band a unique experience."
Check below for the full artwork, track listing, and pre-order details for A Fascination With Heights.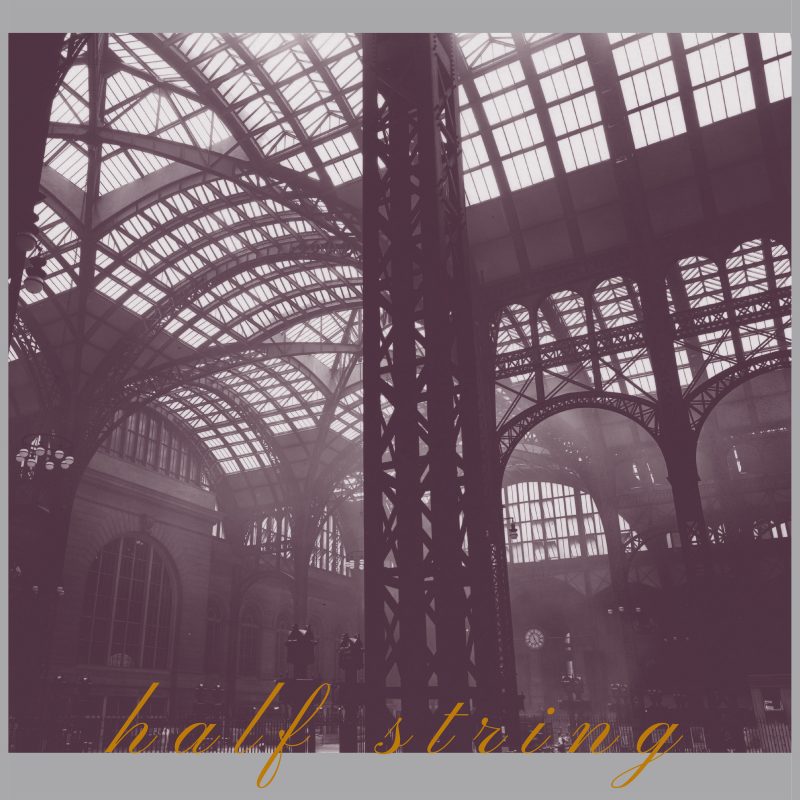 Half String- A Fascination With Heights
1. Shell Life
2. Backstroke
3. Hurrah?
4. …
5. Departures
6. Clipper (on vinyl only) (Pre-Session Rehearsal – 1990)
7. A Fascination With Heights
8. Momentum
9. Lolligag
10. The Apathy Parade
11. Numbers And Fingers
12. Everton (Session Outtake – 1995)
13. Stabbing (Session Outtake – 1995)
14. Seconds Past (Session Outtake – 1995)
15. A Fascination With Heights (Alison's Halo remix – 2020)
16. Boysenberry (Session Outtake – 1995)
17. Alaska (Session Outtake – 1995)
18. Skin Of My Teeth (Live Performance – 1994)
Bonus 7" with vinyl & bonus CD single with CD – Part Time Punks Session (2012/2013)
1. Honeycut (PTP Session – 2012)
2. Pelican (Night Version) (PTP Session – 2013
Pre-order LP/CD/digital edition here
Photo by Sarah Stockstill