You want to touch my skin
Because you like thin skin
But I'm in cellophane wrapped
Cellophane skin"
Get ready for a wild emotional roller coaster: Laura Carbone is packing heat with a double release: Laura Carbone – Live at Rockpalast, and the Lynchian-as-hell single Cellophane Skin, a wildly powerful number breaking the bonds of poisonous social norms. The Berlin-based Carbone smashes the chokehold of outdated karmic cycles, shreds the patriarchy and fends off toxic masculinity with a gleeful "Ha-ha-ha!" chorus and a kinetic performance bordering on the fervent religious ecstasy of an old fashioned tent revival. It is grunge-soaked, aged to perfection in a cask of existentialism.
Laura Carbone – Live at Rockpalast boasts the entire human condition in just 75 minutes, running the gamut of elation, pain, fear, anger, confusion, noise, sweat, and gratitude. The entire album, containing no overdubs whatsoever, was recorded live on 12 October 2019 in Bonn, Germany and mixed in Los Angeles by Scott Von Ryper (The Jesus & Mary Chain).
Laura Carbone's 2016 debut album Sirens was met with critical acclaim, followed in 2018 by Empty Sea. She went on to tour with The Jesus & Mary Chain and NYC's The Pains Of Being Pure At Heart. After touring Europe and North America, she finished her 2019 trek at the Pop Montreal Festival, sharing the bill with Laurie Anderson and Nick Cave.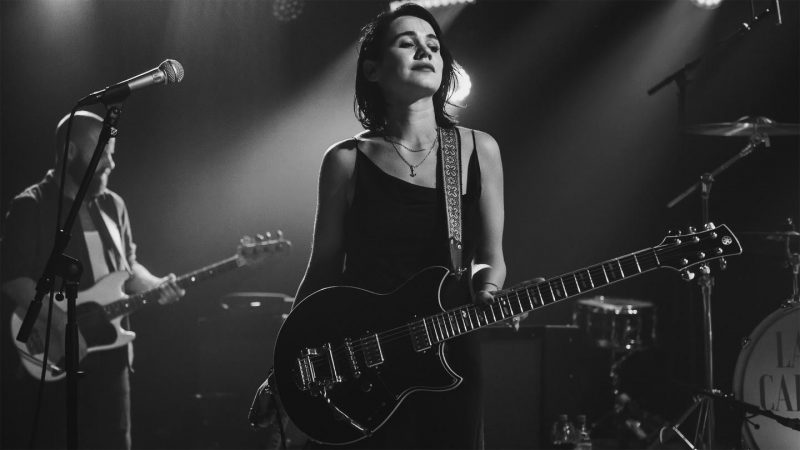 Carbone's pre-pandemic plans were to record her third album in the studio, but restrictions threw those all into the indefinite hiatus purgatory facing most musicians around the world.  As it turned out, however, in 2019 Carbone fulfilled a lifelong dream by playing the famed German live concert series Rockpalast. This led to another idea: the concept of releasing a live album from the Rockpalast performance.
Her Rockpalast appearance, recorded at Harmonie Bonn last October, showcases a career-spanning set from her first two albums and an unexpected cover. While the experience of attending live performances is beyond our grasp for the time being, Laura Carbone's spellbinding talent is a soothing balm.
Cellophane Skin was the first encore treat of this concert, spiked with the adrenaline and sublime exhaustion of onstage energy, as well as a generous dose of tribal tension and caustic ferocity. The voodoo confessional breakdown draws out the venom of a poisonous society and soldiers on, triumphantly defeating the proverbial serpent. Cellophane Skin is "an empowering confession of sensitivity" and encourages self-nurturing by releasing rage and anger, and accepting individual boundaries.
The lush accompanying video, directed by Olya Dyer, pans between flashes of conceptual performance and flashes of the Rockpalast concert. Dyer reflects: "The feminine point of view has always been much more difficult to articulate. And once articulated, alas, quite often it becomes a point of vulnerability, seen through the prism of sexual objectification, helpless stereotypes and indecency. It's literally stripped of its actual meaning or even possible interpretations. To me, this is what Cellophane Skin is about. People jump to conclusions, so quick to assume that they can see through someone. Personally, it doesn't offend me, I only find it banal and boring. I love creating beautiful and dark sequences, inspired by noir surrealism. I love creating with Laura. Is this what you see?"
Watch the new video for "Cellophane Skin (Live at Rockpalast below)":
Laura Carbone – Live at Rockpalast is out today, 4 December.