In the midst of the pandemic's somber days, a delightful beacon of nostalgia and camaraderie shone through in the form of the "Curious Creatures" podcast. This aural treasure, hosted by none other than Lol Tolhurst and Budgie, the legendary drummers from The Cure and Siouxsie and the Banshees, became a gateway to intimate and informal conversations with fellow musicians and artists. The ambiance of the podcast is so vivid and inviting, that it's as if you've snagged a prime seat at a bustling Los Angeles diner, coffee in hand, immersed in a Tarentino-esque scene whilst ensnared by the yarns spun by these post-punk icons, pivotal figures who "drew the map" of the goth and post-punk scene during its formative years.
And Tolhurst extends his storytelling prowess beyond the podcast. Following his 2016 memoir "Cured," he recently unveiled "Goth: A History." This book, a subjective yet insightful exploration of the goth subculture, is narrated by Tolhurst himself in the audiobook version, featuring a foreword by Budgie. It's a journey that revisits the hallmarks of goth music, including Joy Division, Bauhaus, The Banshees, and The Cure, alongside a nod to the criminally underrated And Also The Trees. The narrative is poignant and personal, resonating deeply with anyone who found solace in the shadowy embrace of goth culture during their youth.
Tolhurst's reflection on The Cure song he penned coinciding with his mother's passing, "All Cats Are Grey," is particularly moving, especially as it also echoes the sentiments of loss and grief prevalent during the pandemic, drawing parallels to the song's origins in his mother's experiences during World War II's air raids. The song, in this context, transcends into a sublime expression of universal mourning.
The book also uncovers the profound impact of Sylvia Plath's writings on Tolhurst and The Cure, revealing a fascinating layer of influence that fans and readers alike will find quite illuminating.
Meanwhile, the vibrant musical scene of 1983, the year that "Goth" as a subculture was arguably born, was a tapestry of collaboration and innovation. One of these collaborative bands was The Glove, a project uniting Robert Smith of The Cure and Steven Severin of the Banshees. And featuring Andy Anderson, Porl Thompson (on the Riverside performances), and Jeanette Landray, Budgie's ex-girlfriend and a former Top of the Pops dancer, as their frontwoman. Their album "Blue Sunshine" was a psychedelic gothic masterpiece, diverging from their main bands' typical sounds. Concurrently, Siouxsie Sioux and Budgie's venture, The Creatures, experimented with a melange of unconventional sounds in their album "Feast," showcasing a refreshing deviation from typical post-punk.
The era also witnessed The Venomettes joining The Cure for a haunting rendition of "Siamese Twins" on BBC2's Riverside program, a striking mix of classical and post-punk elements. This performance was the only time that Steven Severin played bass with The Cure, and was one of the last times Lol Tolhurst was behind the kit. Marc and the Mambas, another influential group of this time, led by Marc Almond and featuring Matt Johnson of The The, future Banshee Martin McCarrick, The Venomettes, and more, blended vaudeville and goth in "Torment and Toreros," with Smith and Severin contributing to writing the single "Torment." Martin McCarrick and The Venomettes also played strings on The Glove's Blue Sunshine.
The epicenter of this cultural ferment was the Batcave, a crucial hub for these musicians. It was a gothic enclave where Annie Hogan of the Mambas DJ'd, encapsulating the era's dark, diverse, and adventurous spirit.
Flash forward to 2023, and we witness a remarkable collaboration between Tolhurst, Budgie, and renowned producer Jacknife Lee in the album "Los Angeles." This full-length album, released in November, marks a dynamic moment in indie, goth, and post-punk music, blending iconic drumming with modern and stylish alternative rock soundscapes. With its lead single, "Los Angeles" featuring James Murphy, a lovingly honest tribute is paid to the city's vibrant energy. Tracks like "Uh Oh," featuring Arrow De Wilde (Starcrawel) and Mark Bowen (Idles), and "Ghosted at Home" with Bobby Gillespie, showcase the album's dynamic range. The single "We Got to Move," featuring Isaac Brock (Modest Mouse,) delves into existential themes, adding to the album's lush narrative threads and avant-garde rhythms and beats.
Speaking to Lol in Los Angeles and Budgie on Holiday in southern France, their experiences during the pandemic's onset reveal a story of divergence and resilience. Their accounts, much like their music, are a testament to the enduring spirit of creativity and collaboration in the face of change, an experience paralleled in my own life's narrative, as I left Berlin for Los Angeles, crisscrossing paths with Budgie via LAX.
I moved here at the beginning of the pandemic. Actually, I moved here on March 12th. Came from Berlin to Los Angeles.
Budgie:
You're kidding.
I'm not kidding.
Budgie:
I was- I was going the other way! I was leaving. But, when you got to LAX, it was empty.
Oh yeah, it was very empty. It was eerie, in like it was the quickest drive from LAX to where I had to go. Like, ever.
Budgie:
Did you spend time in Berlin?
Ten years.
Budgie:
You were ten years in Berlin?!
We met there, actually. You were doing a gig with Knox Chandler over in a place that looked like an abandoned living room.
Budgie:
Was it an abandoned living room? Was it? It was called a really little bar in Kreuzberg.
Something like that.
Budgie:
Knippel (?) People apparently named it after the little dachshund dog of the owners. Lovely couple. And Knox and I put this thing together with Mark Plati. Mark was the bass player, and a musical director with David Bowie for about ten years. And a wonderful, wonderful man. And a kind of a, you know, if there's some stories to be told, he has them.
So what, you left…you've been there since the pandemic started.
Yeah.
Budgie:
And I left at that time. That's 2020. And this year, 2023, I think we've I've been living now my family, and two children, A bonus. I've been in Berlin since 2009.
So I'm a very humbled old geezer because I've never been busier, I've never been clearer. I've never been so… gosh, you know, I can still have mood swings and temper tantrums and "why, why, what about MY feelings?"
And yet, they don't last very long. They get shorter and shorter, those episodes. And we have a good old rant as a family, but we all jump in a pool, and we'll cool off, literally, and with life as I feel we're in a new phase. And I don't know if it has to do with what happened when the lockdown came. Is it to do with ten years prior to that moving to L.A., I mean to Berlin…and…wanting to go to Berlin?
Lol:
A Freudian slip right there!
Budgie:
…Wanting to BE in LA, and not that happening when meeting with Lol IN LA, and just happening to be on tour with John Grant. And John took me to a lot of places where I met a lot of people I hadn't met in a long time. And we had conversations for the first time ever with Bobby Gillespie, and James Murphy, and YOU Lol! We met in the diner in downtown L.A.
We hadn't seen each other for ages. And it was lovely to see you. We'd talked on Skype.
Lol:
[t had been…] forever! It's funny you should say about the whole thing with LAX, because I dropped Budgie off at the airport on March the 12th. Right. So he was leaving again, as you're coming in. And you know, in the parking lot, if your ticket gets [smudged] because everybody is using hand sanitizer, right? So, hand sanitizer on everything. So my parking ticket wouldn't get read by the machine because all the ink had gone. So I then press that little button where they say somebody will come. And so your problem is now you're trying to get out of the parking lot. And I knew it was bad because the two guys came in.
Normally, they sort of lean straight inside your car and go: "What's the problem?" These guys wouldn't get within ten feet of my car. They're like, "How about the ticket?" And so, because everybody was so scared of it, I thought, that's it for a while. And it was, wasn't it really?
Budgie:
Yeah, I left. You had a whole bunch of tapes and mixes, and then we thought, "Is that it? Is that the album?" And we had been talking previously because I'm writing up a memoir as well. And I look over Lol's shoulder when he's writing [and think], "Oh that!, I've seen you do this thing!"
I wanted to say that I think it's great that this is a collaborative album. And it is really good and not what I expected it to be.
Lol:
That's good to hear! I like that. That was that's my favorite thing because back in the old days from the Eighties,  you make a record, and then you have to wait six months for it to get pressed where it comes out. Nowadays, everybody makes a record, and tomorrow it's on Spotify. But we haven't had that experience. [This was] the old experience where we finished it really a year ago properly and have had to wait for this time for it to be out. And you forget that we've got so used to how it sounds and what it is. And I forget people's reaction is going to be completely different, which is great!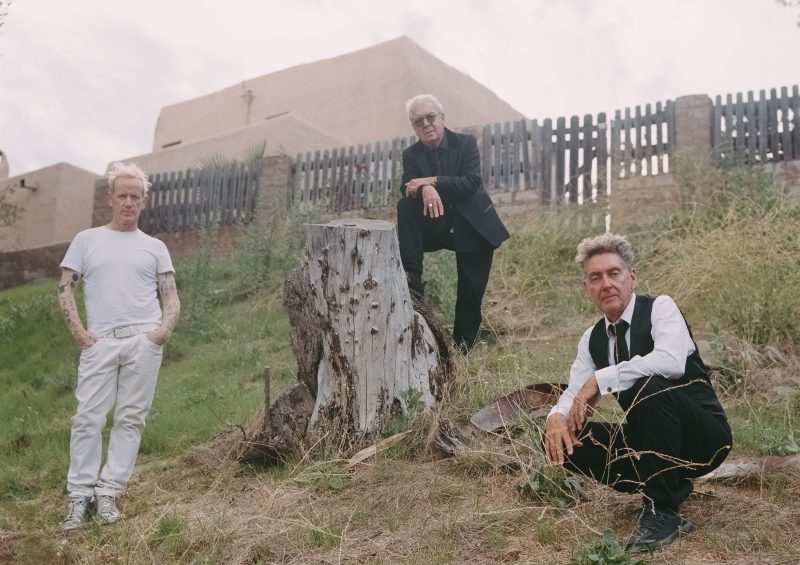 First, I wanted to ask about how both The Cure and The Banshees did a lot of collaborative stuff back around 1983. It seems like everybody was getting together and doing things from different bands at that particular point.
Budgie:
I was talking about that this afternoon with my chap who's helping me to put my memory together because we were focused on the period where  Siouxsie and I had gone off to Hawaii to do our first Creatures record, totally unplanned in terms of what we were going to do, but we had a couple of weeks earmarked and on Oahu at the studio, and we came back with a finished album and photographs and yeah, all mixed. So we wrote, recorded, and mixed AND did the photographs AND had a pretty good time out there as well. Meanwhile, Steven Severin and Robert Smith had formed a little outfit called The Glove. So I imagine this is a hiatus for the Cure, right Lol?
Lol:
Well, yeah, and no, because I was just as we were talking about it, I realized that at that point when from The Glove and then on to the next Banshees thing off of that…
Budgie:
Hyaena..
Lol:
Right. Well, they went on to Hyaena. Robert was coming to the studio out in Reading, Martin Rushent studio, with me to do The Top. So was just me and him out there and Andy Anderson, and then [Robert] would go back and do some stuff on Hyaena, and that's the point where…
Budgie:
I never knew that…I never knew that. Now I know why he was the way he was. Because. Exactly. He was exhausted…Yeah, because he couldn't. You came in, Mary. Mary was at the studio, and that young lady was chiseling away his Fender Jaguar and putting, like, wooden trophies on it and hanging bits of chain off it. And it was totally unplayable by the time she finished with it. And Robert would come in and sit down on the back of the control room floor…
Budgie:
And he decided he didn't want to play guitar. He said, "I would like to play piano mostly on this album," and so there was some writing that went on, like "Swimming Horses" or "Take Me Back."…Where we're just Robert and myself jamming an idea. Nobody, nobody else was around. And that was kind of really a sweet memory.
And sometimes I'd have a guitar riff, and Robert would kind of flesh it out, and that became Dazzle, which was based on a little tune that Siouxsie had written on a baby piano. And it was called "Baby Piano, "but we had no idea. I certainly had no idea. Severin might have had an idea that you had already because we looked at the release dates today…
And, what was interesting was when we started on Hyaena, it seemed The Glove had taken such a long time to finish. Siouxsie and I came back from Hawaii, not with a single in the track that they thought we might come back with – a finished album! And they still hadn't finished! So we went off to Wessex and recorded "Right Now" by Mel Tormé and had a hit single! Totally like a one-off! You know, we recorded it, we mixed it, we packaged it all up. It was the most expensive sleeve we'd ever done, and it was higher than "Happy House" in the charts.
Budgie:
And, Steve and Robert were still unfinished. And we're thinking, what do we do now? You know? So when we go into the studio, I think the studio was booked before we were even ready, and it just was kind of like a feeling of burnout. And so the first track that went down, I think, was "We Hunger." It was like a Creatures track. This is way off the subject, but it's an interesting cross-pollination of ideas.
We even both changed typeface. The Cure's typeface slipped.
And the Banshees' Hyaena was, like, almost illegible. Everything went kind of strangely weird around that time.
Lol:
For me, it was strange because I had been in to visit some of The Glove sessions. And you know, what I saw going on wasn't really recording because…
Budgie:
Did you have a few sweet sherries down there?
Lol:
It was something like that kind of…yeah. So, you know, and then that finished it. We're like, "Okay, are we just going to do another album?" and "Well, it's just me and you," because we were doing the singles. It was just the two of us. And then we thought, "Okay, we'll get Andy in because we like Andy." And so he came along, and we lived in this pub at the end of the street where the studio was, which was a bit of a mistake, but I still have the key to that place.
Budgie:
We shall visit one day, Lol!
Lol:
Yeah
Budgie:
We shall go back.
Lol:
That'd be great. But he – Robert would come back. It's sort of like early evening, and he'd been with, you know, the Banshees most of the day, and it was kind of hectic. But I remember he said, "I've got, I've got a doctor's note, so I don't have to do it anymore."
Budgie:
I don't think Siouxsie was too pleased about the doctor's note. No, no, no, no. Nonplussed, I would say.
I'll describe the incident in my book, I think.
You know, what was occurring to me is as we were sort of reminiscing, and it sounds like, you know, 'Oh, I remember that.' But the funny thing is, we were just… Jacknife has been joining us on quite a few of these early, early interviews, and we're all remembering what went on in Topanga and Yosemite and around in that two-week period before I left, and you, Alex came in…because we worked so fast. Jacknife's going, 'Who started that track? How did that…? I have no idea how it came about, but it was the process, and likening it to some of our most, if you like, off-the-wall memories of recording sessions. Creatures, Banshees, Cure. Because it seems when it's really working is when you kind of don't even know what's going on. You're actually not in the way of the process at all. It's like just you feel your conduit, and you're in full flow, and you're not questioning, and you just allowing it to take you. And we achieved that really quickly, and it could be down.
You know, hats off to Jacknife for creating the space that felt safe. And that allowed us just to feel comfortable and not question. And go…
Lol, you tell the story so nice about driving home down back down the Canyon and get to yours. And we'd play to Cindy, your lovely wife, what we'd done that day, and she'd be just like:
"Wow, it sounds great."
"Does it?"
"Yeah, it does, really!" "Wow. What does it sound like?"
"No idea."
Lol:
Oh, she's my barometer for that 'cause she's the real music fan in our house. I mean, that sounds funny, doesn't it? But she goes to all the concerts, she goes to all that stuff, and I don't because, you know, that that to me is like, well, what do they call it in England? A busman's holiday! You know, I'm looking at things and watching people and thinking, how do they do that instead of enjoying the concert? Yeah. So I trust her take on things. I knew we were on the right track.
Budgie:
We were so thrilled hearing this stuff because we already tried another with Kevin Haskins from Bauhaus. You know, we'd already tried it as three drummers and somebody else and another person and writing songs and lyrics being stretched and cut and move around, and there's all singing, backing vocals and things.
And it was like we were sitting down, listening to these 6 minutes of music just in instrumental developments, thinking, This is amazing, this is great. And we had no idea at that point that a vocalist would ever enter the picture again. But that was really, I suppose, a symptom of why we both crossed paths at LAX around the 12th of March 2020
Lol:
Yep. Certainly was.
I feel like the record is a confluence of sounds. Some of it feels like Bowie's Low. Some of it feels like there are classic Krautrock influences: Can, Kraftwerk, Neu… and I think Bobby just brings this whole Madchester feel to the three that he's on. Those are amazing. And the closing track on the album, "Skins," with James Murphy, is…wonderful too. It's…ah, that wasn't a question!
Budgie:
You know, Jacknife just encapsulated it really nicely. There was a kind of free flow of trying to find what it was that we had in common. I like that. That's the way he put it. That's the way we felt because we were finding out about each other. Lol and I just knew we had something deeper than us both being drummers and bands that just happened to be in and out of each of the studios all the time. We both…our lives would have unfolded in very…
Lol:
Similar ways.
Budgie:
.. In their paths. Yeah, and Jacknife, we didn't know…certainly didn't know in that way. But what I felt was he, he, his, his control of his ego was totally intact. It wasn't there in the way at all. It was just like a clear space. There was no kind of 'I don't record those things in that way. "I never use that microphone." "You can't do that, it's not 4:00 yet." You know, there's sort of those usual ticks of studios and producers, and it totally suited us because we'd already made a decision to really because of that, if you like, the disappointment of the first little thing or should I say the, the revelation of the first thing that said, no, not this way, we need to try another way. We said, let's take a step back and just let things take their course.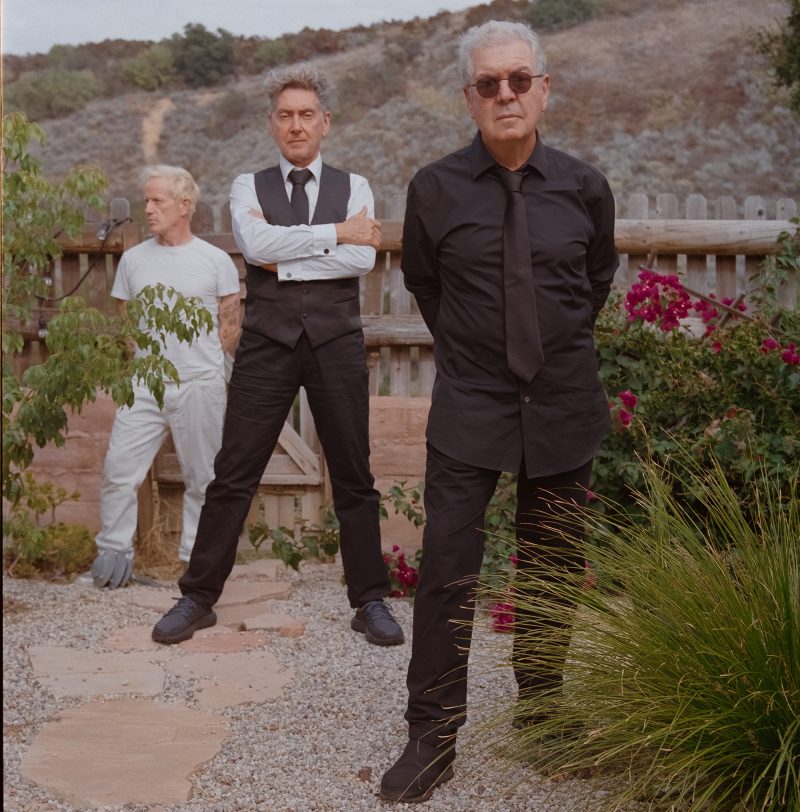 Lol:
I mean, that was what was really good with Jacknife, because he was totally into that. And, I had met him before- Budgie met him, and I met sort of socially in different ways. I mean, I knew what he did, I knew that he was this hot-shot producer and stuff on that. But that's really totally different from his real personality, you know?
I went to this hippie festival in Topanga, Topanga Days. And John Densmore was there introducing Willie Nelson's son's band or something. And I had never seen them. I didn't even know who they were, you know. And I was sitting there with Jacknife saying, wow, this is pretty good. I mean, I don't like country music, but this sounded like punk country to me. So that was great. It was a sort of opening of my mind to different things. And we just talked for a couple of hours about what all this was going on.
And then after our first foray into it with Kevin [Haskins], who is a great guy, we still love him and everything, but he had to go off to play with Bauhaus, and it wasn't going to work, you know?
And I said [to Jacknife], Well, can I bring you [this] big hard drive with a whole bunch of stuff on to listen to? So he said, "Yeah!" So I went up there to his Topanga place, and we listened to it for 3 hours, and he went backwards and forwards [and said], "Why don't we just rip up and start again?" And I'm like, "Yeah, okay." And I came out, I called Budgie and said, 'You know, we've got our man! Here's our guy right here.
Budgie:
And it – and I never went, "What's does he mean? What does he mean? Like all that hard work is gone now…."
We already knew that's kind of what we should do. We just needed to have somebody understand that that was where we were at, and how do we move on from that space. So we went to Yosemite, and we communed…
Lol:
We backed some drums out in Yosemite as well. That first drum at the beginning of "Ghosted." It's a big sort of bong that's like – with a friend has the house that that she grew up there, and she gave us this huge great indigenous drum. We just took it out with us into the springs and banged it a lot, then recorded it and took it back. And that's what starts the track. So, you know, it's very, very mystical, we've become, really.
Did you have any conversations with some of the contributors before? Were any of the artist's fans of yours coming into this project?
Lol:
Some, I think.
Budgie:
James from LCD – they covered "Slowdive." I didn't know that. I'd only met James briefly backstage at T in the Park up in Scotland. And two other members of LCD Soundsystem because they also lived in Berlin.
And Bobby had met many, many times in many, many places and never had a conversation! Not that either of us would remember! Except when I was on tour with John Grant, and I bumped into him backstage, and it was all smiles and hugs, and we talked, and I told him, we just start this project and he was interested. He actually gave me a number of Sky Ferreira, and said, 'You should get Sky on,' she's great. And I spoke to Sky, and she was great to talk to, but we never got into the next part of the conversation because Bobby came back straightaway with not just one but three stabs at everything we sent him. It kind of turned into something different, and the process began where we realized we could have something much different than we planned.
And we asked a lot of other people, and we got yeses and then nothing.
Lol:
I just remembered yesterday that we'd been up in Yosemite, and we texted…we standing in the middle of Mirror Lake.
Budgie:
I forgot that completely!
Lol:
And you said: "Say, you got James Murphy's number?"
I said, "Yeah,"
"Okay. Text him. Tell him we want him to sing on this thing."
Okay. We're standing in this lake, [and he texts back]: "Yeah, sure, I'd love to," but it took us 18 months to drag that out of it because I think part of him…He likes The Cure and the Banshees' music so much that he froze. He'll deny this, but maybe he was a little scared of putting it out there. Or not scared, but he wanted to do it right! Completely right! And it wasn't until a few…well, his son plays drums, and he had a name for me. Your name was Elegant or something? I think. He had names for us. One-word names. And he wanted to play some Cure songs. So I said, okay, I'll film myself on the iPhone, how to play these songs, and you send them to your son, and then you have to finish it. He goes, "Yeah, right. Okay." And then it wasn't happening. I'm like, "I know you got a studio in Brooklyn. I'm coming out. I can sit there next to you while you do it."
And suddenly, miraculously, it turned out about three days later, you know. So I was like, Yeah, I don't think he wanted me to be sitting there while he's doing something. He likes to do it by himself. So it was great that it turned out great. We're really happy with it.
Budgie:
Everything lifted our spirits a little higher each time because we realized how, when David de Rossi introduced the strings to the basic beats, and Jordan started working up the brass parts. All sounds very close to my heart, but how they came about was not to do with helping a song along. It was just helping a track to develop when James and Bobby certainly started, you know, Bobby started the ball rolling. I really started thinking not that we have to now make songs, but they've already started to create themselves. And, and the one part of me was thinking, "But I really like the instrumental and then the eight-minute version.
Yeah, I can't get over the fact that we've got something that involves a lot, a lot more depth somehow, and a lot more. And, strangely, as living with it for a while, it takes me a long time usually to get into the lyric, and I don't look for a meaning, but it hit me square between the eyes when I realized that Ghosted at Home was telling my story.
And it just kind of floored me. It wasn't just a little bit. It was like everything about it was almost like sitting next to somebody who shared the same experience. I don't know if it's his first-hand experience of something, you know, but that's not really the important part. That is, it conveyed itself well. The emotion in the way he sings it. It just hit me so hard. And I thought, wow, if it does that to me, there's a good chance it could help somebody else.
Lol:
You defined correctly the bits in the music. When you said Low, and you said the Krautrock bands. I did a thing for some other publication with my 13 favorite albums, and Low is in there! I still play that once a week, all these years later, just because it speaks to me.
But Budgie's right. The lyrics. It's funny because when we contacted people and said, "Okay, come and sing on it,"…a lot of people said to us..actually, Bobby said, "Would you care to send me some lyrics?"
And I said, "No, we want you to. Here's what we think about the album. Here's how we think about it. We want you to do your thing, you know?"
And that was trust, you know, because they could have come back with something that we'd have to. We only had to turn one person down, and we didn't do it. Jacknife did it. So it was, it was fine. We let him do the coup de grace and go in there. But everybody else, every time we got them back, we were like, "My God, this is perfect. This is exactly what it should be about."
Let's see. And the whole thing started to coalesce in this big thing about this city and about where we were at that time and how it was. Okay. So, you know, I hate the idea of a concept album, but it kind of ended up turning out like that without us even thinking about it. You know, it was meant to be that way. So it's kinda fascinating.
Do you think Los Angeles could be one of the weirdest places on planet Earth? I'm starting to think so, living here.
Lol:
Yes and no. Yes and no.
Budgie:
Are you from L.A?
No, I'm from the east coast.
Lol:
Yeah. I can tell.
Budgie:
Even I can tell.
Lol:
Yeah, it's the weirdest place, but it's also not weird, you know? It's like people come here, and they're thinking, okay, well, "I'm going to be discovered in Hollywood!"
It's going to [happen], or you end up getting destroyed. Or both things happen, and that's true.
But I was lucky because I moved here, and I was at the lowest point in my life, my adult life. And, you know, the band had gone, marriage had gone, there was this huge court case, I owed $1,000,000. It was not pleasant, you know, And I arrived here, and gradually, the city took me into its arms and loved me, you know, really. And it became home. And then, you know, my wife grew up here, right? So, you know, I had an instant connection with lots of people because she knows everybody in West L.A. Absolutely. So, then I found the real heart and soul of the place, and there's a lot of artistic stuff here. There's a lot of love. But yeah, there's a lotta nutcases too.
People in London would always go to me, "Yeah. Aren't you scared of living there with all them guns and stuff?" I say it's no more scarier than London.
I may have seen the gun drawn twice since I've lived here. And both times, it's been the police.
I think it's like most things. My mind was open to a new experience, and I had wanted to be a stranger in a strange land. And so I live here. I live here as an American. I'm an American. I've got an American passport since 2006. So, I brought the stuff of me, that's me. And I decided, "Okay, I'm going to try a different life and live a different way." And it works. It doesn't always work for people. I know that. So, I tend to enjoy the strange things now and disregard the really insane things that can happen from time to time.
Do you think that Los Angeles has a sense of community? Also, have you felt that you have gained a new sense of community for creative types and musicians through doing the Curious Creatures podcast? How has that possibly changed since you started the podcast?
Budgie:
The view of L.A., or do you mean as much as the podcast has changed?
There are…quite a few of the guests are from the L.A. area of California or from somewhere else living there. Talking about L.A. and Los Angeles, I know I love the Marlboro Man, but he's gone now. I love the farmers' market. I love the names. La Cienega.
And La Brea. And I loved a little bit, not so much the Viper Room but the Milky Bar across the street. Somewhat. I liked that you could get pizza at two in the morning and coffee when I was not drinking.
When I came back, everything had changed for me. When I'd lost my house, it felt like the marriage had gone. The band had stopped, and the same thing [happened as Lol] I came out to L.A. because I had friends there. But previously, I'd stayed at the Mondrian or the Beverly Hills or the Tropicana, but it was always a hotel. This time, I was just staying on people's couches and things, and it just it was just so welcoming again and quite spiritual. I loved the way that, really if you, if you gave a smile, you got one in return. And certainly that doesn't happen in Berlin very often, does it, Alex?
True.
Budgie:
So it's really uncanny that we have an album called Los Angeles when it means so much in many ways and is very different to all three of us. And it told us that that's what it should be. And, in fact, James Murphy probably told us that's what the album should be called. So that decision wasn't ours either. And it was just we just agreed with it being the correct route.
So, the podcast has changed us as well because we…Lol, you have a good way of putting how the podcast…
Lol:
Well, with the podcast, we've done 70 episodes now, so we're pretty seasoned podcasters, if you like, which is something I never thought I would be. But we kind of know how to conduct interviews that don't feel like interviews with most people because mostly deal with musicians.
Not everybody, but we've dealt with chefs, skateboarders, and things, but most people react favourably to this. And this is no slight on your profession, but they don't think that we're going to ask them…They're not guarded with us. They're not guarded at all. And after we start talking for a few minutes, it's like we're backstage somewhere at some gig, and we're just recounting war stories. And that's what they do. And then, at the end of an hour, they go, "My God, I've told them everything. Can you edit that out?"
And no, nobody said…actually, one person said that, do you remember?
Budgie:
It was said before about meeting people backstage and having conversations for the first time. So, like, I hung out with Miki from Lush many, many times in back in London and Wayne Hussey from The Mission, and we'd worked with Wayne recently on a project he'd done that was done for raising money for the workers, and on the front line of COVID.
But it was really, it's really having these conversations with people who have contributed to our, or should I say, either from the same time [as us], or they've been influenced by something that we might have done, and we're just able to share it in a broader way with everybody else. And that's really it.
Maybe, there is a kind of sort of a link between the effect that Los Angeles had on us, the, if you like, the supportive nature of it, you could fall, and that it might pick you up, you know.
Lol:
We had a motto when we started this album, which was twofold. Partly from Waiting for Godot: "Nothing to be done and everything will be done," because that tells us, "Hey! Get out of your way because it's coming."
Budgie:
Maybe L.A. is about stories.
Lol:
Yeah. L.A. Story. They've got the title of my next book — right there.
Lol Tolhurst, Budgie, and Jacknife Lee's Los Angeles LP is out now.
Stany tuned, there are plans underway to bring the record from the studio to the stage for live performances that will showcase this new collaborative project worldwide.
Meanwhile, the album can be ordered on CD and vinyl via the band's webstore.
Follow Lol Tolhurst x Budgie x Jacknife Lee: