Italian darkwave band Ask The Dust dwells, thus far, only in the dark recesses of the cinematic world. The limitations set upon them by the plague of coronavirus led them down a clever path of producing creative and fun videos for their fledgling band.  Now, Ask The Dust unleash an ambitious short horror film in the guise of their latest video clip, "The Hunger".
As the title suggests, the video, directed by bassist Massimo Zompicchiatti, is a faithful homage to the famous club scene in the cult vampire film starring David Bowie and Catherine Deneuve. Lead singer Marko Darko does an impressive Peter Murphy impression, bound in chains on a split screen. Vampires feast upon unwitting victims – in this case, cute goth girls hoping for a hot make-out session in the bathroom. You can guess where this night is going –  that sleazy club owner is in for a rude awakening.
Watch below:
Ask The Dust launched their debut with cover of "Dark Entries" by Bauhaus, recorded entirely inside a room of an apartment with the help of a laptop, a small mixer and a microphone for the audio. Their first video was created with a handycam and a green screen.
"Now we are at our sixth project and since it's again possible to collaborate with various professional musicians from our country, to choose locations without limits, even outdoors, and to use professional equipment for videos and to record in a studio," says the band. "We always try to add something more to our projects – which are always self-produced."
Our passions are the dark, new wave, and goth sounds from the eighties, also expressed by the aesthetic choices, the locations and the costumes /outfits of our videos.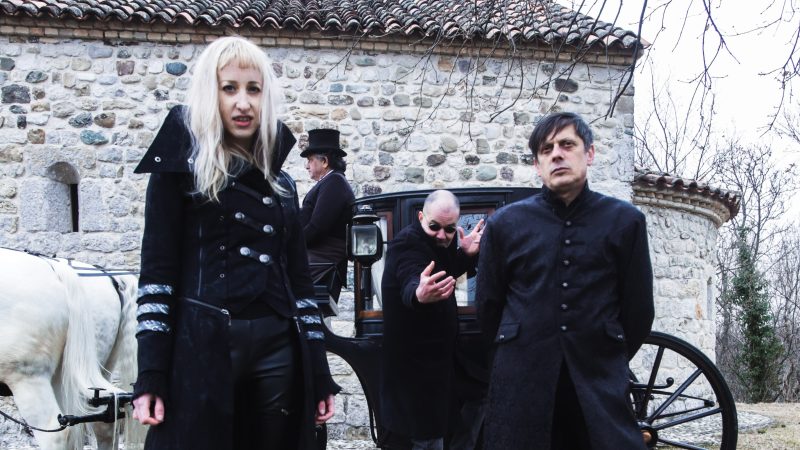 Ask The Dust, comprised of Darko, Massimo Zompicchiatti, Roberta Cussigh and Massimo Passon are eager to take on the task of 'rearranging the music that inflamed them as teenagers.'
Follow Ask The Dust: